Nikon Coolpix AW100 Review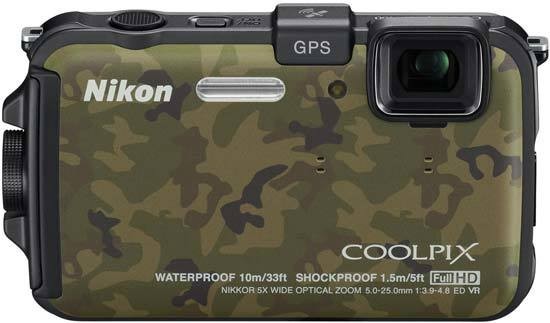 Introduction
The Nikon Coolpix AW100 is a new waterproof, shock-proof, cold-resistant compact digital camera. The AW100 is Nikon's first foray into the weather-proof camera market and is is waterproof to 10 meters, shock-proof to 1.5 meters, and freezeproof to as low as -10°C (14°F). The Coolpix AW100 also has a 16-megapixel back illuminated CMOS sensor, a 5x, 28-140mm equivalent zoom lens with lens-shift vibration reduction, 3-inch 460K-dot LCD monitor, full 1080p HD video with stereo sound, 3fps burst shooting, built-in GPS, a world map display and an electronic compass. The Nikon Coolpix AW100 is available in black, orange, blue or camouflage for an official retail price of £329.99 / €383.00 / $379.95.
Ease of Use
At first glance the Nikon Coolpix AW100 looks very much like a normal compact camera, in that Nikon have chosen to style it in a more subtle way than some of the more chunky all-action cameras on the market. In fact, at 22.8mm thick, it's actually a slim model for compact cameras in general, never mind one that is water-proof, shock-proof and freeze-proof. The main giveaway signs that the AW100 is more robust are the large, textured shutter-release button and the shared battery / memory card / HDMI / AV-Out compartment which is securely locked via a large round dial and button combination and internally protected by a bright yellow rubber seal.
The AW100 is waterproof to depths of 10m, shockproof from heights of up to 1.5m and freeze-proof for temperatures down to -10°C. This isn't quite as good as the Panasonic DMC-FT3, which adds a couple of meters to the waterproof depth and half a meter to the shockproof height, but it should ensure that the AW100 will cope with most things that you literally throw at it, or throw it into. Note that it isn't also officially dust-proof, however, again something that the DMC-FT3 offers.
The Nikon Coolpix AW100's lens is located in the top-right corner when viewed front on, shielded by a clear lens cover that is open when the camera is turned off and on. The lens is a 5x zoom of the internally stacked variety, so it does not extend upon power-up or zooming. In 35mm equivalency, it spans focal lengths ranging from 28mm to 140mm. Aperture-wise it is not particularly fast, its brightness being f/3.9 at the wide end and f/4.8 at full telephoto. On the front of the AW100 there's also the slimline flash unit, four small holes below the lens for the camera's stereo speakers, and the shared self-timer/AF-assist/movie light lamp.
The AW100 has Nikon's Vibration Reduction (VR) feature on board to prevent blurring from camera shake. You won't notice anything unusual except you can take sharp photos at shutter speeds that are critically slow for the focal length used. Note that Nikon recommends to turn off the VR function when the camera is mounted on a tripod.
In addition, there are a range of other functions and modes that also help to prevent camera shake. High ISO light sensitivity up to ISO 3200 at full 16 megapixel resolution reduces the risk of blurred images, while the Motion Detection option automatically detects and compensates for both camera and subject movement. The Best Shot Selector (BSS) mode automatically selects the sharpest of up to 10 sequential shots. The Backlighting mode offers an in-camera high dynamic range (HDR) function, automatically producing an image with a broader range of tonal detail. All of these options and the Vibration Reduction system can be used at the same time if so desired.
| | |
| --- | --- |
| | |
| Front | Back |
On the top plate there is a large shutter release button with a cross-hatched texture to aid location, a square, recessed power button and one other control that's not normally found on most cameras, a built-in GPS receiver. This records the exact latitude and longitude and records it in the EXIF data of each image. The AW100 has a sophisticated suite of GPS options, from using it to set the camera's clock, plotting points of interest, creating a log of your routes even when you don't take any pictures, to even a built-in electronic compass. It does have a knock-on effect on the battery-life,
The large lozenge-shaped button on the left of the Nikon Coolpix AW100 has two functions. By default it accesses the World Map, a rather rudimentary but useful tool that allows you to see exactly where you took the photos on your memory card or internal memory, if GPS was enabled when you took them, and also to view any created routes if you turned the Create Logs option on. The World Map won't replace Google Maps in a hurry, but it's still handy for quickly reviewing your geographical progress.
Action Control is a clever mode that makes the AW100 easier to use when wearing gloves or underwater. When the camera's action control is set to ON in the Setup menu, the large button on the left of the camera that by default turns on the World Map now toggles Action Control On and Off. When activated, you can control certain functions of the camera by moving it from front to back or tilting it up and down. There are three settings - High, Medium and Low - which determine how much movement is required to actually change a setting. In practice this system works well once you've got the knack of it, although the number of settings that you can change is quite small - the scene mode, start movie recording, playback images, and GPS options.
The rest of the AW100 looks more like a normal compact. The rear panel features a 3-inch TFT LCD screen with a pleasingly high resolution of 460K dots. The LCD also features Nikon's Clear Color Display technology which helps to minimize reflections in bright sunlight and underwater, and in practice this did make the screen easier to see than the majority of compacts that we test.
The Nikon Coolpix AW100's user interface opts for a conventional button-driven system. To the right of the screen are 12 buttons, with, starting from the top, a thumb-controlled rocker switch for zooming the 5x lens out and in, a one-touch movie record button, a pair of Shooting Mode and Playback buttons, a square navigation pad with an OK button at its centre, and Menu and Delete buttons underneath that. A small flash indicator lamp right at the top completes the rear controls. Our main observation is that although being rather on the small side, the buttons on the rear of the AW100 are surprisingly tactile to use with your right thumb, and they're logically laid out to prevent undue confusion.
| | |
| --- | --- |
| | |
| Front | Side |
The Nikon AW100 runs on a dedicated Lithium-ion battery, and records images as well as videos on SD / SDHC / SDXC cards. As already mentioned, he battery and card share a common compartment with the HDMI and AV-Out ports, whose locakble, sealed door is found on the right of the camera (looking from the rear). The quoted number of images that can be captured on a single charge is a rather average 250, though the actual figure may vary considerably with the amount of flash, GPS and zoom usage that you opt for. On the bottom of the AW100 is a plastic tripod socket that's centrally located in line with the LCD screen.
There are five main shooting modes on the Nikon Coolpix AW100, accessible via a dedicated button marked with a green camera icon, which include Easy Auto, Scene, the new Special Effects mode , Smart Portrait and finally Auto. Somewhat confusingly, Auto is the mode that gives you the most control over the shooting process. You don't get to set shutter speed or aperture directly - the latter would be impossible given the lack of a diaphragm anyway - but you can set the ISO speed manually, which is something you cannot do in the other modes. Functions and features accessible in this mode include the self-timer, flash mode, image quality setting, exposure compensation, macro, drive mode, white balance, and zoom. New to the AW100 is the Effects mode, which shoots both still images or movies using a special effect, such as Soft Focus and Nostalgic Sepia.
The Easy Auto mode is similar to Auto, identifying the type of subject and automatically applying the optimum scene mode, but with less user control options provided. The camera also has 17 pre-programmed scene modes as well as a Scene Auto Selector. The scene modes on offer include Portrait, Landscape, Sports, Night Portrait, Party/Indoor, Beach, Snow, Sunset, Dusk/Dawn, Night Landscape, Close-up, Food, Museum, Fireworks Show, Black and White Copy, Backlighting, Panorama Assist and Pet Portrait. The accessibility and behaviour of the various shooting functions (such as flash mode or autofocus area selection) depends on which shooting mode you are in. By enabling the Scene Auto Selector, you entrust the camera with picking the right scene mode at its own discretion. In this case, it can only choose from Portrait, Landscape, Night Portrait, Night Landscape, Close-Up and Backlighting.
In the Smart Portrait mode, the face priority and smile timer functions are activated. In other words, the camera hunts for human faces, keeps track of them, and if it detects a smile, it even fires off the shutter for you. The AW100 can detect up to three faces, but it will always focus on the one closest to the centre of the frame and will only take a shot if a smile appears on that particular face. You have no way of telling the camera to focus on and monitor a different face within the frame. You can, however, take a picture any time you want to, by pressing the shutter release button as normal.
In Smart Portrait Mode, you can also have the camera digitally soften the skin of people automatically after capture. The level of skin softening can be specified by the user. The default is Normal, with a High and a Low option also available. Skin softening can also be turned off. Furthermore, the AW100 has a blink-proof mode, in which two shots are taken in rapid succession, and if the subject's eyes happen to be closed in one of them, the camera discards that photo, while keeping the other one. The flash is disabled in blink-proof mode, as it cannot recycle fast enough.
| | |
| --- | --- |
| | |
| Memory Card Slot | Battery Compartment |
The Nikon Coolpix AW100 is one of the few Coolpix models to feature a Full 1080p HD video mode, complete with stereo sound. You can set the set the movie quality to 1920x1080p (two quality levels are available), 1280x720p, 960x540 or 640x480, all at 30fps. Four further options, HS 240fps and HS 120fps, HS 60fps and HS 15fps allow you to film in slow or fast motion.
The video features themselves are rather basic: you can uswe the 5x optical zoo, choose from single or full-time autofocusing, turn the movie light on or off, switch the macro mode on or off, and turn wind reduction on or off. You cannot manually set white balance, gain or exposure compensation, neither is there an AE lock function. The clips are compressed using the Quicktime codec and stored in a MOV container.
Once you've captured a photo or a movie clip, you can enter Playback mode via its dedicated button. The user can choose from a number of viewing modes, including full frame, magnified view, and index views of 4, 9 or 16 thumbnails. A calendar display is also available. Quite surprisingly, the camera does not display any meaningful exposure data along with the photo you are viewing; nor does it provide a histogram to judge exposure (there is no live histogram in record mode, either).
On the other hand, there are quite a few post-capture image modification / retouching functions, including Quick Retouch, D-lighting, Glamor Retouch, which applies adjustments only to faces in an image, seven creative effects - Color Options, Soft, Selective Color, Cross Screen, Fisheye and Miniature Effect and Fog removal - set the print order, view a slideshow with music, protect certain images, rotate and downsize them for Web resolution, add a voice memo, copy them to or from the internal memory or memory card, set the sequence display, choose a key picture, and choose your favourite pictures.
As with most Coolpix's that we've reviewed, the AW100 comes with a comprehensive manual that is also downloadable as a PDF from the Nikon website. It is quite thorough and very well cross-referenced. Nikon supplies a Software Suite CD that includes Nikon Transfer, Nikon View NX and Panorama Maker. The first two are standard Nikon camera / imaging applications, while the latter is used to stitch together images shot in the Panorama Assist scene mode.