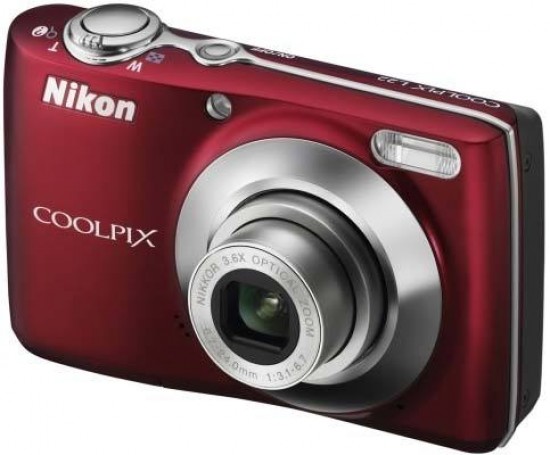 Image Quality
All of the sample images in this Review were taken using the 12 megapixel Fine JPEG setting, which gives an average image size of around 5Mb.
During the review, the Nikon Coolpix L22 produced images of perfectly acceptable quality for a camera that will almost exclusively be used for snapshots. In the middle of the zoom range and at around the telephoto end the lens is really - even surprisingly - sharp from corner to corner. At the wide end though, the off-centre areas are a lot less sharp than the image centre. Colours on the whole are pleasing, and while auto white balance does not always work well, the camera has a custom WB option that gives nearly perfect results. Chromatic aberrations and geometric distortions are very well corrected in-camera, and while the flash has a propensity to produce red-eye in portraits, its red-eye reduction mode has turned out pretty effective. The only real issue with image quality is noise, or should we say, noise reduction. Given that the camera does not allow the photographer to set the ISO speed manually, it will inevitably use a high sensitivity setting in certain circumstances, which produces photos with smeared details. This is not going to be a major issue for the target customer though.
Noise
The Nikon Coolpix L22 does not provide photographer control over ISO speeds, so we were unable to complete this test.
Focal Range
The Nikon Coolpix's 3.6x zoom lens provides a focal length of 37-134mm in 35mm terms, as demonstrated below.
| | |
| --- | --- |
| 37mm | 134mm |
| | |
Sharpening
Here are two 100% crops - he right-hand image has had some sharpening applied in Photoshop. The out-of-the camera images are slightly soft at the default sharpening setting and benefit from some further sharpening in a program like Adobe Photoshop. You can't change the in-camera sharpening level to suit your tastes.
| | |
| --- | --- |
| Original (100% Crop) | Sharpened (100% Crop) |
| | |
|   |   |
| | |
File Quality
At full resolution, there are two JPEG quality settings available including Normal and Fine, with the latter being marked with a star in the menu. The camera does not save images in a Raw format.
| | |
| --- | --- |
| Fine (100% Crop) | Normal (100% Crop) |
| | |
Chromatic Aberrations
Chromatic aberrations are a non-issue with the Nikon Coolpix L22. This is probably a result of firmware-based CA removal.
Macro
The Nikon Coolpix L22 has a macro mode that allows you to get as close as 5cm to the subject. While this may not sound very competitive, it does allow you to zoom in a little, so the resultant magnification is not bad at all - and it's nice to have a bit of working distance. The image quality is very good, with little distortion, no chromatic aberration and good sharpness across the frame. Of course the camera may pick a high sensitivity setting, which can result in some noise. The example below was taken at ISO 800 for instance.
| | |
| --- | --- |
| Macro Shot | 100% Crop |
| | |
Flash
The available flash modes in Auto mode are Forced Off, Forced On, Red-eye Reduction, Auto, and Auto with Red-eye Reduction. In other shooting modes you may not have access to all of these settings. These shots of a white ceiling were taken from a distance of 1.5m.
| | |
| --- | --- |
| Flash Off - Wide Angle (37mm) | Flash On - Wide Angle (37mm) |
| | |
|   |   |
| Flash Off - Telephoto (134mm) | Flash On - Telephoto (134mm) |
| | |
And here are a couple of head shots. The flash caused a lot of red-eye, but the red-eye reduction setting managed to get rid of most of it.
| | |
| --- | --- |
| Flash On | Flash On (100% Crop) |
| | |
|   |   |
| Red Eye Reduction | Red Eye Reduction (100% Crop) |
| | |
Night
With no photographer control over shutter speed and sensitivity, the Nikon Coolpix L22 is hardly the ideal tool for night photography. Certain scene modes - such as Night landscape and Fireworks - are better than others, but your chances of getting a shot that is both properly exposed and clean are pretty slim. In the below example the camera chose a shutter speed of 4 seconds at ISO 80, which resulted in an underexposed image. Dialling in some exposure compensation would have caused the L22 to pick a higher sensitivity setting and a better exposed but noisier shot.
| | |
| --- | --- |
| Night Shot | Night Shot (100% Crop) |
| | |
D-lighting
While the Nikon Coolpix L22 doesn't offer the Active D-lighting functionality of the manufacturer's DSLRs, it does offer D-lighting as a post-capture option. The examples below demonstrate what a difference it can make when shooting a high-contrast scene.
| | |
| --- | --- |
| Off | On |
| | |
Colour Options
The camera offers a range of colour options including Standard, Vivid, Black-and-White, Sepia and Cyanotype. The images presented here show the differences across these options.
| | |
| --- | --- |
| Standard | B/W |
| | |
|   |   |
| Cyanotype | Sepia |
| | |
|   |   |
| Vivid |   |
| |   |