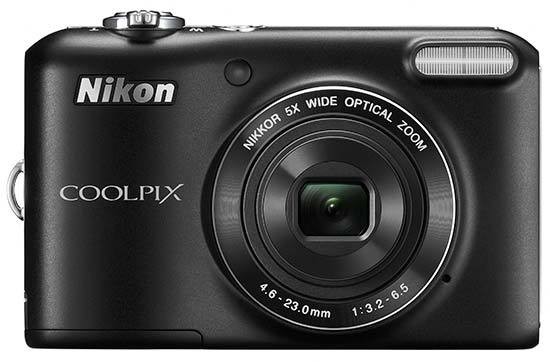 Image Quality
All images were taken at full resolution in the review with the exception of the resolution test shot. At full resolution (denoted on the camera as 20M*) the camera churns out files around 8Mb in size. Knock it down to 20 megapixel with only a normal compression rate and the file size is just over 4Mb. This is great if you're low on memory, but have a while before you can download. You can retain resolution while freeing up space. Just be aware that if you then want to print it to a large size and there's a lot of fine detail, the normal compression file will lose more of the information in order to retain it's small size. This is called a lossy file. JPEGs are lossy, but the star resolution loses less information than the resolution without the star.
Noise
There's no option to adjust the ISO on the Coolpix L28. The camera controls everything, which is good if you simply don't care about what the noise looks like on a picture. We adjusted the lighting to try and force the camera to increase the ISO. This worked to a degree and we managed to get shots up to ISO 400. Noise is evident as salt & pepper noise at ISO 80. It's a bit of a shame, but not a surprise on a camera at this level. Going to ISO 110 doesn't change much, which is to be expected as it's only around a third of a stop difference. At ISO 200, it starts to smooth out a little showing that noise reduction software is at work.
We managed to get an ISO 320 test shot which, again, doesn't show much difference but there is an increase in colour noise on the ISO 400 photograph. We can only surmise that going over this setting will start to produce some colour noise which will get quite shocking.
| | |
| --- | --- |
| ISO 80 (100% Crop) | ISO 110 (100% Crop) |
| | |
|   |   |
| ISO 200 (100% Crop) | ISO 320 (100% Crop) |
| | |
|   |   |
| ISO 400 (100% Crop) |   |
| |   |
Focal Range
The actual focal length of the Nikon Coolpix L28 is 4.6–23mm which is 5x optical. We tend to refer to the 35mm equivalent which in this case is 26-130mm. There are 6 lenses in 5 groups which means only two lenses are clustered. There appears to minimal lens distortion at the wide-angle setting.
| | |
| --- | --- |
| 26mm | 130mm |
| | |
Sharpening
Using the sharpening tool on a photo editing suite such as Adobe Photoshop is up and down with the L28. If the camera has used a low ISO, there won't be much noise on the picture and that's what deteriorates the benefit of sharpening. Any noise in the pictures seems to exacerbate, which isn't a good thing.
| | |
| --- | --- |
| Original (100% Crop) | Sharpened (100% Crop) |
| | |
|   |   |
| | |
|   |   |
File Quality
The Nikon Coolpix L28 has two compression ratings at full resolution. The highest quality has a star designation next to the image size in the main menu. A typical image at this size is around 8Mb while knocking it down to the normal setting without the star will shave off roughly 3Mb of information.
| | |
| --- | --- |
| High (8.03Mb) (100% Crop) | Normal (4.30Mb) (100% Crop) |
| | |
Chromatic Aberrations
Chromatic aberration is an issue for the L28, but then we expected it to be. It's most prevalent at the edges of the frame and also seems to worsen as the contrast gets harder. We did find evidence of it near the centre of the frame too.
| | |
| --- | --- |
| Chromatic Aberrations 1 (100% Crop) | Chromatic Aberrations 2 (100% Crop) |
| | |
|   |   |
| Chromatic Aberrations 3 (100% Crop) | Chromatic Aberrations 4 (100% Crop) |
| | |
Macro
The close focusing of the Nikon Coolpix L28is 10cm (approx. 4inch) which isn't all that great for getting those ultra close-up shots of wildlife. However, because it's not that close, there's less barrel distortion which can lead to bowed lines.
| | |
| --- | --- |
| Macro | Macro (100% Crop) |
| | |
Flash
The built-in flash on the Nikon Coolpix L28 is pretty intelligent. It stabilises the amount of light in the shot without messing around with it. In our sample shot without flash, there's more light to the right side of the frame from the ambient source. Using flash retains that light, but makes it more constant and less dappled. There's a small amount of vignetting seen at the corners of the frame on the fully zoomed shot with no flash. This is removed when the flash is fired to create an even light spread.
| | |
| --- | --- |
| Flash Off - Wide Angle (26mm) | Flash On - Wide Angle (26mm) |
| | |
|   |   |
| Flash Off - Telephoto (130mm) | Flash On - Telephoto (130mm) |
| | |
The Nikon Coolpix L28 does have a red-eye reduction mode but there's little point in using it. Whenever we tried it, the flash with out red-eye never captured any.
| | |
| --- | --- |
| Flash On | Flash On (100% Crop) |
| | |
Night
Taking night pictures in the night scene mode gives a better exposure. We recorded at 0.77seconds while the Auto mode used a shutter speed of 1/4second. However, everything else remains the same from the aperture to the ISO. It seems that the Auto mode doesn't have a long enough shutter speed available to take effective pictures in the dark. The downside is they both used a high ISO 800 setting which means there's lots of noise in the shot.
| | |
| --- | --- |
| Night Auto | Night Auto (100% Crop) |
| | |
|   |   |
| Nigh Scene | Night Scene (100% Crop) |
| | |