Nikon Coolpix P100 Review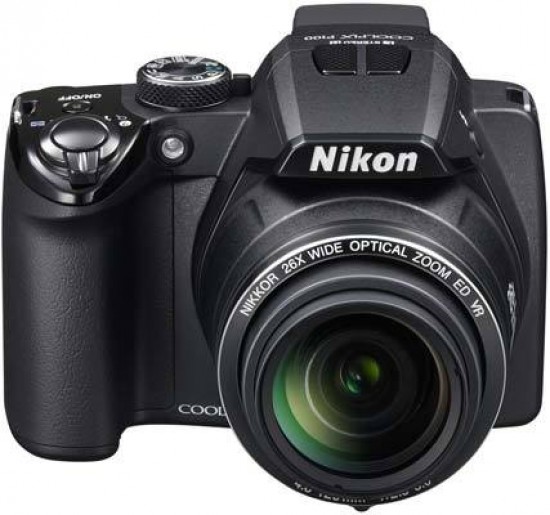 Introduction
The 10-megapixel Nikon Coolpix P100 is the successor to last year's 12-megapixel P90 model. That's right, Nikon has reduced the pixel count, if only by a little. The big news is that the new, slightly lower-resolution sensor is of the back-illuminated CMOS variety, which promises a better signal-to-noise ratio and offers faster read-out speeds. Indeed, the P100 can capture a whopping 10 frames per second at full resolution. Other notable improvements include a 26x zoom lens, a stereo microphone, Full HD movie recording at 30fps and slow-motion video at up to 240fps, as well as a new 460,000-dot rear screen. The Nikon Coolpix P100 is available now priced at £349.99 / $399.99 in the UK / US, respectively.
Ease of Use
Weighing in at 481 grams, the Nikon Coolpix P100 is somewhat heavier than its forebears, but its design is only minimally different. Like most high-end superzooms, the Nikon P100 has the typical bridge camera look, with a chunky hand-grip, large lens barrel, pop-up flash and an eye-level electronic viewfinder. The deep grip is moulded to fit comfortably into your right hand, and is rubberised for added comfort.
The other dominant camera part is of course the lens, which on the P100 goes from a very wide 26mm to a massive 678mm in 35mm terms. Considering that with an SLR, you would need at least 3-4 lenses to cover the same focal range, the single, fixed-mount lens of the Nikon P100 can be described as remarkably compact, even if it does extend quite a bit when zoomed to full telephoto. For its size, the P100's lens is impressively fast, with maximum apertures of f/2.8 at 26mm and f/5 at 678mm. Note that the lens cap has to be removed before turning on the camera - failing to do so will result in an error message being displayed, and you'll have to turn off the camera before you can turn it on again, which is a bit annoying -, although if you only want to review what's already on the card, you can also power on the P100 by holding down the Playback button, in which case the lens won't extend.
Thankfully Nikon has included Vibration Reduction (VR) to help prevent camera-shake, an essential feature on a camera like this. Interestingly, while VR is lens based in the Nikon SLR system, it is of the sensor-shift variety in the P100. I have found that Vibration Reduction makes a noticeable difference to the sharpness of the images, as shown in the examples on the Image Quality page. You can hear a slight mechanical whirring noise when it is turned on, but otherwise you don't really notice it, except that that you can use slower shutter speeds than normal and still take sharp photos. Sadly, there isn't a dedicated button to turn VR on and off - but at least leaving it on did not seem to negatively affect the battery life, with the camera managing around 250 shots using the supplied Li-ion battery. It's still a good idea to turn VR off (via the menu) when the camera is mounted on a tripod, lest the system itself cause blurring by trying to counter camera shake that isn't there.
| | |
| --- | --- |
| | |
| Front | Rear |
Zooming is done by way of a conventional zoom lever that encircles the shutter release button sitting atop the right-hand grip. It is of the dual-speed variety: rotating it all the way in either direction will adjust the focal length quickly, while rotating it partially will cause the lens elements to move slower, enabling you to set the desired focal length more precisely.
There are two different ways of composing images with the Nikon Coolpix P100: you can use either the eye-level electronic viewfinder (EVF) or the rear screen. Unfortunately, there are no eye proximity sensors that would allow the camera to toggle between the two automatically - you need to press a button every time you want that to happen. The EVF is a bog standard affair with 230,000 dots and average magnification; nothing to write home about, especially in 2010. The three-inch rear LCD screen is much nicer to look at, thanks to its resolution of 460,000 dots. Even more importantly, it's articulated and able to tilt up or down, giving you some added flexibility in composing your shots. A truly free-angle LCD, which can also be rotated out to the side, would have been even nicer though.
The layout and number of external controls haven't changed much from the P90. You still get a traditional, top-mounted mode dial with P, A, S and M shooting modes - perfect for the photographer who wants to take full control - as well as pre-programmed scene modes, Scene Auto Selector, full auto and Sport Continuous modes, plus the new Smart Portrait and Subject Tracking shooting modes. There is also a User (U) setting you can use to quickly retrieve a combination of your most frequently used settings. The shutter release, the zoom lever and the power button are essentially in the same locations as on the P90.
The rear controls are also laid out very similarly to those of the preceding model. There is a well-positioned control wheel in the top-right corner (when viewed from the back), which makes it easy to change the aperture and shutter speed in A and S modes respectively, but there's still no second dial on the hand-grip which would have made operating Manual mode much easier. The familiar multi-selector with its centred OK button appears identical to the P90, down to the individual functions that are mapped onto the Up, Down, Left and Right buttons. These include the flash and focus modes, the self-timer and exposure compensation, respectively. There is still no shortcut key to ISO speed, which is still only accessible from the menu (as is white balance); a major design flaw in my opinion.
| | |
| --- | --- |
| | |
| Maximum Zoom | Pop-up Flash |
The P100's focus modes include AF, Macro, Infinity and Manual. AF can be centre-spot, user selectable from 99 focus points or camera selectable from 9 points. In Face Priority AF mode, the camera can detect up to 12 human faces and will focus on the one closest to the camera. I have found that regardless of AF area mode, auto-focus speed was satisfactory for still subjects, but too slow for fast-moving ones. There's a reason why most of the zoo shots in our Samples gallery are static in nature - the AF system of the P100 did not prove fast enough to capture fast action. Manual focusing is also possible, though a bit awkward: you get a rudimentary distance scale on the right-hand side of the screen, and can adjust focus via the Up and Down buttons. The centre of the picture is enlarged to aid you with checking focus, but unfortunately this is achieved by  way of interpolation rather than real magnification. The whole process is pretty slow, but can still be a godsend when the auto-focus system starts acting up.
The flash of the Nikon P100 has to be popped up manually, using the button on the side of the mock pentaprism housing. You can set the flash mode to auto, auto with red-eye reduction, fill, slow sync and rear-curtain sync via the Up button on the multi-controller, but only when the flash is raised. As there is no hot-shoe or sync terminal on the Nikon Coolpix P100, and it does not offer wireless TTL flash control either, the only way to sync up an external flashgun with the camera is to optically slave it to the built-in unit.
One of the P100's novelties versus the P90 is its ability to shoot full-resolution stills at up to 10 frames per second (fps). Accessible via the menu, this fast burst mode is called Continuous H. Alas, the camera cannot keep up this speed for long, as the buffer fills up after six shots. In other words, you can only shoot for a bit more than half a second in Continuous H mode. Thankfully, there still remains a slower burst mode, called Continuous L, in which the frame rate drops to 2.8fps, but you can capture up to 200 full-resolution photos at the Normal quality setting. This is still 2x faster than the P90's pedestrian 1.4fps burst mode. Note that you cannot use the flash in any of the continuous shooting modes.
The other area where the Nikon Coolpix P100 represents a major improvement over its predecessor is its movie mode. Where the P90 had a disappointing 640×480-pixel VGA video mode, the P100 can shoot Full HD (1920×1080-pixel) movies at 30 frames per second, with stereo sound and optical zoom. Nikon's smart designers put the stereo microphone on the top of the camera right behind the flash. A Wind Noise Reduction function is available in the Movie menu. Serving to minimise the noise of wind blowing on the microphone, it is recommended to be turned on in strong wind only, as it may also make other sounds difficult to hear. Sensor-shift VR is not available during movie recording, but you may opt to turn on electronic image stabilisation.
| | |
| --- | --- |
| | |
| Memory Card Slot | Battery Compartment |
Recording movie clips is very easy on the Nikon P100. The new model has got an all-new Movie Record button, which is in fact the only new button versus the P90. By pressing this button, you can start recording a clip no matter what shooting mode you are in. You can use the optical zoom while filming, and full-time AF is also available. In use, I have found that zooming in or out sometimes caused the image to go temporarily out of focus, but the AF system usually adjusted itself very quickly in these cases. Maximum clip length is limited to 29 minutes.
The P100 is also capable of high-speed (HS) movie recording, albeit not at Full HD resolution. QVGA videos can be shot at 240fps, VGA movies at 120fps, and HD (720p) clips at 60fps. When these videos are played back at 30fps, they become slow-motion movies. The maximum recording time per clip is limited to 10 seconds in the HS video modes. Sound is not recorded and no form of VR is available. Given the high frame rates, these videos require fast shutter speeds, which effectively means that you need very bright conditions, especially when shooting at 240 frames per second. There is an ingenious movie mode switch around the Movie Record button that toggles between HD and HS movie recording. An elegant and simple solution, although the parameters have to be set via the menu.
As already noted, the Nikon Coolpix P100 runs on a proprietary Lithium-ion battery. The novelty here is that it can - and has to - be charged in-camera, rather than a supplied external charger. You can charge it via a computer or through the included mains adapter - but you can't take it out of the camera and pop in a fresh spare while the depleted battery is being charged, unless you buy a separately sold external charger as well. Pictures and videos can be stored on SD and SDHC memory cards (SDXC is not supported). There is a small internal memory too, but it will only hold a few photos at full resolution, so you'll definitely need a memory card.
In use, the Nikon Coolpix P100 proved to be a generally rewarding camera. Superzooms have always had a reputation for having a high "fun factor", and the P100 is no different. The ability to quickly go from wide angle to ultra-telephoto is something that has to be experienced in order to be fully appreciated. It certainly gives you a kind of freedom you do not feel with any other type of camera. The performance of the Nikon P100 is mostly satisfactory. It starts up in under two seconds and zooms pretty quickly yet accurately for a power zoom. As noted earlier, its AF speed is not the greatest, but you'll only notice that when trying to capture fast action. We have found the high-speed continuous shooting mode brilliant but sadly limited by a small buffer. The only truly frustrating design flaw is the lack of direct access to ISO speed and white balance. We'd really like to see dedicated buttons for these functions. In Playback mode, the only notable quirk is the inability to magnify into the image from Histogram view - this is something that ought to be easy to address via a firmware upgrade.
This concludes our evaluation of the camera's handling and features. Let us now see how it fared in the image quality department!