Nikon Coolpix P7000 Review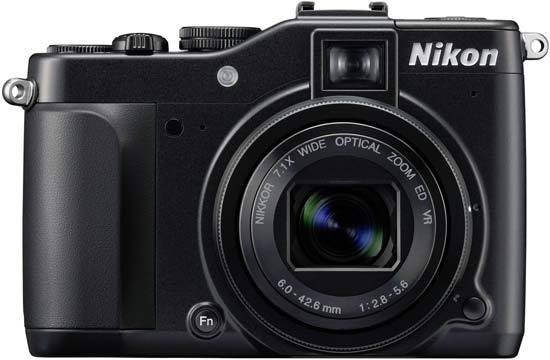 Introduction
The Nikon Coolpix P7000 is a the new flagship model in Nikon's extensive range of Coolpix compact digital cameras. The Coolpix P7000 is the successor to the one-year-old P6000, but it offers a new design and extra features that make it a completely different proposition. The 10 megapixel Nikon P7000 features a mechanically-stabilized 7.1x optical zoom with a focal range of 28-200mm and maximum apertures of f/2.8-5.6, built-in neutral density filter, sensitivity range of ISO 100 to 6400, RAW file support, optical viewfinder, external flash hotshoe, PASM shooting modes, 720p HD video recording with stereo sound and a microphone jack, and a 3-inch, 920,000-dot LCD screen. Designed to appeal to the keen enthusiast photographer, the P7000's most obvious competitor is the equally new Canon PowerShot G2, with both cameras looking eerily similar at first glance. The Nikon Coolpix P7000 is available in black for £489.99 / €580.00 / $499.95.
Ease of Use
The Nikon Coolpix P7000 is thicker and heavier than the P6000 model that it replaces, now more closely resembling the popular Canon Powershot G-series in terms of both dimensions and weight. This means that it no longer fits completely in your palm or a trouser pocket, instead being much more at home stored in a capacious coat pocket or small shoulder bag. Still, given that the P7000 has increased the zoom to 7.1x with a focal range of 28-200mm, more versatile than both the P6000 and the Canon PowerShot G12, we're willing to forgive Nikon for the increase in size. It also still offers a realistic alternative to lugging around either a 'super zoom' bridge camera or actual DSLR without having to compromise on features or handling. As with its predecessor, the P7000 feels at once solidly constructed yet at the same time reasonably lightweight, with a magnesium alloy chassis and similarly high levels of build quality that you find on the company's DSLR range.
The front of the Nikon Coolpix P7000 features the aforementioned 7x zoom lens surrounded by a metal ring that can be unscrewed to allow for supplementary Nikon attachments such as wide angle or telephoto converters. The 200mm maximum telephoto setting is a key difference between the P7000 and the G12, bringing candid and detail shots within reach, while the 28mm wide-angle setting makes it easy to shoot subjects like buildings in narrow streets or a group of your friends in a confined space. The maximum apertures of f/2.8 at 28mm and f/5.6 at 200mm are also perfectly respectable and in keeping with the serious nature of the camera.
The P7000 has a couple of innovative optical features. It's equipped with a built-in neutral density (ND) filter, the first Coolpix model to offer this feature, which provides a three-stop decrease in the shutter speed, enabling you to use a slower shutter speed in bright surroundings and achieve exactly the creative effect that you want. The P7000 also offers a number of set focal lengths - 28, 35, 50, 85, 105, 135 and 200mm - with the new Zoom Memory function quickly switching to one of them, mimicking having a bag full of prime lenses.
| | |
| --- | --- |
| | |
| Front | Rear |
Nikon have also included their VR (Vibration Reduction) image stabilisation system to help prevent camera-shake, an increasingly de-facto feature on a lot of high-end compact cameras. Annoyingly there isn't a dedicated button to turn it on and off (it's somewhat buried in the Setup menu). In practice I found that the VR system makes a noticeable difference to the sharpness of the images, as shown in the examples on the Image Quality page. You don't notice that the camera is actually doing anything different when anti-shake is turned on, just that you can use slower shutter speeds than normal and still take sharp photos. It didn't seem to adversely affect the battery life either, so I'd advise you to turn it on and then forget about it.
When the Nikon P6000 was first announced, it's NRW RAW format implementation caused quite a stir. Nikon teamed up with Microsoft to use the Windows Imaging Component (WIC) codec in Windows Vista (also available for Windows XP SP2 via .NET). The key benefit of this approach was to allow the operating system to decode the RAW files, rather than third-party software, but obviously this opened Nikon up to charges of ignoring MAC users and generally being in cahoots with Microsoft. Now Nikon have introduced an enhanced version of the NRW file format, NRW+, which as you'd expect isn't yet supported by the third-party software vendors. You'll need to use the supplied ViewNX 2 software or buy Nikon's Capture NX2 to edit the P7000's RAW files on a computer (thankfully both are now MAC compatible).
Which sadly can't also be said about the negative effect that using RAW has on the P7000's responsiveness. Maximum resolution JPEGS are stored in a couple of seconds, but RAW format is a different story entirely, essentially locking up the camera for around 5 seconds until the file is written to memory. If you then quickly take a second shot, the write time gets even longer. This is frankly unacceptable on a prosumer camera, and severely limits the type of photography that you can attempt when shooting RAW files - I'd go so far to say that it may put you off shooting RAW altogether. Continuous shooting is also one of the P7000's weak points. It can only capture 1 frame per second when shooting Fine sized JPEGs, albeit for up to as many images as the memory card can hold. If you select the RAW file format, the camera shoots at 1 fps for up to 5 frames, and then takes around 15 seconds to write them to the memory card.
Bottom left of the lens is the new Fn button, just one of the ways in which the P7000 can be customised to suit your shooting style. One of six different settings can be mapped to this button - RAW, ISO, White Balance, Picture Control, D-Lighting and Metering - which therefore provides one-touch access to some of the more commonly used functions. Bottom-right of the lens is a small button for releasing the metal lens ring. Top-left are two single bulbs, one that doubles as a self timer plus AF assist lamp, and another that acts as an infra red receiver for use with the optional ML-L3 remote control.
| | |
| --- | --- |
| | |
| Front | Front |
Directly above the lens is the glass window for the optical viewfinder, something of a rarity on modern cameras. The viewfinder itself is small (just 80% scene coverage) and rather murky, and peer through it and you can spot visible barrel distortion at the lens' maximum wide angle setting, which appears slightly less pronounced on the LCD alternative. Some users may welcome the inclusion of the optical viewfinder, but I only really used it on the rare occasions that it was just too bright to see the LCD screen clearly. Directly right of this is the small built-in flash, which pops-up above the lens and therefore provides more clearance and less chance of unwanted red-eye in your photos. Completing the front of the P7000 is the hand-grip, which although not as big or as well-designed as the P6000's is nevertheless still nice to use, with a new rubberised coating and just enough room for three fingers.
Moving to the top of the P7000, Nikon's design team has implemented an initially complex but quickly second-nature system of not one, not two, but three circular dials. Starting on the left when viewed from behind, the first dial provides quick access to six commonly used functions - Quality, ISO, White Balance, Bracketing (including exposure, ISO sensitivity, and white balance), My Menu (which effectively allows you to register your favourite menu options and then quickly access them) and Intelligent Exposure. Simply set the dial to your desired option and press the small button in the middle to change it. To the right of this dial is a hot shoe for an optional Nikon Speedlight flashgun, expanding the P7000's flash capabilities. We found that the built-in flash unit was fine for a bit of fill-in, with respectably quick recycle times and adequate range.
The large shooting mode dial is again similar to what you'd find on a consumer-level DSLR. Ranged around this we find the usual suspects of Auto, Program Auto, Shutter Priority, Aperture Priority and Manual, plus Movie mode, and Scene modes. There is also a Low Light mode which boost the ISO sensitivity up to 12,800, albeit with a reduction in image size to 3 megapixels. Completing the mode dial are three User settings which essentially allow you to configure the camera in different ways and then access those key settings with a simple turn of the dial. The action of the wheel itself is slightly stiff, meaning that you reach each chosen setting with a definite click and avoid accidentally shooting past the one that you wanted.
The P7000 has a springy shutter button with a definite halfway point, with the camera taking a brief moment to determine focus and exposure but with no discernable shutter delay thereafter. This is surrounded by a pleasingly tactile zoom lever. The zoom is pretty quick to respond, sound-tracked by a mechanical gnat-like buzz. Just behind the shutter release button is a small but clearly marked on/off button which is encircled by a green LED which briefly lights up to signify the power is indeed on. Give it a press and the P7000 powers up in around one second, the lens barrel extending to maximum wide-angle setting and the rear LCD blinking into life. There's also a teeny but bright green adjacent lamp which provides a visual indication when the camera is busy processing files.
| | |
| --- | --- |
| | |
| ISO Menu | Top |
The small and rather inconspicuous AV TV button is actually a neat addition. It toggles the thumb-operated control dial and the circular wheel which surrounds the navigation pad between their defaults of setting the aperture and shutter speed respectively when in the A, S or Manual shooting modes. Next to this and completing the P7000's top-plate is another clever new feature, a dedicated dial for setting exposure compensation - if only it was this easy to change on all cameras.
The rear of the P7000 has a button for popping up the built-in flash, a small window for the aforementioned optical viewfinder up top and dead centre with a very welcome diopter adjustment control alongside it, and teeny flash and auto focus lamps. Below is a 3-inch LCD screen with an impressively high 921,000-dot resolution, a marked improvement on the P6000's screen and providing more than enough detail for you to be able to determine whether you have a sufficiently crisp image. You can also turn on the new Virtual Horizon feature to help ensure that your horizons are perfectly level.
An unmarked control dial is positioned top-right of the LCD screen. Immediately lending the camera a proper 'grown up' feel, this falls readily under the thumb, and allows you to quickly set the aperture or shutter speed, or browse through a sequence of images in playback, amongst other functions. This dial provides a neat solution that is great to use, especially if you are a regular DSLR user. Another DSLR-like feature is the new AE-L / AF-L button which makes it easy to lock either the exposure of the focus point.
Underneath is the button for controlling the screen display – either displaying all settings, providing a 'clean' screen or switching it off entirely, but irritatingly still no live histogram (although this button does call one up in playback mode) - and the self-explanatory playback button. Next is the familiar four-way navigation pad, which allows you to set the flash, focusing, macro and self-timer options, in addition to moving through menus and selecting options, with an 'OK' button at its centre being the means via which changes can be implemented. Surrounding this is a circular wheel, a feature that has been "inspired", shall we say, by some of Nikon's main rivals. As previously mentioned, this is principally used to set the aperture or shutter speed. forming an intuitive partnership with the rear control dial, as well as performing the more mundane tasks of moving through menus and selecting options.
| | |
| --- | --- |
| | |
| Memory Card Slot | Battery Compartment |
The familiar Menu button accesses the usual Nikon menu system, which is clear and easy to navigate. Press this when in Auto capture mode and there's just two menus, Playback and Settings. Turn the dial to Program or one of the advanced shooting modes and press again and you also get the Shooting menu, which offers 13 different additional settings.
The Picture Control option allows you to tweak the look and feel of your images, with 4 presets and a Custom option on offer. The contrast, saturation and sharpening level of each preset can be individually adjusted too, so you should be able to find a setting that suits you. Distortion control automatically corrects barrel distortion, useful for all those 28mm shots of close-up architecture with converging verticals, but it does have to be turned on before you take a picture. D-Lighting is a long-standing Nikon technology that brightens the shadow areas of an image, with three different strengths available.
In playback mode, pressing the same menu button affords access to rudimentary image editing, including Nikon's exposure adjusting D-Lighting function, Skin Softening and Miniature Effect, image slide shows, plus the ability process a RAW file in-camera if required. The new Tone Level function displays a brightness histogram in an unusual vertical orientation, to the right of which is a tone scale. you can move up and down the nine levels and as you do so, the current tone range is displayed as a flashing area in the main image, allowing for more precise verifcation of the exposure. A button to the right features the familiar trashcan icon for deleting images on the fly and completes the rear of the P7000.
On the right flank of the camera – if still viewing it from the rear – there's an eyelet for attaching the supplied shoulder strap and a plastic cover protecting the A/V out / USB and HDMI ports. On the left hand flank is an identical means of threading on the strap, plus the new MIC port which accepts an optional external microphone. The built in speaker is on the bottom of the camera, alongside the centrally positioned, metal tripod mount. The P7000 is powered by a 7.4v lithium ion battery, good for around 350 shots, that slots into the base alongside the SD / SDHC / SDXC card slot.