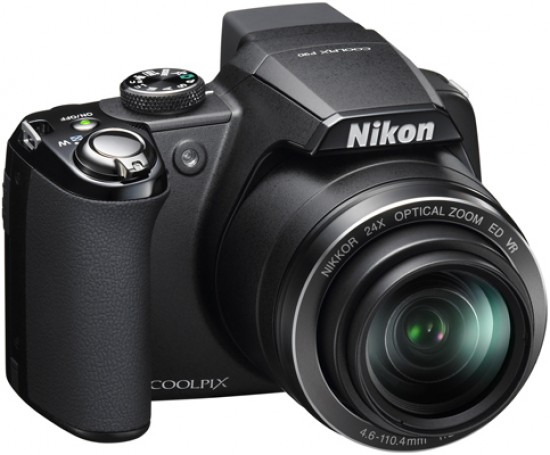 Introduction
The Nikon Coolpix P90 is the successor to Nikon's first ever super-zoom compact camera, last year's P80 model. The 12 megapixel P90 offers a number of significant upgrades, most notably the incredible 24x wide-angle zoom lens which provides a massive focal range of 26-624mm. Featuring Nikon's VR (Vibration Reduction) image stabilisation system to help ensure that the majority of photos are sharp and don't suffer from camera-shake, the Coolpix P90 also offers a 3-inch tilting LCD screen, an electronic viewfinder for image composition, a complete range of exposure controls with Auto, Program, Shutter-priority, Aperture-priority and full Manual mode, and an extensive ISO range of 64-6400. A 1cm macro mode, Auto Scene, Face Priority AF, Smile Mode and Blink Warning complete the headline specifications of the £379.99 / €449.00 / $399.95 Nikon Coolpix P90.
Ease of Use
The new P90 is very similar to the previous P80 model in terms of its design, so some of our comments about that camera will be repeated here. At first glance the Nikon Coolpix P90 looks pretty much like a true digital SLR camera, with a chunky rubberised handgrip, large lens barrel, pop-up flash, rear control dial for changing the aperture and shutter speed, and an eye-level viewfinder. If you lined it up alongside an entry-level DSLR, you would be hard pushed to spot the odd camera out, which is exactly what Nikon are aiming for.
All is revealed only when you look at the back of the P90 when it is turned on and see the LCD screen showing a live preview of the scene (something which most recent DSLR cameras can admittedly now do as well), or if you hold it up to your eye and look through the electronic viewfinder. Also the 24x fixed zoom also doesn't have the zoom or focus rings that you'll find on a DSLR lens, and it obviously can't be removed from the camera as with a true SLR. In terms of overall build quality, if we're being picky, there's a little bit of flex in the all-plastic body, but it's certainly a lot better built than the competitive £379 / $399 price-tag might suggest.
The incredible 24x zoom lens obviously makes the Nikon Coolpix P90 one of the most versatile compacts in terms of focal range. The 26-624mm focal length should handle most photographic possibilities, with the only exception being ultra wide-angle shots. The P90's lens is impressively fast, with maximum apertures of f/2.8 at 26mm and f/5 at 624mm, although don't expect to achieve DSLR-like blurred backgrounds due to the comparatively small sensor. Nikon's engineers have also provided a 1cm macro mode, so there really is very little that the P90 can't cope with. There's no need to carry round a bagful of heavy lenses as with a DSLR system, and because the lens is fixed, there's little danger of unwanted dust getting onto the sensor. The Nikon Coolpix P90 is only surpassed by the Olympus SP-590UZ which has an even longer 26x, 26-676mm lens. Annoyingly, the lens cap has to be removed before turning on the camera, even if you only want to playback your images.
Thankfully Nikon have included their VR (Vibration Reduction) image stabilisation system to help prevent camera-shake, an essential feature on a camera like this, although annoyingly there isn't a dedicated button to turn it on and off (it's buried within the Setup main menu). In practice I found that the VR system makes a noticeable difference to the sharpness of the images, as shown in the examples on the Image Quality page, but don't expect to get sharp results every time at the longer focal lengths without the use of a suitably fast shutter speed and preferably a tripod too. You can hear a slight mechanical whirring noise when Vibration Reduction is turned on, but otherwise you don't really notice it. Thankfully leaving the anti-shake system on didn't negatively affect the battery-life, with the camera managing around 225 shots using the supplied Lithium-ion rechargeable battery.
| | |
| --- | --- |
| | |
| Front | Rear |
In addition, there are 3 electronic functions that help to prevent camera shake. High ISO light sensitivity (3200/6400 at 3 megapixels, or 1600 at full resolution) reduces the risk of blurred images, while the Motion Detection option automatically detects and compensates for both camera and subject movement. Best Shot Selector (BSS) mode automatically selects the sharpest of up to 10 sequential shots. All of these 3 options and the Vibration Reduction system can be used at the same time if so desired.
There are two different way of composing images with the Nikon Coolpix P90. As with the rest of the super-zoom competition, the P90 has an electronic viewfinder (EVF), with a resolution of 230,000 pixels. As this camera has largely been designed to replicate a DSLR, it means that you will invariably compose your images by holding the camera up to your eye. I found that while the P90's EVF is one of the better examples around, it doesn't keep up with the eye quite as quickly or precisely as a true optical viewfinder. On the plus side, you get a lot more visual feedback via the EVF than on most optical viewfinders and you can also playback your images on it if you so wish! I still much prefer a traditional, good quality optical viewfinder though, and this would be one of the main reasons for opting for a true DSLR instead of the Nikon Coolpix P90.
The new 3 inch vari-angle LCD monitor on the back of the camera has the same resolution of 230,000 pixels as the EVF, which is on the low side for such a large screen, resulting in a slightly grainy display. It also offers five levels of brightness, an anti-reflection coating, a wide viewing angle, and can be tilted through 90 degrees upward and 45 degrees downward. This makes it possible to hold the P90 above your head or down by your waist and still be able to clearly see the scene and compose the image, although it's a shame that the LCD can't also be rotated out to the side. A button next to the electronic viewfinder switches between the EVF and LCD screen.
There aren't too many external controls and buttons (13 in total) on the Coolpix P90, reflecting the fact that this is a camera in the mould of an entry-level DSLR. There's a traditional dial on the top that lets you select the different shooting modes, which is a typical feature of SLR cameras, and it enables you to quickly change between the various modes. The Nikon Coolpix P90 offers a range of advanced modes including shutter-priority, aperture-priority and manual, perfect for the photographer who wants to take full control.
| | |
| --- | --- |
| | |
| Tilting LCD Screen | Side |
The Movie and various Scene modes for beginners are also accessed via this dial, along with the new Scene Auto Selector and U1 / U2 modes. Scene Auto Selector automatically recognizes the scene in your picture from 6 presets (Portrait, Landscape, Night Portrait, Night Landscape, Closeup and Backlight) and adjusts the camera settings accordingly, and U1 / U2 can be used to store and quickly retrieve your favourite camera settings. Another big improvement is the removal of the Setup mode, a rather annoying design flaw on the P80, which has now been replaced by a much more intuitive integrated Shooting, Playback and Set Up main menu system.
The Nikon Coolpix P90 isn't as versatile as a true DSLR camera in terms of its key specifications, with a limiting maximum shutter speed of 8 seconds and aperture range of f/2.8-8.0. There is a well-positioned control dial on the rear which makes it easy to change the aperture and shutter speed, but there's no second dial on the hand-grip which would have made operating Manual mode much easier. The general layout of the P90 will appeal to beginners more than experienced photographers with an uncluttered approach that won't scare anyone off, but no dedicated controls for settings like ISO speed and white balance means having to spend time scrolling through the menu system.
The P90 has an SD compatible memory card slot, allowing the use of either SD or SDHC cards, and there's also 47MB of internal memory, which can store 8 images at the highest quality level. If you have never used a digital camera before, or you're upgrading from a more basic model, reading the well-written and easy-to-follow manual before you start is a good idea. Thankfully Nikon have bucked the recent trend of not providing hard-copy manuals by supplying it in printed format.
There are a few interesting features that help the Nikon Coolpix P90 stand-out from the increasingly crowded super-zoom market. Distortion control automatically corrects barrel distortion, useful for all those 26mm shots of close-up architecture with converging verticals, but it does have to be turned on before you take a picture. D-Lighting is a long-standing Nikon technology that brightens the shadow areas of an image, and on the P90 it can now be applied to an image both before and after it has been taken.
| | |
| --- | --- |
| | |
| Battery Compartment | Memory Card Slot |
Face-priority Autofocus can detect up to 12 faces in a scene just so long as they're looking directly at the camera, whilst In-Camera Red-Eye Fix automatically processes the picture to remove red-eye. Blink Warning alerts you when someone in the frame had their eyes closed, and the Smile Timer automatically takes the picture when a smile is detected. Finally the Optimize Image option allows you to tweak the look and feel of your images before you take them, with 6 presets and a Custom option on offer. The contrast, saturation and sharpening level of each preset can be individually adjusted too, so you should be able to find a setting that suits you.
Movie recording on the Nikon Coolpix P90 is something of a let-down in light of the recent shift to HD quality video. In contrast the P90 offers 640x480 pixel VGA movies at 30 or 15fps, or 320x240 pixels at 15fps. Even worse, you can't use the optical zoom lens during recording, with just a 2x digital zoom available, and there's similarly only an electronic vibration reduction system. Rivals like the Panasonic FZ28 and Canon PowerShot SX10 IS have much better video modes, although the P90's time-lapse movie mode, which records up to 1800 frames at intervals between 30 seconds and 60 minutes and combines them into a 640x480 movie at 30fps, is a unique feature in the super-zoom segment.
The start-up time from turning the Nikon Coolpix P90 on to being ready to take a photo is quick at less than 2 seconds (if the lens cap is already off), whilst zooming from the widest focal length to the longest takes around 4 seconds, understandable given the huge focal length on offer. Focusing is quick in good light and the camera achieves focus most of the time indoors or in low-light situations, helped by a powerful focus-assist lamp. The visibility, resolution and refresh rate of both the 3 inch LCD screen and the electronic viewfinder (EVF) are acceptable but not out-standing. Using the single shot mode, it takes less than a second to store a JPEG image, with a very brief LCD blackout between each image during which you can't take another shot.
In the Continuous shooting mode the P90 takes 1.4 frames per second at the highest image quality for up to 25 frames, which is below average for this class of camera. There is also a Multi-shot 16 mode that takes 16 photos at 7.5 frames per second and arranges them into a single image, plus an Interval timer shooting mode which takes between 30 and 600 images at periods of 30 seconds to ten minutes apart, which is useful for things like astrophotography. Nikon are also heavily pushing their new Sports Continuous scene mode, which for shoots at 15fps for up to 45 frames, but it only works only when you set the resolution to 3 megapixels or lower. New for the P90 is the option to press the shutter halfway and record the moments that take place before you press the shutter fully, although unfortunately this is only available in the rather limited Sports Continuous scene mode.
Once you have captured a photo, the Nikon Coolpix P90 has quite a good range of options when it comes to playing, reviewing and managing your images. You can instantly scroll through the images that you have taken, view thumbnails (up to 16 onscreen at the same time), zoom in and out up to 10x magnification, apply D-Lighting and Quick Retouch (improves the contrast and saturation), set the print order, view a slide show, delete, protect, rotate, hide and copy an image, plus create a smaller version and add a black border. The Display button toggles between various views, including showing detailed settings information about each picture, such as the ISO rating and aperture/shutter speed, and a brightness-based histogram.
In summary the Nikon Coolpix P90 improves on its predecessor in several key areas whilst retaining the successful mix of DSLR-like handling and compact camera features.