Nikon Coolpix S100 Review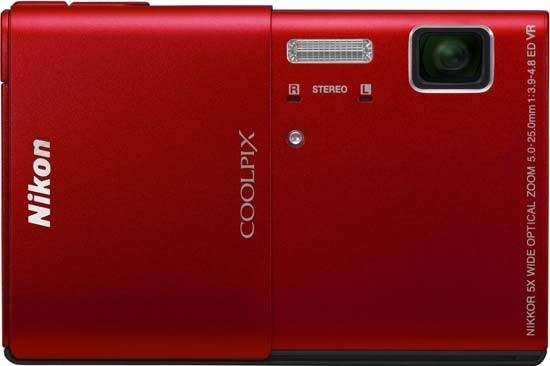 Image Quality
All pictures were taken at the full resolution unless otherwise stated. A typical file size is around 5Mb but they went as low as 3.5Mb in some cases, depending on the mode you're in.
There's no denying the quality of Nikon DSLRs. It seems that when they use a large sensor, they nail image quality. Recently though, with so many companies improving on their compact image quality, Nikon seemed to be getting left behind.
However, they've certainly got their act together with the new breed of compacts that were launched recently. The new sensor produces low noise in higher ISO settings (which can be attributed at least in part to the new BSI technology).
Image quality on the Coolpix S100 is great for this type of camera. Colours come out lovely and they're pin sharp. We took a variety of subjects to see how the camera performs in most situations and we're really pleased with the colour rendition. Bright colours retain their richness, primaries are realistic while complex colours and subtle hues are treated sympathetically.
While the focusing is sharp, it's relatively slow which is unfortunate. Other areas that the S100 can improve on is the dynamic range. We lost a few pictures because of burn out in highlights despite a dull day. Granted, we were taking pictures with 95% of the image taken up by darker subjects but we were surprised by the lack of detail all the same.
Noise
Low ISO performance is great from the Nikon Coolpix S100 and we actually like it through to ISO 1600 where coloured blobs start to appear in the darker areas and there's some loss of edge definition. It's still a great performance and not just in controlled light either.
In fact, judging by the ISO 3200 results, Nikon could've pushed the envelope up to ISO 6400 and we think it shows a great deal of restraint not to pander to what everyone thinks they want. After all, going too high could effectively sully the otherwise excellent results that we've seen from the camera so far.
| | |
| --- | --- |
| ISO 125 (100% Crop) | ISO 200 (100% Crop) |
| | |
|   |   |
| ISO 400 (100% Crop) | ISO 800 (100% Crop) |
| | |
|   |   |
| ISO 1600 (100% Crop) | ISO 3200 (100% Crop) |
| | |
Sharpening
We sharpened the S100's pictures in Adobe Photoshop CS4 and despite noticing a sharper image, we didn't feel that it necessarily improved the pictures.
| | |
| --- | --- |
| Original (100% Crop) | Sharpened (100% Crop) |
| | |
|   |   |
| | |
Focal Range
With a 5x optical zoom, the focal rage of the Nikon Coolpix S100 is 28-140mm in 35mm terms.
| | |
| --- | --- |
| 28mm | 140mm |
| | |
File Quality
There are two 12 megapixel settings on the Nikon Coolpix S100 digital compact camera. The top one has a star next to it and compresses less meaning a larger file size. In fact a typical image at this setting is 5-6Mb. In our test knocking it down to the 12 megapixel setting without the star produced images of around 3Mb.
| | |
| --- | --- |
| High | Medium |
| | |
Chromatic Aberrations
One area we can find fault with is the quality of the S100's lens. We found chroma colour on contrasting edges quite easily. However, this phenomenon isn't exclusive to the lens, it can also be created or exacerbated by the micro lenses that cover each photo-site on the sensor. With each pixel now being totally uncovered, this could be one of the reasons. However, we believe it's more likely the lens despite it being an ED version.
Example 1 (100% Crop)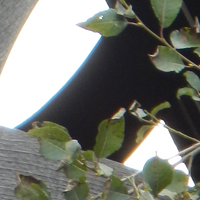 Macro
The macro facility on the S100 is startling for a camera in this class. We managed to get so close it was bordering on ridiculous. However, at full close up, we struggled to get a sharp shot because the lens distorts the image so much. Definition starts to wane quite near the middle of the frame compared to other compacts in the same specification and price range.
| | |
| --- | --- |
| Macro Shot | 100% Crop |
| | |
Flash
During the flash test, we found that the flash on the Nikon won't affect the overall exposure of the images. There's no more light fall off with the flash than there is without it. However, on the downside it means that the vignetting that the camera suffers from doesn't disappear with the flash.
| | |
| --- | --- |
| Flash Off - Wide Angle (28mm) | Flash On - Wide Angle (28mm) |
| | |
|   |   |
| Flash Off - Telephoto (140mm) | Flash On - Telephoto (140mm) |
| | |
When shooting portraits, there's a mild amount of red-eye circling the catchlight in auto flash mode. Switching over to the red-eye reduction reduced it a little.
| | |
| --- | --- |
| Flash On | Flash On (100% Crop) |
| | |
|   |   |
| Red Eye Reduction | Red Eye Reduction (100% Crop) |
| | |
Night
Even with a relatively long exposure, the night shot has come out sharp and noise free. We found that the camera offers a better result from the night landscape option in the scene menu because in auto, if you wanted to use a low ISO and a tripod, the camera wouldn't use a long enough exposure so the pictures were dark.  We also had some trouble getting the white balance correct.
| | |
| --- | --- |
| Night Shot | Night Shot (100% Crop) |
| | |