Nikon Coolpix S1100pj Review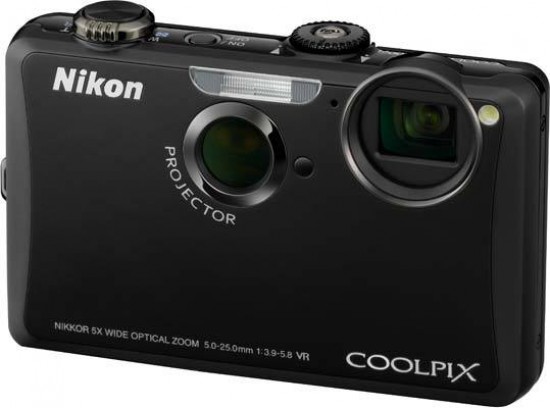 Conclusion
The S1100pj is the second digital camera with an integrated projector from Nikon and is a more refined version of last year's model, adding a brighter projector with a built-in stand, touch-screen interface and 720p HD movies. The continued lack of competition and new ability to project any computer file in addition to video and still images from the camera should widen the S1100pj's appeal further to include the business user.

The new projector unit is quite a big improvement on the S1100pj's predecessor, being brighter and therefore offering a greater range, although its continued modest VGA resolution and rather dull colours still can't compete with a traditional 35mm slide projector. As a pocketable device that can instantly project stills, movies and any file on your PC, though, the S1100pj is a relatively inexpensive and straight-forward way to share your creativity and work with family and colleagues alike.

The implementation of Nikon's effective touch-sensitive interface and innovative features such as the Touch Shutter that lets you focus on your subject and take a picture very quickly make perfect sense, with the ability to use the supplied remote control for slideshow presentations making operation of the S1100pj either hands-on or off.

The inevitable increase in the megapixel count to 14 doesn't detract from the S1100pj's image quality, but it doesn't raise it above average either. Noise at slow ISO speeds, light fall-off and inconsistent sharpness at the edge of the frame, and a poor night mode contribute to merely adequate photographs. Video performance is better thanks primarily to increase in resolution to 720p, the ability to use the optical zoom during recording and the more economical MOV format, although the video features on offer are still somewhat basic.

Considered as just a digital camera, the S1100pj doesn't offer anything out of the ordinary, with so-so image quality, no proper manual control over exposure or focusing, average video mode and a high price tag. Being able to show-off your photos, videos and work to an audience in a way that you can't with other digicams, however, instantly elevates the Nikon Coolpix S1100pj above the competition, for both casual and business users alike.
Ratings (out of 5)
Design
4
Features
4.5
Ease-of-use
4
Image quality
3.5
Value for money
3.5