Nikon Coolpix S2500 Review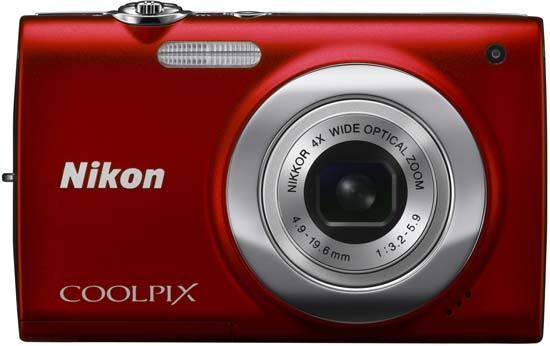 Introduction
As part of the S series, the Nikon Coolpix S2500 is a slimline digital compact camera with 12 megapixels. Designed to be stylish (hence the S) its 20mm body houses a 4x optical zoom and it comes in a variety of colours from standard silver to black, red and pink. Costing around £99.99 / €116.00, the Nikon Coolpix S2500 is aimed at the entry level crowd that want the camera to do everything but also want it to look good. Other features that the camera boasts are 4 different types of anti-blur, a smart portrait system, the EXPEED C2 processor, subject tracking AF and 17 different scene modes to handle pretty much every scenario you might find yourself in.
Ease of Use
So have Nikon put style over functionality? Well, despite such a slim body, the S2500 has a 4x optical zoom lens fitted to it. Interestingly, even though it has an ED lens element fitted, Nikon haven't listed in on the front of the lens barrel in the same way that they do on other cameras. The Extra low Dispersion lens element is a symbol of excellent lens build quality so it's surprising that it's not mentioned.

Because of the slim depth of the S2500, most of the controls are located on the back of the camera next to the 2.7 inch LCD screen. In fact, all that you'll find on the top is the power button and shutter release with a zoom rocker wrapped around it.
Nikon have opted for a dedicated switch between playback and shooting which is annoying if, like us, you use multiple cameras that can come out of playback simply by half pressing the shutter release button. On a Nikon you have to press the green camera button, which is actually very intelligent. It means you have to know that you're going into the shooting mode instead of pressing it by accident. Unfortunately, you can't have your finger at the ready on the shutter button if you need to react quickly. When you're in the shooting mode, this green camera button doubles up as a mode selector scrolling through auto mode, scene selection, smart portrait, subject tracking AF and video mode.
| | |
| --- | --- |
| | |
| Front | Rear |
The smart portrait mode uses a variety of functions to ensure you get the perfect portrait, such as blink detection, smile shutter release that takes a picture for you when the person in the shot smiles and an in-camera red eye fix. This means pictures of precious family members will be blink, red eye and grumpiness free.
The subject tracking AF system will start working when you lock focus on your subject by pressing the OK button on the back which is a bit weird but you soon get used to it. The focus lock will then stay on the same subject regardless of whether they move or you move. If they leave the frame then you lose the lock, but otherwise it works very well.
The internal menu is simple and easy to use in the standard Nikon colours of grey and yellow. There are two tabs, one for shooting options and one for camera set up which is recognised by the spanner icon. To switch tabs, simply press left then up and down to decide where you want to go.
| | |
| --- | --- |
| | |
| Side | Top |
The Nikon Coolpix S2500 takes a dedicated lithium ion battery and comes with a charger as well in the box. It goes in the bottom of the camera and shares its space with the SD/SDHC and SDXC memory card. If you're unfamiliar with the designations of memory card, SD stands for Secure Digital which is due to the small locking switch on the side. This switch prevents anyone from erasing pictures when it's flicked down. It's a bit like pushing those tabs in on an old VHS tape.
SDHC is simply Secure Digital High Capacity and has capacities over 2Gb in size. They have a maximum capacity of 32Gb. SDXC is the newest format and has only been around for about a year, though talked about for much longer. It has a theoretical maximum capacity so far of up to 2Tb (2048Gb). That's a ridiculous amount of information and you'd never fill it with this camera alone. Should you forget any memory cards, the camera does have an internal memory but it's only 16Mb.
The back of the Coolpix S2500 is dominated by the 2.7 inch LCD screen which isn't very big by today's standards with 3 inch screens becoming more common but it goes to show exactly how small this camera is. Nikon have also listed the resolution of the screen in dots. Each dot represents a primary colour of red, green and blue that makes up each pixel on the screen, therefore there are three dots to a pixel. This means the screen has a resolution of 76,666 pixels.
| | |
| --- | --- |
| | |
| Rear | Memory Card Slot / Battery Compartment |
Even though the screen takes up a large portion of the back of the S2500, there's enough space for a small thumb pad when you're not using the buttons. The OK button will set any changes you make in the menu system and around it are four options on a pad which doubles up as a navigation pad in the menu. Pressing up will bring up the flash options and you can enjoy from a small selection of auto, red eye reduction, forced on, off and a slow synchro.
Pressing right allows you to adjust the exposure with the 2 stop exposure compensation which is useful if your main subject is a bit too dark or bright, you can force the aperture to open or close allowing more or less light in. If you press down you get the macro mode which will stay on until you press down again to switch it off, which I like. To the left is the self timer which unusually does switch itself off after every shot. But then, if you did forget to switch it off, it means you don't miss that vital picture while it counts down from ten.
In the box, you get the basic accessories to ensure that you can start shooting from the off. That means you get a battery, wrist strap, download cable and View NX2 software. The plug for charging uses the USB lead as the cable which means the camera can also charge off of a computer. View NX2 is Nikon's dedicated software program for importing images onto your computer before performing basic editing, tagging filing and sharing. There's little that Nikon offer in the way of additional accessories, the only different items are an AC adapter and a dedicated battery charger. We would only really recommend these items if you need them, for example if your included charger breaks.