Nikon Coolpix S2700 Review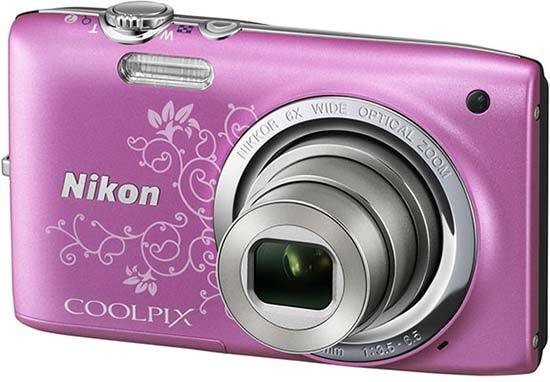 Introduction
The Nikon Coolpix S2700 is a brnad new addition to the Style range of entry-level compact cameras, boasting a 16 megapixel CCD sensor, 6x optical zoom, slim 20.7mm body, 720p HD video recording and a 2.7 inch LCD screen. The affordable Nikon 2700 features a multitude of automatic modes to make picture taking easy including motion blur reduction, in-camera retouching and subject tracking auto focus. Priced at around £69.99, the Nikon Coolpix S2700 is available in silver, red, purple, blue and black and two models with line art.
Ease of Use
At one time if you were considering buying a compact point and shoot digital camera you might not have automatically considered Nikon. For a DSLR yes, but for a value-for-money pocket snapper no. Not because Nikon's efforts were at all bad, but just because there was so much choice to be had elsewhere. However thanks to recent sponsorship of teen soap Hollyoaks in the UK, placements in pop videos and a truckload of new low-priced announcements, not to mention the claim that its S3300 (recently upgraded in the S3500) was Europe's best selling compact, and it appears Nikon is making an effort to place the brand at the forefront of our minds - even when we don't want an interchangeable lens camera.
The latest Coolpix S2700, announced at CES at the start of the year, is, in being part of its 'Style' series, a not unattractive example of where it's currently at as far as the lower end compact goes. It offers a 16-megapixel resolution from a 16.4 megapixel 1/2.3-inch CCD sensor plus wide-angle 6x optical zoom providing a 35mm equivalent focal range of 26-156mm. The latter doesn't place it into jack-of-all-trades travel zoom territory, but rather that of pocket friendly snapper - in terms of both price and dimensions. Maximum lens aperture is an unremarkable f/3.5, with minimum (macro) focus a fair 5cm.
Size wise, the S2700 is roughly the width of a credit card, and is only slightly taller in height, whilst being a slender finger's width (officially 20.7mm) in depth. Overall dimensions without projections are a trim 94.8x57.8x20.8mm. In a nutshell it will slot comfortably and unobtrusively into your palm or any trouser or jacket pocket or purse for that matter. It unsurprisingly comes in a range of colours to attract both sexes, including black, red, blue, plus pink and purple with twisty, twirly 'line art' motif. Add a price tag of a pocket money friendly £69.99 (via Argos in the UK) and, save from the fact that it doesn't feature the wireless capabilities of the S6500 announced alongside it at CES (also 16MP), it would appear you cannot go far wrong if you're wanting a budget offering that hasn't been whacked with the ugly stick.
Happily, apart from the top plate buttons feeling a tad plastic-y and motion JPEG format HD video resolution being a slightly less than full strength 720p (commensurate with the price being asked), the metallic finish faceplate (of our light blue sample) and solid feel rear plate doesn't automatically signal that unreasonable corners have been cut to bring the S2700 in at this price.
Reasoning that this snapshot is going to be used for portraiture in the main, Nikon has included hand-holding features like 'smile timer', a 'blink proof' mode, skin softening, and no fewer than eight 'glamour retouch' options for those preferring a digital makeover to the surgeon's knife.
Other features not traditionally made available in this lower price bracket include light sensitivity up to ISO3200, plus rechargeable lithium ion battery, and subject tracking auto focus, whilst here the image processor is of the basic Expeed C2 variety. You'll be unsurprised to learn therefore that the S2700 isn't the fastest camera in the west (or east for that matter). For example we got the message that the camera was still writing the image when we tried to review it almost immediately after capture. At this price, though, it is possible to put up with a lot of such niggles.
| | |
| --- | --- |
| | |
| Front | Rear |
Outwardly then, the Nikon Coolpix S2700 doesn't automatically resemble a budget camera; indeed we were surprised to discover it was the price it is. JPEG-only photos or video are composed and reviewed via the 2.7-inch, 230k resolution LCD offering five levels of brightness adjustment, which swallows up two thirds of the backplate. Light sensitivity for image captures stretches from a reasonable ISO80 up to ISO3200, which isn't bad (on paper at least), when most snapshots in this price bracket at one time happily stopped at ISO1600.
With the camera deploying contrast detection auto focus, face priority and subject tracking are also included. Continuous shooting is an unremarkable 1.3 frames per second, although Nikon also offers its Best Shot Selector option and a 16 multi shot mode as further options.
The manufacturer has seen fit to include 42MB of internal memory with the S2700, though obviously a better bet is to invest in an optional SD/SDHC/SDXC media card that slots in next to the rechargeable EN-EL19 lithium ion battery at the base, offering a modest but perfectly acceptable for its class 210 shots from a full charge. Or, alternatively, one hour of video shooting.
Let's take a closer look at the Nikon Coolpix S2700 itself then. From the front of the S2700, its attractive silver finish retractable zoom lens dominates proceedings, encircled by an equally eye catching chrome lens surround. Top right of the lens is a small porthole for an AF assist lamp/self timer bulb, whilst over at the top left of the lens is a narrow lozenge shaped bulb for the internal flash. This is set just sufficiently in, and far enough away from the camera's edge, to avoid a forefinger inadvertently straying in front.
The narrow and slightly rounded top plate of the S2700 has similarly pared controls back to the basics. Set into a thin chrome strip we have a small power button next to a raised and larger shutter release button, surrounded by a regular zoom lever with front facing lip to allow for easier purchase under the pad of your forefinger. Though the power button is set level with the top edge, we found it easy to unexpectedly activate the camera when gripping it in one hand to try and slide open the card and battery compartment at the base.
Intentionally press the power button however and the rear LCD blinks into life with the lens extending to maximum wideangle setting in all of two seconds, which gives us no reason for complaint. Squeeze the shutter release button down halfway and a mere moment later AF point/s highlight in green with a bleep of confirmation that you're ready to take the shot. Do so and a full 16-megapixel resolution JPEG is committed to memory in two to three seconds.
| | |
| --- | --- |
| | |
| Front | Top |
Like the rest of the sleek and simplistic S2700, the backplate is fairly straightforward and conventional in layout, though there's no shooting mode dial anywhere to be seen. Instead we just get an incongruous button marked 'scene' that provides access to said shooting modes. There are four to choose from. The choice includes: Auto mode, the 19 strong collection of scene modes, including 'scene auto selector' option, plus a selection of digital filters comprising 'soft', nostalgic sepia, high contrast monochrome, high key, low key and selective colour. The last shooting mode option is one for Nikon's 'smart portrait', which offers smile and blink detection settings along with a skin softening option. The degree of said softening can also be user controlled, with the option to select from high, normal or low.
Immediately to the right of the 'scene' button is a dedicated playback control of the same size, and above this pair, top right of the camera back, is a more prominent button for kick starting the recording of video clips. This upright lozenge shaped control has a raised plastic surround to avoid accidentally jogging it into action in the process of handling the S2700. Press the video button and after a brief moment's wait the standard 4:3 aspect ratio display narrows with black bands top and bottom to provide a 16:9 widescreen format image, upon which video recording commences. Disappointingly, but not wholly unsurprisingly given the low cost of the camera, the optical zoom cannot be used during video recording - the automatic fallback is a digital variety, which obviously progressively degrades the shot as you zoom/crop in. But at least the option is there.
Another immediately familiar feature of the back plate is the multi directional control pad for tabbing through and then effecting settings with a subsequent press of the central 'OK' button. Ranged around the circumference of this are settings for controlling the flash (a broader range of options than most rivals offer at this level in auto flash, auto with red eye reduction, flash off, forced flash and then slow sync flash), exposure compensation (+/- 2EV), accessing macro mode, and finally the self timer (the standard two or ten seconds options).
Bottom left and right of this control pad, and the final two buttons on the S2700's back, are for 'menu' and 'delete'. Press the former and we're provided with access to a stills shooting menu, a video shooting menu and a set up menu.
The stills shooting menu allows resolution and compression level to be set as its first and foremost user option. It's also within this menu we naturally manually select white balance and ISO settings. Although the latter options run up to ISO3200, it's here we discover that ISO3200 is only accessible if you don't mind a resolution drop to a maximum four megapixels. Also selectable here are a range of colour options. With standard colour being the default setting, the others are vivid colour, black and white, sepia - and more unusually still, cyanotype, not that the audience for this camera is going to have the faintest idea about what that refers to. Auto focus modes can also be tweaked within this menu, the options being single or full time AF.
| | |
| --- | --- |
| | |
| Memory Card Slot | Battery Compartment |
Moving on to the movie menu, and here we get the ability to select from the two auto focus modes again, plus shoot either 1280x720, 640x480 or 320x240 pixels clips. More unexpectedly again. there is a wind noise reduction setting.
The third and final option of the set up menu offers the expected ability to alter the welcome screen, time and date, and switch AF assist or the digital zoom function on or off (the default setting for both being 'on'). Naturally we can also format the card in use if wished.
Whilst the left hand side of the camera - if viewing it from the back - is devoid of any features save for a couple of holding screws, the opposite edge features a lug for attaching a wrist strap, and that's it.
The bottom of the Nikon Coolpix S2700 then is where we find a means of attaching a USB cable hidden under a small, centrally located rubber flap. As a result the screw thread for attaching the camera to a tripod is shunted over to a far edge, whilst at the other side we find a sliding cover protecting the joint battery and card compartment - as touched on earlier in the review. As the slot for the removable SD card is right up against the catch for the protective cover, we found it made retrieving the media card more fiddly than should be. In a nutshell it's tricky to get your fingers in close and tight enough to get a decent purchase on the card and to be able to easily pull it clear for use with a card reader - but this is another minor grumble.
Whilst we have relatively few gripes about how the Nikon Coolpix S2700 handles and operates, how does it fare when it comes to imaging performance? Click forward to our next section to find out…