Nikon Coolpix S3100 Review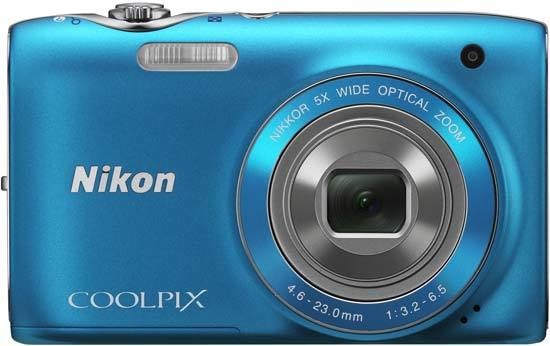 Introduction
The Nikon Coolpix S3100 is a super-slim, stylish and affordable digital compact camera aimed at the point-and-shoot user. With an aluminium body that's just 18.4mm thick, the Nikon S3100 is available in a wide-range of eye-catching colours. The S3100 features a wide-angle 5x zoom lens with electronic stabilisation, 14 megapixel sensor, 2.7 inch LCD screen, 720p HD movies, a scene auto selector with 19 modes, Smile Timer function, face-priority autofocus, a skin softening function, and subject tracking auto-focus. The Nikon Coolpix S3100 comes in purple, red, black, blue, pink, citrus yellow and silver and retails for £129.99 / $149.95 / €151.
Ease of Use
Not all of us want the bulk associated with a DSLR or the need to buy lenses for our compact system cameras; sometimes all we - or perhaps more accurately our other halves - want to do is take snapshots as a keepsake without spending a king's ransom.
The new Nikon Coolpix S3100 is certainly one of the more attractive point-and-shoots retailing for just a little over £100 and offering an effective resolution of 14 megapixels from a 14.48MP 1/2.3-inch CCD sensor. Forming part of Nikon's raft of stylish new releases for spring 2011, it updates the 12MP S3000, which its maker claims was Europe's best selling digital camera for 2010. It also reminds us a lot of the similarly dinky and great value Coolpix S5100 we reviewed last year.
Recording to SD, SDHC or SDXC card, the S3100 is one of a trio of new 'S' series models that also include the touch screen S4100 and the 7x optical zoom S6100. For its part the S3100 fields a 5x optical zoom with a wide-ish focal range equivalent to 26-130mm in 35mm terms with an aperture of f/3.3-5.6, bettering its forebear's 4x reach. The selling point here is the slim-line shell, lens retracted within the body when not in use: Nikon has managed to offer a bigger zoom whilst also making the camera thinner, the S3100 being 18.4mm in depth compared to the S3000's 19mm. Width and height are 93.5mm and 57.5mm respectively so just a tad more than your credit card size wise. The S3100 is not optically stabilised though, more's the pity, the camera featuring anti shake only of the software enhanced variety. The S3100 is unashamedly as much about style as substance, but there is still a surprising amount of the latter shoehorned in.
This includes the ability to now shoot 1280x720 pixels HD video, a jump up from its predecessor's standard definition clips, with recording here a one-touch process via a thumb press of the dedicated backplate record button. Do this and recording instantly commences, the screen's default 4:3 aspect ratio cropped to a widescreen 16:9 to ape how footage will look when replayed on a flat panel TV.
There's no HDMI output here, just standard definition AV out and USB 2.0. These share a port at the camera's base, next to a shared compartment for rechargeable lithium ion battery and optional SD, SDHC or SDXC media card. As with budget Olympus and Samsung models, here the battery is charged within the camera, as Nikon, doubtless in a cost saving exercise, has supplied a mains adapter plug rather than charger; one of the USB cable slots into this, the other end into the camera itself. It's a simple solution, and the argument that the set up doesn't allow you to charge one battery whilst using another in the camera is null and void because we can't in all honesty see someone bothering to buy a second battery for a £130 snapper. Annoyingly, as usual there's just a cursory quick start guide provided out of the box, with the full manual on CD Rom only.
| | |
| --- | --- |
| | |
| Front | Rear |
On a more superficial sales level the S3100 is available in a range of seven colours - an advance on its predecessor's five. This time we get citrus yellow, pink and purple alongside the more familiar silver and black varieties - suggesting the camera is as much aimed at females as males. Ramming home the point, at the camera's UK launch Nikon executives had placed the range amidst make up bags and lipsticks, and, with its slender depth and weight of just 118g, it will as easily slip into any clutch bag as it will trouser pocket. Our review sample was an electric blue. Whilst this wouldn't be our first colour choice the camera will undoubtedly stand out at a party, drawing the attention of subjects both willing and unwilling.
Unsurprisingly then, the S3100 is primarily geared towards taking people pictures with the minimum of fuss and the minimum of manual control, throwing in a beauty mode and face detection, with the second most popular subject of landscape coming a close second if the range of scene modes is anything to go by. With no optical viewfinder images are composed by 2.7-inch, 230k dot resolution back screen, of identical size to its predecessor yet modest when the industry average is now 3-inches.
Although the camera feels sturdy when gripped there's no actual grip on this Coolpix, at least as regards the faceplate. At the back there are six raised plastic nodules to provide a point of purchase for the thumb, a raised plastic surround encircling the video button adjacent, so this doesn't get accidentally pressed when fetching the camera out of a pocket. There's a vacant lug to attach the provided wrist strap at the side, and avoid accidental drops.
From the front the S3100 is your standard point and shoot, lens retracted within the body when not in use, flanked left and right by a lozenge shaped window housing the built in flash and, over at the opposite side of the lens, an AF assist/self timer lamp window. A built in microphone sits just beneath the lens barrel near the base of the camera, at the exact location we found our middle finger naturally resting (and so obscuring) when holding the camera steady in both hands. Conversely the built-in speaker is located at the base of the camera, rather than on the top plate or at one side.
| | |
| --- | --- |
| | |
| Side | Top |
The top of the camera features a prominently raised shutter release button with a definite half way point when pressed down to determine focus and exposure, encircled by a lever for operating the zoom, its ridged front edge preventing slippage when operated with the forefinger. Both these controls plus the tiny, recessed on/off button adjacently situated are set into a narrow chrome strip running along the top plate and feeding into the wider chrome 'bookends' at either side of the camera. As a result, activating the camera requires fingernail-precise operation; do this and - provided date and time were set when you first freed the camera from its box - it readies itself for the first shot in just over a second, which is impressively swift for its class, lens extending to equivalent 26mm wide angle setting and the rear screen fading up from black. If using the zoom, the lens travels through the entirety of its optical range in two to three seconds, though there's a brief pause before it kicks into life.
A half press of the shutter release button and there's a blink of an eye wait before the camera determines focus, AF point/s highlighted in green on the LCD, accompanied by a rather loud bleep that can thankfully be deactivated. Press down fully to take the shot, and the screen briefly blacks out, then displays the captured JPEG-only image for a few moments, a process lasting approximately three seconds before the S3100 returns to its live 'feed'. Average for its class then.
Two thirds of the back of the camera are taken up with the aforementioned LCD that, whilst not the sharpest available - meaning that we sometimes found it difficult to fully ascertain whether captured images were as sharp as we'd hoped - is nevertheless adequate as a framing device when shooting normally from shoulder height. When we attempted low angle shots close to the ground, the angle of visibility, with us crouching behind it, wasn't sufficient to be able to see what was on the screen.
Apart from the aforementioned video capture button, there are five further controls on the backplate. Uppermost are the 'scene' button, which one would imagine to provide access to just the pre-set scene modes but in fact brings up a toolbar providing access to all shooting modes, plus, parallel with it, the playback button.
| | |
| --- | --- |
| | |
| Memory Card Slot | Battery Compartment |
The shooting modes here are regular auto mode, the collective scene modes - some 19 in total if you include the 'intelligent' auto scene selector option - plus smart portrait and subject tracking modes. Whilst the latter is self-explanatory, smart portrait mode not only detects faces, but also, if you press the menu button while in this mode, provides access to skin softening, smile timer and 'blink proof' modes to ensure portrait images automatically end up looking their best.
Beneath this is a four-direction command pad, with flash (auto, auto with red eye reduction, flash off, forced flash, night portrait), exposure compensation (+/-2EV), macro (as 'close' as 10cm) and self timer (two seconds, 10 seconds) options respectively ranged around it at points north, east, south and west. At the centre of this pad sits the traditional 'OK' button for effecting any menu changes.
Just below this are a separate menu button (sometimes of course incorporated in with the OK button on rival point and shoots), and adjacent to that a very useful dedicated delete button for dispatching duff shots. Although small, a press of each button and the camera is as swift to respond as one would want.
The bottom of the Coolpix S3100 meanwhile features a screw thread for attaching a tripod over at one edge rather than dead centre, with the combined AV/USB out port occupying that position instead. Alongside this is a slide open cover protecting the combined battery and SD card compartment, with 45MB of internal memory to fall back on out of the box.
So how does this svelte beauty perform when it comes to image quality? Is it all exterior fluff and no interior grit, or does this particular swan have the might of an eagle lurking beneath? Read on to find out…