Nikon Coolpix S3100 Review
March 21, 2011
|
Gavin Stoker
|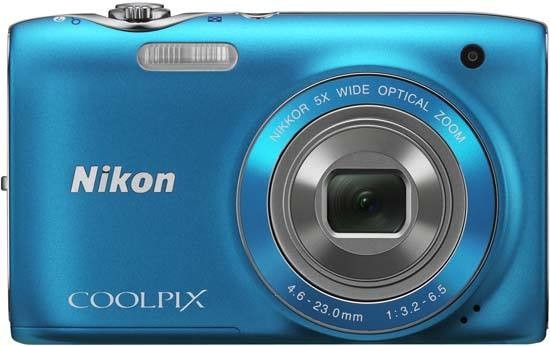 Image Quality
All of the sample images in this Review were taken using the 14 megapixel Fine JPEG setting, which gives an average image size of around 4.5Mb.
The Coolpix displays some familiar bugbears of the snapshot camera when it comes to image quality. Burnt out highlights in stronger light and pixel fringing is inevitably one, visible as purple lines tracing edges between areas of high contrast - tree branches silhouetted against the sky giving rise to the most visible examples. As is fairly common at the budget end of the market with shots taken at maximum wideangle setting, here 26mm equivalent, we witnessed corner softness too. Neither are deal breakers and in all fairness we can't expect perfection from a camera costing just £115 from the UK's largest e-tailer.
Rather more problematic however was that we struggled to get a sharp image when shooting handheld in daylight at extreme telephoto setting. The S3100 is so slim that camera shake is a real issue at maximum zoom, leading us to take three shots in order to get one keeper - and even on occasion to deploy the self timer to avoid jogging the shutter release button.
As is common amongst Nikon compacts, though pleasingly sharp towards the centre of the frame, images can look a little flat and drab straight out of the camera. Colours are rather too muted for our taste when the camera is left on its standard colour setting, but fortunately there's the 'vivid' option to provide some much needed pep. With this mode activated, users are more likely to end up with the flattering, well-saturated colour tones one would expect from this class of camera. In other words, no post processing will be required. The other selectable colour options here are black and white, sepia, and more unusually still, the silvery grey cyanotype - rather eccentric given that most of the S3100's intended audience will have no idea what a cyanotype is/was.
Despite a relatively high number of pixels being crammed on to a small chip, up to and including ISO400, with the lowest setting being ISO80, there are no problems with image noise creeping into shadow areas. Whilst some grain is visible at ISO800 you have to look hard to find it. At ISO1600 detail is more noticeably absent and at maximum ISO3200 this is deteriorating to such an extent that we're getting a painterly watercolour look. At least these settings are still achievable at full resolution though.
All the above being said, this is still slightly better than we expected from a point and shoot camera in the S3100's relatively modest snapshot class.
Noise
The Nikon Coolpix S3100 has sensitivity settings ranging from ISO 80 to ISO 3200 at full resolution.
| | |
| --- | --- |
| ISO 80 (100% Crop) | ISO 100 (100% Crop) |
| | |
|   |   |
| ISO 200 (100% Crop) | ISO 400 (100% Crop) |
| | |
|   |   |
| ISO 800 (100% Crop) | ISO 1600 (100% Crop) |
| | |
|   |   |
| ISO 3200 (100% Crop) |   |
| |   |
Sharpening
Here are two 100% crops - the right-hand image has had some sharpening applied in Photoshop. The out-of-the camera images are slightly soft at the default sharpening setting and benefit from some further sharpening in a program like Adobe Photoshop. You can't change the in-camera sharpening level to suit your tastes.
| | |
| --- | --- |
| Original (100% Crop) | Sharpened (100% Crop) |
| | |
|   |   |
| | |
Chromatic Aberrations
The Nikon Coolpix S3100 shows little purple fringing, although you can find examples of it in areas of high contrast as shown in the examples below.
Example 1 (100% Crop)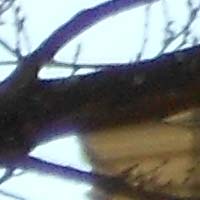 Macro
The Nikon Coolpix S3100 allows you to get as close as 10cms to your subject, in this case a Compact Flash card.
| | |
| --- | --- |
| Macro Shot | 100% Crop |
| | |
Flash
Vignetting is not a major issue with the Nikon Coolpix S3100, irrespective of whether you use the flash or not.
| | |
| --- | --- |
| Flash Off - Wide Angle (26mm) | Flash On - Wide Angle (26mm) |
| | |
|   |   |
| Flash Off - Telephoto (130mm) | Flash On - Telephoto (130mm) |
| | |
And here are a couple of portrait shots - red-eye wasn't a major problem.
| | |
| --- | --- |
| Flash On | Flash On (100% Crop) |
| | |
|   |   |
| Red Eye Reduction | Red Eye Reduction (100% Crop) |
| | |
Night
The Nikon Coolpix S3100 is hardly the ideal tool for night photography, as the longest shutter speed is 2 seconds and you cannot set it manually. The shot below was captured at a shutter speed of 1/2 second at ISO 400.
| | |
| --- | --- |
| Night Shot | Night Shot (100% Crop) |
| | |