Nikon Coolpix S5100 Review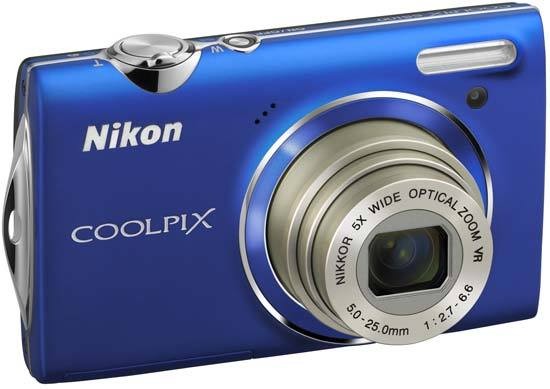 Introduction
The Nikon Coolpix S5100 is a stylish new 12.2-megapixel digital compact camera with a 5x optical zoom and 2.7 inch LCD screen. Other highlights of the S5100 include optical Vibration Reduction, 720p HD video recording, 18 scene modes, Scene Auto Selector, Subject Tracking and Nikon's Smart Portrait System, a new flash control system plus motion and tripod detection. Available in black, pink, purple, blue, red and silver, the Nikon Coolpix S5100 is priced at £179.99 / $179.95 / €159.00.
Ease of Use
It seems that the humble snapshot camera is not so humble any more. That said, pocket or 'travel' zooms with broader than average focal ranges, HD video shooting and a host of clever image-enhancing features are two a penny above the £200 mark. So what does this latest Nikon, falling just shy of that price point, offer to help it stand apart from the pixel-packing scrum?
Well the 12.2 effective megapixel, 12.39MP 1/2.3-inch CCD incorporating Coolpix S5100 is a slender yet solid feel addition to the 'S' (for Style) series of pocket cameras, being the usual mix of metal and plastic construction. Under the banner 'I am fun' its target audience is undoubtedly teenagers, families and dare we suggest women, who will appreciate its cute, purse-sized proportions.
Available in serious looking black or a quite striking metallic blue bodywork, it appears attractive in that dormant state, lens fully retracted within its metal and plastic body, but at the same time rather modest and unassuming when held within the palm. With a width just slightly longer than your credit card, and barely 21mm in depth, it weighs 132g when SD/SDHC card and battery are loaded. This is backed up with a 32MB internal capacity.
It offers a 5x optical zoom with a range equivalent to 28-140mm in 35mm terms. This comes supported by lens shift Vibration Reduction (VR), a manually selectable light sensitivity range topping out at ISO 3200, auto ISO being capped at ISO 1600.
| | |
| --- | --- |
| | |
| Front | Rear |
There's no 16:9 widescreen LCD here - just a regular 4:3 aspect ratio 2.7-inch, 230k-dot resolution variety in the absence of an optical viewfinder. The device's basic yet functional control layout at the rear - six buttons and a four-way control pad - is free from hints that there's more to come once you start playing and drilling into its menu options, though a dedicated one-touch thumb-operated video record button for 720p High Def footage does at least indicate Nikon's moving with the times.
A firm press of the top mounted on/off button and the S5100 powers up remarkably fast, internally stacked lens barrel taking a scant second to extend from storage flush with the body to maximum wideangle setting.
From the front the camera presents a very clean look, AF assist/self timer lamp window and narrow lozenge shaped flashgun both situated top right of the lens, made to look larger than it is courtesy of a surrounding chrome ring set half a centimetre out. Luckily the weight and diminutive proportions ensure it's very easy to shoot one-handed with the S5100, in spite the lack of any handgrip, otherwise the camera edge location of the flash would fall prey to stray fingertips if holding steady with both.
The top plate continues the S5100's elegant appearance, on/off button inset into the body and like the larger shutter release button, which is encircled by a lever for operating the zoom, set into a thin 'go faster' chrome strip. Nudge said lever and the zoom races through its range in two seconds, which is fast, but unfortunately this is accompanied by the sound of a low mechanical buzz. The result is that the optical zoom can't be used when recording video - a digital alternative kicks in. Not unusual in the world of digital compacts to find this feature disabled when shooting 'movies', but disappointing nonetheless.
On a positive note, a half press of the shutter release button and focus/exposure is determined in a near instant, AF point/s highlighted in green accompanied by a beep of affirmation. Normal focus range is within 45cm of your subject to infinity, or by selecting close up mode via the S5100's rear control pad this can be shortened down to 2cm. Go on to take the shot, with a full harder press and a top resolution JPEG is written to memory in around two seconds, so the S5100 is as responsive as we'd hope. There's nothing worse when shooting from the hip with a camera such as this than to find it merely sluggish in response. For those snapping portraits in the main the camera's face priority AF function can detect up to 12 faces in the frame, not class leading but respectable nonetheless if you have that many friends or family.
| | |
| --- | --- |
| | |
| Top | Side |
The back of the Coolpix meanwhile is dominated by its 2.7-inch 4:3 ratio LCD screen, a standard size for competing point and shoots it seems, being shared with Pentax's recent Optio M900 and Olympus' FE-5050 releases. Though the resolution is nothing special, so it's hard to check focus and exposure on the back of the camera with pinpoint accuracy, it's nevertheless adequate as a compositional tool.
Furthering ease of use by providing a time saving shortcut, a press of the video record button and the camera switches to movie capture mode whichever alternative mode might have been selected at the time. With the video record button top right of the back plate as previously indicated, shooting modes on the Nikon are not selected via the standard penny-sized dial, but instead courtesy of a button marked 'scene'. Even though 'scene' is indeed one of the shooting mode options, the naming here seems a little esoteric as it's only one of several options. Also featured are regular auto mode, 18 subject specified/pre-optimised options via scene mode, plus Nikon's smart portrait and separate subject tracking option.
In scene mode, its default setting denoted with a cutesy heart, the camera auto selects the most appropriate of the settings on offer for the subject at the time, in that respect being a 'smart' auto mode. Or users can individually select one of the other options, running the usual gamut of portrait and landscape settings. Covering most conceivable bases here we get Portrait, Landscape, Sports, Night Portrait, Party, Beach, Snow, Sunset and Dusk/Dawn modes, joined by Night Landscape, Close Up, Food, Museum, Fireworks, Copy, Backlighting and Panorama assist mode.
Alongside the scene mode button is an identically sized one for image playback, with the useful ability to jump back to capture mode with a half press of the shutter release if a photo opportunity presents itself whilst shots are being reviewed. Below this we find the regulation issue four-way control pad, with OK button at its centre for implementing any mode or menu selections that are made. At points north, south, east and west are a means of, variously, adjusting flash settings, switching manually to macro mode, adjusting exposure and selecting self-timer options (two seconds, ten seconds or off) - all pretty standard stuff. Exposure compensation is +/- 2EV and, more unusually at this price point there's a live histogram presented on screen to check exposure in real time while this option is selected.
Bottom left of this control pad we get the 'menu' button and to the right of this a very useful dedicated control for deleting duff images. A press of the menu button and we're presented with three different folders for stills shooting, video shooting plus a standard set up mode. Since this is all pretty standard stuff, navigation of the Nikon Coolpix S5100's functions is fluid and intuitive, the esoterically named 'scene' button being the only initial stumbling block as you attempt to get at the features required.
| | |
| --- | --- |
| | |
| Battery Compartment | Memory Card Slot |
The shooting menu allows the adjustment of resolution, white balance and metering, drive mode, sensitivity (ISO100-3200), along with the Nikon's colour options. We always find the standard default setting of Nikon's to produce rather dull, flat images unless there is plenty of light available, so having the option to provide some visual punch and added warmth via a vivid setting is a boon. The other options here are black and white, sepia, and more unusually, cyanotype, the later bathing everything in a silvery blue finish. It's here that the AF area mode can be prioritized to faces, manually adjusted, centre-d or left on auto.
The movie options unearthed via the menu button are the basics of selecting top 1280x720 pixels setting, or further VGA 640x480 or QVGA 320x480 settings.
The set up menu offers the ability to turn vibration reduction and motion detection on or off, format the card, charge the camera via your computer's USB, turn a blink warning on or off, reset all settings and swap video mode between PAL and NTSC. USB charging aside, this is all standard stuff.
Whilst the right hand flank of the camera includes an eyelet for attaching a wrist strap and the left features the built-in speaker, the base of the camera is where we find the screw thread located for attaching a tripod, though it's over at one edge rather than dead centre of the body or lens. This is also where we find a protected port for AV output next to another protected by a sliding catch for the rechargeable lithium ion battery and vacant memory card slot. Cutting down on peripherals the S5100's battery is charged in camera, meaning there's no separate mains charger provided, merely a chunky plug into which the relevant USB cabling slots should you wish to re-charge via mains rather than your PC's USB port. This also appears to be a growing trend among budget priced models, and at least offers photographers who travel with their laptop another power source option.
So while the S5100's operation and response times are impressive and its feature set pretty much as expected for the modest asking price, do the images it produces transcend its budget status or show that the old adage that you get what you pay for rings true? Let's find out…