Nikon Coolpix S5100 Review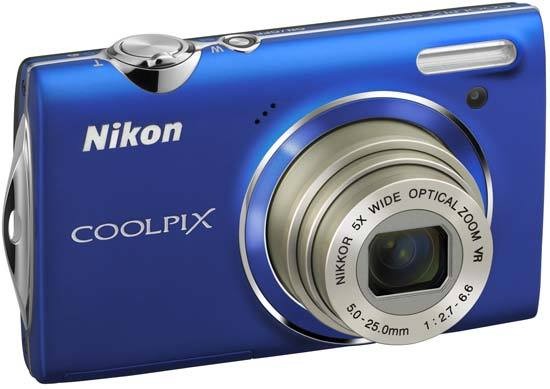 Nikon Coolpix S5100 Image Quality
All of the sample images in this Review were taken using the 12 megapixel High JPEG setting, which gives an average image size of around 5.5Mb.
We were using the S5100 during a period in which we were also looking at direct rivals in the Pentax Optio M900 and Olympus FE-5050, and, although the Nikon may not be perfect in every output respect, its images in general terms bettered both, being sharper and also we felt more representative of the scene or subject at the time. Lacking a handgrip as such we had some instances of visible camera shake and resulting blur with the Nikon, despite its low light shooting capabilities (high-ish ISO/vibration reduction) as we did with the competitors. Like the Olympus we also found white balance to occasionally be a tad off - daylight images taking on a bluish tinge - and had to watch out for burnt out highlights and obvious pixel fringing when conditions were sunnier.
In general terms the Nikon's images can look rather muddy at times, particularly when shooting at maximum telephoto and in lower light, benefiting from auto adjustment in Photoshop or simply opting for the vivid mode on the camera itself to boost colour saturation and add visual punch to formerly flat shots. These are minor gripes however and when conditions are ideal the Nikon can deliver some impressively sharp results that belie its budget status. Admittedly at the end of the day you're left with snaps rather than high art, but the S5100 suggests itself as an able tool for the back pocket for reference shots and the like.
Above ISO 400 image noise predictably makes its presence more intrusively felt. At ISO 800 it's beginning to creep into the darker portions of the image, more noticeable across the whole shot at ISO 1600, so that by ISO 3200 detail is noticeably softened overall, albeit with an effect that is marginally les painterly than usual. Not a bad performance from a point and shoot camera by any means, so the S5100 is one of the best examples out there if you have less than £200 to sped on a pocket snapper.
Noise
The base sensitivity of the Nikon Coolpix S5100 is ISO 100, while the highest setting is ISO 3200. Here are some 100% crops which show the noise levels for each ISO setting.
| | |
| --- | --- |
| ISO 100 (100% Crop) | ISO 200 (100% Crop) |
| | |
|   |   |
| ISO 400 (100% Crop) | ISO 800 (100% Crop) |
| | |
|   |   |
| ISO 1600 (100% Crop) | ISO 3200 (100% Crop) |
| | |
Sharpening
Here are two 100% crops which have been Saved as Web - Quality 50 in Photoshop. The right-hand image has had some sharpening applied in Photoshop. The out-of-the camera images are a little soft at the default sharpening setting. You can't change the in-camera sharpening level if you don't like the default look.
| | |
| --- | --- |
| Original (100% Crop) | Sharpened (100% Crop) |
| | |
|   |   |
| | |
Chromatic Aberrations
The Nikon Coolpix S5100 handled chromatic aberrations fairly well during the review.  The examples below show what you can expect in the worst case.
| | |
| --- | --- |
| Example 1 (100% Crop) | Example 2 (100% Crop) |
| | |
Macro
The Nikon Coolpix S5100 has a very good macro mode, offering a minimum focus distance of 2cms. The first image shows how close you can get to the subject (in this case a compact flash card). The second image is a 100% crop.
| | |
| --- | --- |
| Macro | 100% Crop |
| | |
Flash
The flash settings on the Nikon Coolpix S5100 are Auto, Flash On, Red-eye Reduction, Slow Synchro and Off. These shots of a white wall were taken at a subject distance of 1.5m.
| | |
| --- | --- |
| Flash Off - Wide Angle (35mm) | Flash On - Wide Angle (35mm) |
| | |
|   |   |
| Flash Off - Telephoto (175mm) | Flash On - Telephoto (175mm) |
| | |
And here are some portrait shots. The flash has a red-eye reduction setting, though in this test there was not much of a redeye effect to begin with.
| | |
| --- | --- |
| Flash On | Flash On (100% Crop) |
| | |
|   |   |
| Red-eye Reduction | Red-eye Reduction (100% Crop) |
| | |
Night
The slowest shutter speed of the Nikon Coolpix S5100 is four seconds in the Fireworks show scene mode, and even less in the other shooting modes, which is disappointing news if you are seriously interested in night photography. The following example was taken at a shutter speed of 1 second at IOS 720. We have included a 100% crop to show what the quality is like.
| | |
| --- | --- |
| Night | Night (100% Crop) |
| | |