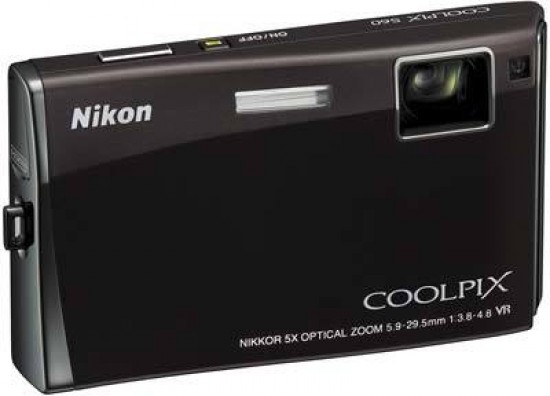 Introduction
The Nikon Coolpix S60 is a 10 megapixel compact digital camera featuring Nikon's distinctive "wave-surface" design and a massive 3.5 inch wide-screen LCD monitor with touch-panel control. The S60 only has two external buttons - On/Off and Shutter Release - with everything else being operated via the LCD screen. Despite its slim dimensions, the Nikon S60 offers a 5x zoom lens equivalent to a focal range of 33-165mm, complete with a sensor-shift vibration reduction system and highest ISO of 3200. In-Camera Red-Eye Fix, Face-Priority AF, Smile and Blink detection and D-Lighting aim to intelligently improve your photographs. The Nikon Coolpix S60 is purely a point and shoot camera, with Scene Auto Selector choosing the best scene mode for you and Best Shot Selector automatically selecting the sharpest of up to 10 shots. The HDMI video output socket provides an easy way to view the Nikon S60's images on a HDTV. Available in Black, White and Bordeaux Red, the Nikon Coolpix S60 retails for around £299.99 / $349.95 / €349.
Ease of Use
The Nikon Coolpix S60 is a very eye-catching camera thanks to its slim, "wave-design" profile, non-zooming 5x lens and massive 3.5 inch LCD screen. The wave design basically means that the camera is thinner at one end than the other. At 9.7cms wide and 2.2cms deep, the Nikon Coolpix S60 will fit into your trouser or shirt pocket without too much trouble. The all-metal body of our Coolpix S60 review sample has a sophisticated glossy burgundy finish, with the sides of the body in a more glossy silver and the LCD framed in dark grey. The Nikon Coolpix S60's weight is about average for this class of camera at 145g. The Nikon Coolpix S60 is very well-made overall, although he On/Off button is too small and recessed, which may prevent the camera from being accidentally turned on, but also makes it difficult to quickly operate. Also the plastic HDMI port and battery/memory card covers don't inspire too much confidence. Otherwise the Nikon Coolpix S60 is designed and built very well.
The Nikon Coolpix S60 is the simplest camera that we've ever reviewed in terms of the number of external controls that it has. I counted 5 in total, if you include the HDMI port, battery/memory card slot and tripod socket. The eagle-eyed amongst you will have noticed that I haven't even mentioned the zoom buttons - that's because there aren't any! Instead, as with almost everything on the S60, you zoom the lens via icons on the camera's 3.5 touchscreen LCD panel. Unfortunately the large screen only has 230,000 pixels, a little on the low side for such a big LCD., resulting in a slightly grainy image. The 160 degree viewing angle and, anti-reflection coating and durable acrylic panel do make it easy to share your images with friends and family. The anti-reflection coating also meant that the S60 could be used in all lighting conditions with no problems, even bright sunlight, essential given its reliance on its screen.
| | |
| --- | --- |
| | |
| Front | Front |
You'll either love or hate the Nikon S60's touchscreen interface. 2.7 inches of the 3.5 inch screen is used for previewing the scene in front of you, with the left and right occupied by largely clear and intuitive icons for operating the camera. A Home button in the bottom-right opens the camera's main menu system, with further options for Shoot, Scene, Movie, Play, Menu and Setup. The main menu system uses big and bright icons and text, but some commonly used options such as exposure compensation take a frustratingly large of number of finger presses to access. Whilst the S60's target audience of point and shoot beginner won't notice, the more experienced photographer will quickly become frustrated.
A clever feature is the ability to touch anywhere on the screen to focus and expose for that specific part of the picture, making it incredibly quick and easy to shift the focus point around, plus you can scroll through and zoom around your images in playback mode. Also the S60 automatically detects if it is held in portrait or landscape orientation, and rotates the icons / image on screen, although I found it to be rather sluggish in use. Less successful is the touch-sensitive zoom. Operated by your thumb, rather than forefinger as on most cameras, it initially feels completely alien and counter-intuitive. Admittedly it does become second nature after a short while, but is still frustratingly slow, making it difficult to focus on anything that moves quickly. Implementing the zoom control in this way is just one step too far in pursuit of a touchscreen nirvana. You'll also be constantly cleaning the S60's screen of fingerprints, and also constantly charging the battery too thanks to the S60's 140-shot battery life.
| | |
| --- | --- |
| | |
| Rear | Rear |
The Nikon S60's emphasis is firmly on point and shoot simplicity, so there are a plethora of options to make it easier to take good photos. The Scene Auto Selector follows in the steps of Panasonic's Intelligent Auto mode by automatically selecting the most appropriate Scene mode and optimizing camera settings for popular situations such as landscapes and macro. Nikon's system is a simpler one, but still very effective for complete beginners. Similarly Face-priority and Smile/Blink Detection technologies take the pain out of taking sharp, well-exposed and happy pictures of your friends and family, although a simple shout of "Cheese" is often more effective at making your subject smile and not blink at the same time.
To help avoid camera-shake, often the cause of many unsuccessful photos, the Nikon Coolpix S60 not one, not two, but three anti-blur technologies. The Sensor-shift Vibration Reduction option is automatically turned on by default, automatically moving the camera's CCD sensor to reduce the effects of camera shake. This feature can be combined High ISO light sensitivity, although as our Sample Images page shows, you won't really want to use anything faster than ISO 400 if you can avoid it. Finally the Best Shot Selector mode automatically selects the sharpest of up to 10 sequential shots. In practice these 3 features work well together, which should result in fewer pictures ending up in the recycling bin.
| | |
| --- | --- |
| | |
| Battery Compartment | Memory Card Slot |
The start-up time from turning the Nikon Coolpix S60 on to being ready to take a photo is fairly quick at around 2 seconds. Zooming from the widest focal length to the longest takes a rather sluggish 3 seconds. Focusing is quick in good light and the camera achieves focus almost all of the time indoors or in low-light situations, helped by the focus-assist lamp. The visibility and refresh rate of the 3.5 inch LCD screen are adequate, with some visible grain. It takes about 2 seconds to store an image, allowing you to keep shooting as they are being recorded onto the memory card, with a very brief LCD blackout and lockup between each image. The Nikon Coolpix S60 has a slow Continuous mode which enables you to take just 0.7 frames per second for up to 3 images at the highest JPEG image quality. The flash recycle time is a little annoying, at about 4 seconds before you can take another photo with flash. Overall the Nikon Coolpix S60 is average in terms of operational speed.
Once you have captured a photo, the Nikon Coolpix S60 has an adequate range of options for playing, reviewing and managing your images. You can scroll through the images that you have taken, view thumbnails, zoom in and out, view slideshows, delete, protect, copy, create a small version of an image and set the print order. There are also a number of Retouch options, including perspective control, D-lighting (which can also be applied as you take a photo), and 4 colour options. Annoyingly you can't view more useful information such as the ISO rating and there is no histogram available during playback or when you are taking a photo.
In use the Nikon Coolpix S60 is a stylish, fairly compact, point and shoot digital camera that relies a little too much on its touchscreen LCD and suffers from sluggish performance. Now take a look at the Sample Images page to find what its image quality is like...