Nikon Coolpix S640 Review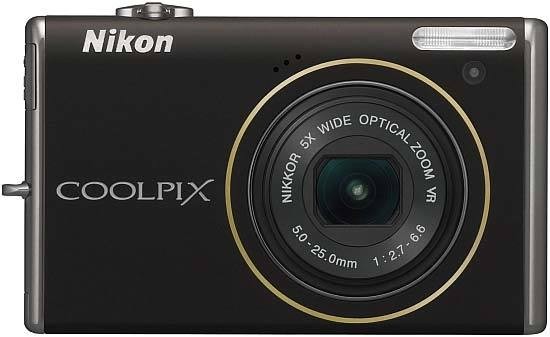 Introduction
The Nikon Coolpix S640 is on the face of it a rather run-of-the-mill compact camera, with a 12 megapixel sensor, 5x optical zoom lens and 2.7 inch screen. That's not telling the whole story though, as Nikon are claiming that the diminutive S640 is the fastest focusing camera in its class, and even that it's as fast as their D40 DSLR. The S640 offers more DSLR-like features too, including ultra-fast startup time, a white balance system based on Nikon's DSLR technologies, and high ISO 6400 capability at full resolution. The 28-140mm lens is backed up by Nikon's VR image stabilization system, and other key features include an LCD monitor with Clear Color technology, Quick Retouch, D-Lighting, Motion Detection and Subject Tracking. The all-metal Nikon Coolpix S640 is available in black or silver for $249.95 / £239 / €269.
Ease of Use
At first glance the Nikon Coolpix S640 looks pretty much like any other small pocket compact camera, easily fitting in both the palm of your hand and a shirt pocket. The external design is appealing in a conservative kind of way, with the all-plastic body finished in a glossy black coating. There's nothing here to surprise or scare anyone who has used a digital camera in the last five years, making it easy to get up and running in no time at all.
And that's certainly helped by the S640's lightening fast reflexes. As promised by Nikon, this is certainly one speedy compact camera. Start-up time is almost instant, with the camera ready to go in less than half a second. At least, that's partly true, in the sense that the LCD screen springs into life. Annoyingly, you have to wait for a further 5 seconds before you can access the main menu, zoom the lens, or perhaps most importantly, playback or take a picture! Nikon's claims about the ultra-fast start-up are therefore misleading to say the least, so much so that after a while I just left the S640 permanently turned on, so annoying was the wait for it to spark into life.
Thankfully, when the camera has finally woken up, the S640 is something of a speed demon when it comes to focusing on your subject. The 5x zoom lens provides a versatile focal range of 28-140mm, impressive given the overall size of the camera, and is wide enough for landscapes and with enough reach for candid portraits. The lens has a fast maximum aperture of f/2.7 at the wide-angle end but a disappointingly slow f/6.6 at full telephoto.
| | |
| --- | --- |
| | |
| Front | Rear |
The Nikon S640 is very quick to find focus, locking onto your target in less than 0.2 seconds, regardless of the lighting conditions or which end of the zoom range you're using. Very impressive given that the S640 is using a contrast AF system, which is traditionally slower than the phase detection system that most DSLR cameras use. In addition, the Subject Tracking mode detects, tracks, and focuses on the main subject, making it easier to capture moving subjects successfully.
Thankfully Nikon have included their VR (Vibration Reduction) image stabilisation system to help prevent camera-shake, an essential feature nowadays, although annoyingly there isn't a dedicated button to turn it on and off (it's buried within the Setup main menu). In practice I found that the VR system makes a noticeable difference to the sharpness of the images, as shown in the examples on the Image Quality page, but don't expect to get sharp results every time at the longer focal lengths without the use of a suitably fast shutter speed. Thankfully leaving the anti-shake system on didn't negatively affect the battery-life, with the camera managing just over 250 shots using the supplied Lithium-ion rechargeable battery.
In addition, there are two other functions that also help to prevent camera shake. High ISO light sensitivity up to ISO 6400 at full resolution throughout the range reduces the risk of blurred images, while the Motion Detection option automatically detects and compensates for both camera and subject movement. Best Shot Selector (BSS) mode automatically selects the sharpest of up to 10 sequential shots. All of these 3 options and the Vibration Reduction system can be used at the same time if so desired.
The 2.7 inch LCD monitor on the back of the camera has a rather average resolution of 230,000 pixels, a little on the low side for such a large screen, resulting in a slightly grainy display. On the plus side it also offers five levels of brightness, an anti-reflection coating, a wide viewing angle, and a special antifouling and water repellent layer. It also features Nikon's Clear Color Display, which promises brighter and more vibrant images, although to be honest we've seen better monitors elsewhere.
There aren't too many external controls and buttons (just 9 in total) on the Coolpix S640, reflecting the fact that this is a point and shoot camera with no manual controls. On top of the camera is the On / Off button, shutter release button and tactile push/pull zoom lever. On the bottom the S640 has an SD compatible memory card slot, allowing the use of either SD or SDHC cards, and there's also 45MB of internal memory, which can store 7 images at the highest quality level. The memory card slot is shared with the battery compartment. There's also a very inconveniently located plastic tripod socket which is almost not worth using.
| | |
| --- | --- |
| | |
| Front | Top |
The rear of the S640 is as traditional as the design of the rest of the camera. All of the controls are located to the right of the LCD screen, with a round navigation wheel and a central OK button, surrounded by two buttons both above and below. The navigation wheel is a nice touch that can be used to scroll through menu settings and pictures, but doesn't really serve any other purpose. The four corners of the wheel also double up to access the flash, exposure compensation, macro and self-timer settings (starting at 12 o'clock and going clockwise).
Above the navigation wheel are buttons for accessing the various scene and movie modes and playing back your images. There are 21 scene modes to choose from, including the clever Scene Auto Selector, which automatically recognizes the scene in your picture from 6 presets (Portrait, Landscape, Night Portrait, Night Landscape, Closeup and Backlight) and adjusts the camera settings accordingly. Below the navigation wheel are the self-explanatory Menu and Delete buttons. Unfortunately there's no quick way to change the ISO speed or other key settings, forcing you to delve into the menu system.
If you have never used a digital camera before, or you're upgrading from a more basic model, reading the well-written and easy-to-follow manual before you start is a good idea. Thankfully Nikon have bucked the recent trend of not providing hard-copy manuals by supplying it in printed format.
D-Lighting is a long-standing Nikon technology that brightens the shadow areas of an image, and on the S640 it can be applied to an image both before and after it has been taken. Face-priority Autofocus can detect up to 12 faces in a scene just so long as they're looking directly at the camera, whilst In-Camera Red-Eye Fix automatically processes the picture to remove red-eye. Blink Warning alerts you if someone in the frame had their eyes closed, and the Smile Timer automatically takes the picture when a smile is detected. The Colour Options allow you to tweak the look and feel of your images before you take them, with 5 presets on offer.
| | |
| --- | --- |
| | |
| Memory Card Slot | Battery Compartment |
Movie recording on the Nikon Coolpix S640 is something of a let-down in light of the recent shift to HD quality video. In contrast the S640 only offers 640x480 pixel VGA movies at 30 or 15fps, or 320x240 pixels at 15fps. Even worse, you can't use the optical zoom lens during recording, with just a 2x digital zoom available, and there's only an electronic vibration reduction system.
In the Continuous shooting mode the S640 takes just 0.8 frames per second at the highest image quality, which is well below average for this class of camera. There is also a Multi-shot 16 mode that takes 16 photos at 7.5 frames per second and arranges them into a single image.
The Monitor Settings menu option toggles between various views, including showing detailed settings information about each picture, such as the ISO rating and aperture/shutter speed, framelines and no information. Unfortunately there is no histogram available during composition or playback.
Once you have captured a photo, the Nikon Coolpix S640 has quite a good range of options when it comes to playing, reviewing and managing your images. You can instantly scroll through the images that you have taken, view thumbnails (up to 16 onscreen at the same time), zoom in and out up to 10x magnification, apply D-Lighting, the new Skin Softening feature, and Quick Retouch (improves the contrast and saturation), set the print order, view a slide show, delete, protect, rotate, hide and copy an image, plus create a smaller version and add a black border.
In summary the otherwise unremarkable Nikon Coolpix S640 is one of the fastest and most responsive compact cameras around, marred only by the inexplicable 5 second "freeze" when powered-on.