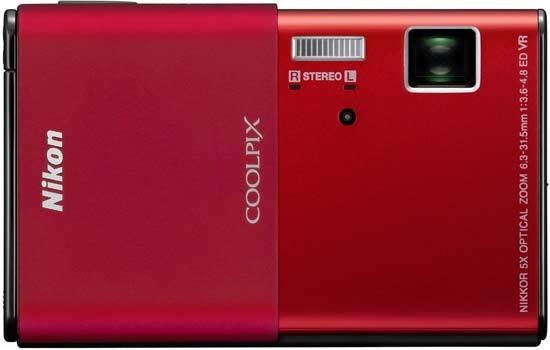 Introduction
The Nikon Coolpix S80 is a new 14 megapixel touchscreen compact camera. Featuring a large 3.5 inch OLED screen with 819k-dots and a 720p HD movie mode with stereo sound and an HDMI port, the Nikon S80 allows you to focus and take a picture or video simply by touching the relevant area on the screen. Other highlights of the S80 include a 5x optical zoom lens with sensor-shift Vibration Reduction, an ultra-slim design, a range of creative filters, and clever hand-holding technologies including Smart Portrait System, Motion Detection technology, Best Shot Selector, D-lighting and Scene Auto Selector. The Nikon Coolpix S80 is available in six different colours and costs £329.99 / €391.00 / $329.95.
Ease of Use
The Nikon Coolpix S80 is a very well built ultra-compact camera. The elegantly simple front plate features a sliding lens cover, with the camera powered up by sliding the lens cover sideways, a move that exposes the lens, flash and AF assist lamp, and readies the camera for action in less than two seconds. There is no dedicated on/off button  - a sensible design solution, as it would be redundant anyway.
What seems less sensible is that there is no physical Playback button either, meaning that you need to expose the lens even when you do not intend to take pictures, just to review what you have already shot. In fact the only physical control other than the sliding cover is the shutter release button, found on the right-hand side of the top plate, exactly where you would expect it to be. Everything else, including zoom operation, is performed by way of the touch-sensitive screen that occupies the entire rear panel of the camera.
The lens is of the internally stacked variety, which does not extend upon power-up or zooming - this is one of the reasons why the Coolpix S80 takes less time to start up than most other compact cameras. Nikon has made an apparently deliberate effort to shift the lens away from the upper right-hand corner - when viewed front on - in order to reduce the possibility of it getting blocked by a finger. This attempt is only partially successful - your middle finger may still intrude into the lens' field of view if you are not careful enough.
The5x zoom lens has a somewhat disappointing focal range of 35-175mm in 35mm equivalency, which doesn't compare well to the S70's more versatile 28-140mm lens. Aperture-wise it is not particularly fast either, its brightness being f/3.6 at the wide end and f/4.8 at full telephoto, although this is a slight improvement on the S70. Like most small-sensor digicams, the Nikon Coolpix S80 lacks an iris diaphragm. In very strong daylight it employs a built-in neutral density filter to avoid overexposure, but this obviously has no effect on depth of field, as the physical size of the aperture does not change.
| | |
| --- | --- |
| | |
| Front | Rear |
The S80 has Nikon's Vibration Reduction (VR) feature on board to prevent blurring from camera shake. Unlike the manufacturer's SLR system, Vibration Reduction in the S80 is sensor-, rather than lens-based. It is automatically turned on by default, but you won't notice anything unusual except you can take sharp photos at shutter speeds that are critically slow for the focal length used, as demonstrated in the Image Quality section of this review.
As with the S80's predecessor, this camera's user interface relies almost entirely on the 3.5" OLED touchscreen, which is one of the main selling points of this camera. OLED (Organic LED) screens have been widely-touted as the next big thing in digicam screens for some time now, and it's one of the reasons why the Nikon S80 has grabbed our interest. The screen's much-improved resolution of 819,000 dots is fitting for a 3.5" display. Note that the screen's aspect ratio is 16:9, while that of the sensor is 4:3 - this means that your photos will not fill the screen unless you shoot at the 16:9 setting, at which image resolution is reduced to 10 megapixels.
In practice, however, we didn't find the OLED to be noticeably different to the better LCD screens out there. Outdoors visibility was quite good, but not outstanding, with the screen being still prone to glare in broad daylight if the sun hit it at a certain angle. While the colours of the screen were pleasantly vibrant, images looked quite underexposed and the white balance of the live preview often differed from that of the final image quite noticeably, although thankfully they were perfectly fine on a calibrated computer monitor. The viewing angle was excellent, with no apparent loss of contrast or colour shifts when not viewing the display straight on; this is excellent news for those who like to shoot at waist level or from above the head. The screen is also prone to the inevitable fingermarks and more seriously scratches, with our review sample looking worse for wear after just a few days of testing.
There are five main shooting modes on the Nikon Coolpix S80, including Easy Auto, Auto, Scene, Smart Portrait and Movie. Somewhat confusingly, Auto is the mode that gives you the most control over the shooting process. You don't get to set shutter speed or aperture directly - the latter would be impossible given the lack of a diaphragm anyway - but you can set the ISO speed manually, which is something you cannot do in the other modes. Functions and features accessible in this mode include the self-timer, flash mode, image quality setting, exposure compensation, touch shooting, macro, drive mode, white balance, and zoom. All of these functions have clearly labelled virtual buttons, which you can operate at a touch of a finger.
| | |
| --- | --- |
| | |
| Front | Touch-screen Interface |
In practice, we found the revised touchscreen control system to be a big improvement in terms of both speed and sensitivity on the rather hit-and miss affair of the S70, although we still sometimes found ourselves in a menu we had not wished to enter, while at other times we had to push a "button" repeatedly until it did what we wanted it to do. The lack of a playback button and the zoom control implementation is our biggest criticism of the S80, seemingly implemented just to prove that you can control everything via the screen - a traditional button and zoom lever respectively would have been a more straightforward and faster solution.
The Touch Shooting "button" brings up a menu with three choices, Touch Shutter, Subject Tracking and Touch AF/AE. Touch Shutter means that touching the screen at any given point of the frame will result in the camera's focusing on that point and immediately snapping a picture upon achieving focus. This is quite a fast way of snapping a photo - while focusing speeds are not SLR class, the fact that you can pick a focus point by simply touching the desired part of the frame, and then not have to even touch the shutter release to initiate autofocus and image capture means that the entire picture taking process may actually take less time than with an SLR. On the flip side, enabling this function may cause you to take a few photos involuntarily.
By contrast, Touch AF/AE is simply AF point selection by touch, which still requires you to press the shutter release to actually take a shot. This was the setting I ended up using most of the time. Finally, Subject Tracking lets you pick a subject by touch, and allows the camera to follow that subject if it moves within the frame. This feature works best when the selected subject is - or has - a human face.
The Easy Auto mode is similar to Auto, but with less user control options provided. The Scene modes include Portrait, Landscape, Sports, Night portrait, Party/indoor, Beach, Snow, Sunset, Dusk/dawn, Night landscape, Close-up, Food, Museum, Fireworks show, Copy and Backlighting, plus there is a Panorama assist mode (without in-camera stitching).
The Nikon Coolpix S80 features a 720p HD video mode. The video features are basic: you can turn touch shooting on or off, switch the macro mode on or off, and set the movie quality (720p HD at 30 frames per second, VGA or QVGA at either 30 or 15fps). You cannot manually set white balance, gain or exposure compensation, neither is there an AE lock function. The 5x optical zoom can thankfully be used while filming, an improvement on the S70, and there is also stereo sound now rather than mono. The clips are compressed using the Quicktime codec and stored in a MOV container.
| | |
| --- | --- |
| | |
| Memory Card Slot | Battery Compartment |
You can access the Setup menu by pressing the up icon at the bottom of the touch-screen and then selecting the spanner icon. This is where you can turn off Vibration Reduction when shooting from a tripod, set the date and time, mute or enable all electronic sounds, switch off the digital zoom function, format the memory card, and access a few less important or rarely used features.
Going from record mode to playback is done by tapping the familiar and unmistakable Playback icon. This is one of the slower operations on the Coolpix S80, which can be a bit annoying if you need to quickly delete a photo you have taken by accident, for example. Going back from playback to record mode is similarly sluggish.
While the S80's gesture and multi-touch support come into play in some of the shooting modes too, where exposure compensation, colour temperature or saturation can be set using a sweeping gesture, depending on the selected shooting mode, it is in playback where they can really be exploited. Going from one image to the next is done by way of a sweep of a finger, while you can zoom in and out of a photo by pinching. Apple iPhone users will be familiar with this, but it has to be noted that none of these effects is as immediate or fluid as on an iPhone, for example. The Nikon S80 has an orientation sensor, and can rotate the images based on how you are holding the camera, and it's thankfully less responsive than on the previous S70 model.
Quite surprisingly, the camera does not display any meaningful exposure data along with the photo you are viewing; nor does it provide a histogram to judge exposure (there is no live histogram in record mode, either). On the other hand, there are quite a few post-capture image modification / retouching functions, including D-lighting, stretching, perspective control, six creative effects - Color, Soft, Selective Color, Cross Screen, Fisheye and Miniature - plus Glamor Retouch, which applies adjustments only to faces in an image. You can also decorate your photos with hearts, stars and other shapes, add a frame, paint over the top, insert a date stamp, rate your images out of five, downsize them for Web resolution or add a voice memo.
The images may be stored in the S80's internal memory, which holds only a few full-resolution photographs at the higher quality setting, or on an SD / SDHC / SDXC card. The card / battery compartment door is on the right side, with a plastic door that runs almost the full height of the S80. The power source is a proprietary EN-EL10 Li-ion battery, which can be charged via a computer using the supplied USB cable or via the EH-68P AC adapter, using the same cable. Although the battery is removable, it must be in the camera for charging (much like a cell phone battery). The number of images that can be captured on a single charge is a disappointingly low 150, though the actual figure may vary with the amount of flash and zoom usage. On the bottom of the S80 are the HDMI / AV Out ports and the tripod socket. The camera comes with a software CD-ROM and a well-written user's manual (usually printed, but this might depend on where you live).