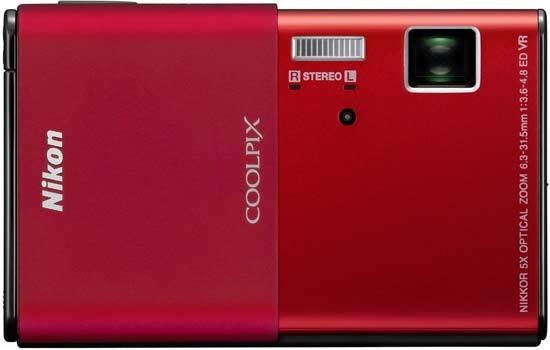 Conclusion
The Nikon Coolpix S80 is an undeniably stylish point and shoot camera that features a love or hate it touchscreen interface, with only one physical button on the entire camera. The S80 represents a big improvement on the previous S70 model, although the so-so image quality, limiting 35mm wide-angle setting and high price-tag prevent us from recommending it more highly.

Technology is firmly at the forefront of the S80, rather than traditional photographer-friendly features. Enthusiast photographers won't like the limited level of user control over the picture-taking process as well the lack of a pre- or post-capture histogram to check exposure, but the OLED screen, effective touch-sensitive interface and innovative features such as the Touch Shutter that lets you focus on your subject and take a picture very quickly are perfectly suited to the gadget-loving target audience

The Nikon S80's excellent 3.5-inch OLED screen provides a very wide viewing angle and now features a much improved 819k-dot resolution, a big improvement on its predecessor's low-resolution screen. The OLED monitor is still prone to glare from the sun, however, and also images tended to look under-exposed, even though they were fine when viewed on a calibrated monitor. The continued lack of a histogram makes it even more difficult to accurately judge the exposure in-camera.

The increase in the megapixel count to 14 doesn't detract from the S80's image quality, but it doesn't raise it above average either. Noise at slow ISO speeds, inconsistent sharpness at the edge of the frame, and poor macro and night modes contribute to merely adequate photographs. Video performance is better thanks primarily to the ability to use the optical zoom during recording, the new stereo sound system and the more economical MOV format, although the video features on offer are still somewhat basic. The move to a 35mm wide-angle lens from the 28mm lens of the S70 is a strange one, limiting your creativity and seeming out of place in 2010.

The Nikon Coolpix S80 costs about the same as the S70 on launch, which given the number of improvements makes it better for value for money, although £329.99 / €391.00 / $329.95 is still an awful lot for what is essentially a point-and-shoot compact that only produces adequate images. Nikon will be hoping that the S80's wider appeal as an example of stylish, cutting-edge technology, rather than just a mere camera, will be enough to justify the asking price - we're inclined to agree, with the caveat that you really should try out that futuristic interface for yourself before making such a substantial investment.
Ratings (out of 5)
Design
4.5
Features
4
Ease-of-use
4
Image quality
3.5
Value for money
3.5