Nikon Coolpix S9300 Review
April 30, 2012
|
Matt Grayson
|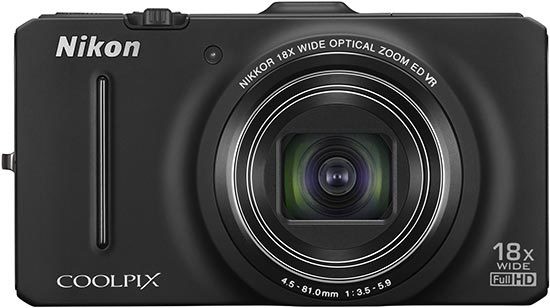 Image Quality
All of the sample images in this review were taken using the 16 megapixel Fine JPEG setting, which gives an average image size of around 6Mb.
From the moment we started taking pictures with the Nikon Coolpix S9300 we were impressed. On screen, the results seemed to ooze perfection. They were sharp, well exposed, not too saturated and the camera appeared to be able to handle anything we threw at it. The image stabiliser works so well we rarely had to leave ISO 125 and because of this we couldn't wait to see the noise test images.
Noise
Just as we suspected, low ISO settings give an excellent result. Edge definition is great and the lack of digital noise is refreshing. Although noise starts to appear at ISO 200, it's adequately suppressed by the noise reduction software and can only be seen when the pictures are viewed at full magnification.
Flecks of colour start to teeter on the edges of visibility at ISO 400 while edge definition takes a slight downward curve. This is to be expected though and not only are they within overall tolerance levels, the S9300 is performing very well for a camera of this calibre.
Despite the obvious noise reduction going on from ISO 800, the images look pretty good. After all, the edges are relatively sharp, it's well exposed, there's still a decent dynamic range and the colours are all how they should be. This remains the same with the next step although it's obvious the camera is starting to struggle. A noted give-away is the edges breaking down further although amazingly colour noise is still being kept at bay. Frankly, we'd rather cope with some undefined edges than colour noise any day.
By the final setting of ISO 3200 noise should be taking over the scene but it isn't. Noise has definitely invaded the picture but instead of colour spots, there's white ones instead.
| | |
| --- | --- |
| ISO 125 (100% Crop) | ISO 200 (100% Crop) |
| | |
|   |   |
| ISO 400 (100% Crop) | ISO 800 (100% Crop) |
| | |
|   |   |
| ISO 1600 (100% Crop) | ISO 3200 (100% Crop) |
| | |
Focal Range
The Nikon Coolpix S9300's 18x zoom lens offers a very versatile focal range, as demonstrated by the examples below.
| | |
| --- | --- |
| 25mm | 450mm |
| | |
Sharpening
One thing that we've been consistently impressed with throughout the review is the sharpness of the Nikon Coolpix S9300's pictures. However, even though we're singing it's praises, after running a few pictures through the basic sharpening in Adobe Photoshop CS4, the pictures were improved slightly. You can see a couple of samples below.
| | |
| --- | --- |
| Original (100% Crop) | Sharpened (100% Crop) |
| | |
|   |   |
| | |
File Quality
The Nikon Coolpix S9300 has 2 different image quality settings available, with Fine being the highest quality option. Here are some 100% crops which show the quality of the various options, with the file size shown in brackets.
| | |
| --- | --- |
| 16M Fine (100% Crop) | 16M Normal (100% Crop) |
| | |
Chromatic Aberrations
Chromatic aberration is a problem with the Nikon Coolpix S9300. We found it in the most unusual of places including low contrast areas. It happens the most at the edges of the frame.
| | |
| --- | --- |
| Chromatic 1 (100% Crop) | Chromatic 2 (100% Crop) |
| | |
Macro
The Nikon Coolpix S9300 has a macro focusing distance of 4cm. That's pretty good and can get up close and personal with all sorts of tiny objects. Sharpness at the centre of the frame is good but as we mentioned earlier, edge fall off is pretty bad and is subject to all sorts of problems such as distortion, blurriness and chromatic aberration.
| | |
| --- | --- |
| Macro Shot | 100% Crop |
| | |
Flash
At first glance, it's easy to assume that Nikon forgot to put the flash on the Coolpix S9300, but it's actually a pop-up type that sits on the left side. Nikon are very good at getting rid of red-eye one way or another but the flash being situated all the way over on the left will mean it should never rear its head in the first place.
Vignetting seems to be an issue at a couple of settings. When the flash is off we found that we got vignetting at full telephoto. Using flash eradicated this. At wide-angle we didn't get any vignetting with the flash off but discovered that it is present when the flash is fired.
| | |
| --- | --- |
| Forced Off - Wide Angle (25mm) | Forced On - Wide Angle (25mm) |
| | |
|   |   |
| Forced Off - Telephoto (450mm) | Forced On - Telephoto (450mm) |
| | |
Back to red-eye and Nikon usually fit a software based red-eye removal system in the playback menu but on this occasion they haven't. Don't be disappointed though, because the Coolpix S9300 doesn't suffer from it at all.
| | |
| --- | --- |
| On | On (100% Crop) |
| | |
|   |   |
| Auto/Red-eye Reduction | Auto/Red-eye Reduction (100% Crop) |
| | |
Night
We took a night shot using both the auto and the night scene mode. In night scene, we found that the picture had a slightly cooler tone to an already blue scene. Because we were able to manipulate the ISO settings in auto, the image comes out a lot smoother with no loss in exposure.
| | |
| --- | --- |
| Night Auto | Night Auto (100% Crop) |
| | |
|   |   |
| Night Scene | Night Scene (100% Crop) |
| | |