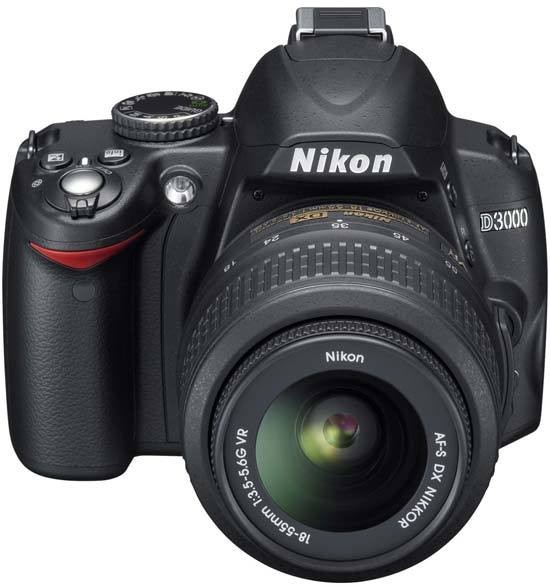 Image Quality
All of the sample images in this Review were taken using the 10 megapixel Fine JPEG setting, which gives an average image size of around 4.5Mb.
Though image quality shooting with the bundled 18-55mm VR-equipped kit lens is generally impressive, we noticed some loss of focus towards the edges of the frame when shooting at maximum wide angle, though barrel distortion is kept impressively well in check.
There's no doubt however some form of image stabilization in the absence of anti-shake of the sensor shift variety proves a boon to reduce blur when shooting hand held in low light; and, after all, how many of the D3000's market of beginners are going to bother karting a tripod around with them?
Despite offering 'only' 10 megapixels, in general a good level of detail is captured – shots more notably crisp than from a similarly priced bridge model – and that in fairness will be more than sufficient for the Nikon's target market.
However, as we've found with Nikon DSLRs in the past, on its standard default Picture Control setting the D3000 delivers images, subjectively speaking, that are rather on the cool side. We preferred therefore selecting the Vivid setting, which provides images closer to the more flatteringly well saturated default look of competing Sony or Panasonic models and provides a hitherto missing degree of visual punch. Of course a very similar effect can be achieved by simply applying Auto Levels in Photoshop afterwards.
When faced with contrast-y scenarios, highlights can burn out, but Nikon's on-board Active D-lighting option does even out exposures providing an overall look closer to that seen by the human eye.
In terms of light sensitivity, although noise begins to intrude into shadow detail from ISO 400 – a tad disappointing – up to and including ISO 800 it's kept sufficiently at bay to avoid overall softening and loss of detail. At ISO 1600 the gritty effect has proportionally increased, but still you could get away with shooting at this setting if pushed. However at ISO 3200-equivalent boosted 'H1' setting, noise has reached arguably ruinous levels, softening detail to an extent that the image is looking painterly rather than photographic.
Overall then, pretty much what's expected of a DSLR of this price and feature set.
Noise
There are 6 ISO settings available on the Nikon D3000. Here are some 100% crops which show the noise levels for each ISO setting.
| | |
| --- | --- |
| ISO 100 (100% Crop) | ISO 200 (100% Crop) |
| | |
|   |   |
| ISO 400 (100% Crop) | ISO 800 (100% Crop) |
| | |
|   |   |
| ISO 1600 (100% Crop) | ISO 3200 (100% Crop) |
| | |
Sharpening
Here are two 100% crops which have been Saved as Web - Quality 50 in Photoshop. The right-hand image has had some sharpening applied in Photoshop. The out-of-the camera images are a little soft at the default sharpening setting of Normal. You can change the in-camera sharpening level by altering the Picture Controls if you don't like the default look.
| | |
| --- | --- |
| Original (100% Crop) | Sharpened (100% Crop) |
| | |
|   |   |
| | |
Chromatic Aberrations
The Nikon D3000's 18-55mm VR kit lens handled chromatic aberrations quite well during the review, with some purple fringing present around the edges of objects in high-contrast situations, as shown in the examples below.
| | |
| --- | --- |
| Example 1 (100% Crop) | Example 2 (100% Crop) |
| | |
Macro
The Nikon D3000's 18-55mm VR kit lens allows you to focus on a subject that is 28cms away from the camera. The first image shows how close you can get to the subject (in this case a compact flash card). The second image is a 100% crop.
| | |
| --- | --- |
| Macro Shot | 100% Crop |
| | |
Flash
The flash settings on the Nikon D3000 are Auto, Auto with red-eye reduction, Fill-flash, Auto slow sync, Auto slow sync with red-eye correction, and Rear curtain with slow sync. These shots of a white coloured wall were taken at a distance of 1.5m.
| | |
| --- | --- |
| Flash Off - Wide Angle (27mm) | Flash On - Wide Angle (27mm) |
| | |
|   |   |
| Flash Off - Telephoto (82mm) | Flash On - Telephoto (82mm) |
| | |
And here are some portrait shots. As you can see, neither the Flash On or the Red-eye-Reduction settings caused any red-eye.
| | |
| --- | --- |
| Flash On | Flash On (100% Crop) |
| | |
|   |   |
| Red-eye Reduction | Red-eye Reduction (100% Crop) |
| | |
Night
The Nikon D3000's maximum shutter speed is 30 seconds and a Bulb mode is available for even longer exposures, which is excellent news if you're seriously interested in night photography. The shot below was taken using a shutter speed of 20 seconds at ISO 400. I've included a 100% crop of the image to show what the quality is like.
| | |
| --- | --- |
| Night Shot | Night Shot (100% Crop) |
| | |