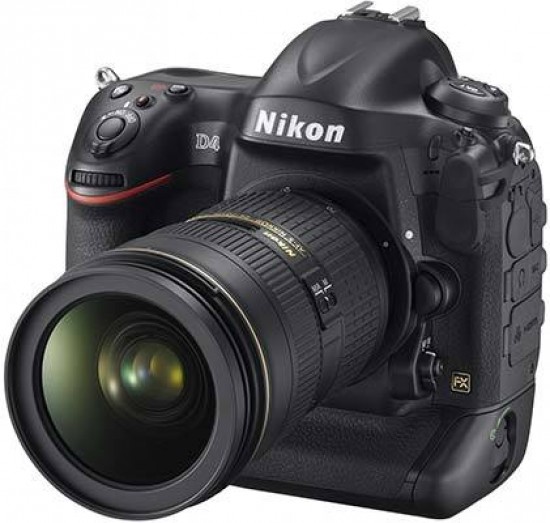 Introduction
The Nikon D4 is a new professional-grade digital SLR camera with a sixteen-megapixel FX sensor, EXPEED 3 processing engine, upgraded Multi-CAM 3500FX auto-focus module, a brand new 91,000-pixel RGB metering sensor and a weather-sealed magnesium alloy body. Capable of recording 1080p Full HD movies at 24/25/30fps as well as 720p HD footage at up to 60 frames per second, the Nikon D4 comes with microphone and headphone jacks and an HDMI port that allows for the streaming of uncompressed video to an external recorder or monitor. Other highlights include a Kevlar reinforced shutter rated for 400,000 actuations, the ability to shoot full-resolution stills at up to 11fps, an expanded buffer, dual CF and XQD memory card slots, two ergonomically placed rear joysticks for quick AF point selection, two different LiveView capture modes, in-camera HDR exposure blending, a user configurable Exposure Delay Mode, a dual-axis Virtual Horizon, a 3.2" rear display and a new focusing screen. Powered by a newly developed EN-EL18 battery and outfitted with an Ethernet port, the Nikon D4 even allows you to assign it to its own IP address and operate it from a distance via a Web browser interface, using a PC, tablet or smartphone. As of writing, the Nikon D4 is available body-only for £5,289.00/$5,999.95 in the UK and US, respectively.
Ease of Use
Nikon launched its first FX digital SLR camera, the Nikon D3, back in 2007. At the time, it was a huge hit with professional photojournalists, sports and wildlife photographers owing to its unrivalled low-light capabilities and extremely solid overall performance. The D3 was soon followed by the D3X and D3S, the latter of which took low-light photography to a whole new level courtesy of a significantly improved 12-megapixel FX sensor. But the times have changed, the competition got considerably stiffer, and now the big question is: can the Nikon D4 improve enough on an already excellent camera to be a commercial success in a tougher-than-ever marketplace?
Like its predecessors, the Nikon D4 is a big beast – but not quite as big or heavy as you would think based on the specs alone. In fact, the body ergonomics and the weight distribution of the camera are so good that it feels perfectly balanced and very much like a natural extension of your hands. This was already true for the D3S but with the D4, Nikon's engineers have made a number of improvements to the overall ergonomics that should make the shooting experience even better.
For starters, the shutter release is now angled forward at a more comfortable 35°, which according to Nikon should put less of a strain on a photographer's right hand during an extended shooting session. As far as we are concerned, we found the D3S's shutter release to be perfectly comfortable as it was but there's no denying that the button falls to hand at least as naturally in its new position. Of more importance are the enhancements applied to the integrated portrait grip, which now features a programmable function button, a more ergonomically placed AF-ON button and a newly designed thumb rest, alongside the duplicate shutter release and front/rear control wheels that were already present on the D3/S/X. New to the Nikon D4 is a duo of small, rubberised joysticks whose primary aim is to make AF point selection easier, though each does double-duty as an (unmarked) AE Lock button too. The reason that there are two of them is that one is easier to reach in landscape orientation, while the other falls to hand better when the camera is held vertically. The joysticks are intuitive to use and work well, but are perhaps a little too easy to bump by accident. It is possible to lock the position of the active focus point but then you need to remember to unlock it when you want to change it again. Additionally, you can (still) use the standard eight-way controller to set the desired AF point, as on the D3 series cameras, but said controller is unfortunately rather small and not particularly comfortable to use.
Speaking of the AF system, the Nikon D4 comes with an upgraded version of the Multi-CAM 3500FX auto-focus module that made its debut in the D3. Still featuring a total of 51 AF points, this newest edition boasts improved sensitivity (down to -2EV) and support for lens-teleconverter combinations as slow as f/8. Changing the focus mode and the AF Area mode – single, 9-, 21- and 51-point dynamic, 3D tracking and Auto Area – is done in a similar vein as on the Nikon D7000. There is a simple AF/MF switch underneath the lens release button, with a small focus mode button in the middle. You can toggle between AF-S and AF-C modes by holding down this button, with the switch in the 'AF' position, and turning the rear control wheel. To cycle through the available AF Area modes, use the sub command dial instead. The settings are displayed in the viewfinder and the top-mounted status LCD. This will doubtlessly be among the biggest changes for D3, D3S and D700 users trading up, as they will have been used to the more intuitive three-way AF area switch found on their cameras.
| | |
| --- | --- |
| | |
| Front | Rear |
Not far from where this switch was on the D3 is a new Live View button encircled by a two-way Live View mode selector. This control can be set to either "live view photography" or "movie live view", each of which is denoted by a little, self-explanatory icon.
The Nikon D4's live view implementation is radically different to that of its predecessors. Gone are the old "hand-held" and "tripod" modes, with the D4 now featuring a quiet and a silent mode, selectable from the menu. In quiet mode, the mirror remains up as long as you stay in live view, but the sound of the shutter can still be heard when capturing a photo. Silent live view mode is what it says on the tin – once the mirror is raised, there is no more mirror slapping or mechanical shutter sound to be heard, thus taking a picture is indeed completely silent. The downside is that in this mode, the resolution is limited to 2.5 megapixels and you can't shoot raw. Some other restrictions also apply, e.g. you cannot use multiple exposure, HDR or Active D-lighting. Still, we'd rate this feature among the most significant novelties of the Nikon D4 as it enables photojournalists to work in places where complete discretion is required, be it a concert hall, a theatre or church during a service. Two and a half megapixels may sound ridiculously low these days but it's usually sufficient for newspaper work – and more than enough for online publications. (Whenever you do need more resolution you should of course make sure to choose the other mode instead.)
At the heart of the Nikon D4 live view experience is a new 3.2" LCD screen. While its resolution of 921,000 dots is the same as that of the older 3" panel found on the D700 and the D3 series models, this is an improved design that incorporates a gel resin between the cover glass and the screen itself to combat the fogging that may result from sudden changes of temperature, and also makes use of a light sensor to allow for automatic adjustment of the screen's brightness, contrast, gamma and colour saturation. Architectural photographers will be glad to hear that the optional virtual horizon overlay has also been upgraded to a dual-axis version.
Compared to the Nikon D3S, it's the D4's movie mode where you'll find the biggest improvements. Where the D3S made do with 720p HD video recording at 24fps, the Nikon D4 offers Full HD movie capture at three different frame rates and two quality levels. Additionally 720p is still available, now at 25, 30, 50 and 60fps and again at two quality settings, High and Normal. For Full HD movies, you can also choose from three different crop modes, including FX, DX and a 2.7x crop mode, which uses the central 1920×1080 pixels of the sensor to record native 1080p footage that is not downsampled from a higher resolution. The maximum length of a clip is 29 minutes and 59 seconds for Normal and 20 minutes for High quality videos, unless you're using an external recorder. Manual exposure adjustment is available for movies – note that ISO and shutter speed are only adjustable in 'M' mode, while the aperture can be set in both 'A' and 'M' modes. The Nikon D4 features a built-in microphone but for professional-grade audio recording you'll definitely want to use an external one. In order to monitor the audio during movie capture, you can connect a pair of headphones to the camera. Input levels can be adjusted manually in 20 steps but can also be regulated by the Nikon D4 automatically. As is now the norm for virtually every digital camera, from compacts to CSCs to DSLRs, there's a dedicated red movie-record button on the D4, located right next to the shutter release (much like the D3200 and D5100). I personally found this button a bit too small for my tastes but your mileage may vary, of course. The Pv button found on the front panel of the camera can be used to add indices to specific frames during recording so that they are easier to locate in the editing phase.
| | |
| --- | --- |
| | |
| Top | Side |
Of course, the Nikon D4 is, first and foremost, an SLR camera - so let us now take a look at how it performs at its more traditional functions. The optical viewfinder, which is one of the most important parts of any SLR, is huge and bright with 100% frame coverage, and has a fairly high eye-point too, which is great news for eyeglass wearers. New to the Nikon D4 is a Type B BriteView Clear Matte Mark VIII focusing screen, which I personally found slightly better than the D3S's Mark VI screen for manual focusing. Another welcome novelty is the availability of on-demand grid lines (Custom Setting d6), a feature that has long been offered on lower-priced models but has hitherto been missing from the high-end bodies.
The metering mode selector that used to be found on the side of the pentaprism housing is now gone but you still get direct access to metering modes in the form of a new, dedicated button located left of the viewfinder, when viewed from behind. The Nikon D4 has an all-new, 91000-pixel RGB metering sensor that also assists the camera in tracking subjects, detecting faces (when not using live view) and focusing. As far as its original function is concerned, the new metering sensor boasts a higher sensitivity than its forebears, being able to operate down to -1EV (in 3D Colout Matrix III and centre-weighted modes).
The Nikon D4 also benefits from a few seemingly minor enhancements that are nevertheless worth being mentioned. Among these is the maximum continuous shooting speed which, at 11fps, may seem unchanged from the D3S until you realise that the D3S was only capable of delivering this speed in DX crop mode, whereas the D4 can also achieve this performance in full-resolution FX mode (albeit if you want auto-focus and autoexposure to remain active during the burst, you need to lower the frame rate slightly to 10fps). The buffer has also been expanded, meaning that the highest continuous shooting speed can be sustained for considerably more images (approximately 70 NEFs or up to 200 Medium/Fine JPEGs). Another seemingly minor but genuinely important change is the way auto ISO sensitivity control works in the new model. Now you can have the camera determine the minimum shutter speed based on the focal length of the lens in use. This means that the camera may raise the ISO sensitivity if the shutter speed drops below 1/200 second when using a 200mm lens but leave it unchanged down to 1/50 second if a 50mm lens is attached (this can be fine-tuned by the user). Yet another easy-to-miss but useful improvement is that in Exposure Delay Mode the user can now set the amount of delay between mirror up and image capture (1, 2 or 3 seconds). Finally, the Nikon D4 adopts the concept of back-lit buttons, something that has largely escaped camera manufacturers (except Olympus, which implemented it in the E-620 of 2009). On the D4, the backlighting of the two monochromatic LCD panels, the release mode dial and 16 buttons is activated by a flick of the power switch to the "lightbulb" position. Needless to say, this feature can be a godsend when working in near darkness.
Connectivity is an area where the additions and improvements versus the D3S are much more evident. As mentioned in the Introduction, the HDMI port can now be used to stream uncompressed footage to an external recorder or monitor. Additionally, there's now an Ethernet connection port as well as a socket that allows the attachment of the new, separately sold WT-5 wireless transmitter. Both of these solutions can be used to download images to a laptop or an FTP server, but there's even more! In HTTP server mode, you can view and even capture photos remotely from a computer, tablet or smartphone – all via a Web browser interface, i.e. without the need to use specialised/proprietary software. We believe this can be a very important feature for wildlife photographers, among others. Given all this focus on connectivity we were somewhat surprised to find that the camera's USB port was of the slower USB 2.0 variety, as opposed to the USB 3.0 SuperSpeed port found on the cheaper Nikon D800.
| | |
| --- | --- |
| | |
| Memory Card Slot | Battery Compartment |
Like its forebears, the Nikon D4 features two memory card slots – but unlike them, it uses two different types of card, namely, Compact Flash and XQD. The latter is a newer, physically smaller card that has theoretically more potential for growth, both in terms of capacity and in terms of read/write speeds. Along with the review unit came a 16GB Sony XQD card and an USB 3.0 XQD card reader, which was indeed very fast in actual use. That said, the selection of currently available XQD cards is extremely narrow, and these cards aren't really faster than the speediest CF cards in the market today. Additionally, with Lexar and SanDisk having no plans to release XQD cards any time soon, the future of the format is still a bit uncertain.
The Nikon D4 runs on a brand new EN-EL18 battery which is, somewhat surprisingly, less powerful than the 2500mAh EN-EL4a battery pack that used to power the D3 series. This "development" was apparently necessitated by the adoption of a new regulation in Japan. With a CIPA rating of 2600 images per charge, it still has a respectable battery life but this figure is nonetheless significantly behind the 4200 images claimed for the EN-EL4a. Our own experience is that whereas the battery of the D3S was still going strong after a week of fairly intense use, we managed to fully drain the EN-EL18 of the Nikon D4 in a matter of two days. Nikon claims that the new battery has been developed to deliver the best performance in continuous shooting mode where it might be good enough for as many as 5500 frames. Whichever way you look at it, the fact that the camera is incompatible with the older battery and the new battery is incompatible with the old charger means trouble ahead for anyone wishing to shoot the D4 alongside a D3, D3S or D3X. (On a more positive note, the EN-EL18 is at least painted grey instead of black so you won't mistake it for an EN-EL4a.)
In use, the Nikon D4 proved to be a great tool. It's an extremely responsive camera that seems to react instantly to anything you throw at it. Start-up feels instantaneous, there is no shutter lag to speak of and with the right lens mounted, focusing is also very fast. Those who have never used a full-frame DSLR before will be astounded at the huge viewfinder (and even those that have will welcome the improved focusing screen and on-demand grid lines). Anyone who has a bit of experience with a recent Nikon dSLR will feel right at home in the menu, even if it's more exhaustive than that of a D5100 or D7000. The customisation options that might seem intimidating at first sight allow you to tailor the workings of the camera to your peculiar needs and tastes. The improvements to the body ergonomics, the video mode, the connectivity options, the burst shooting capabilities, the auto ISO sensitivity control options, the live view and exposure delay modes, the focusing and metering are all welcome. Some of the interface changes, the adoption of the XQD memory card format and the less powerful battery will, however, likely prove somewhat annoying to long-time users of Nikon's professional cameras.
This concludes our evaluation of the Nikon D4's ergonomics, handling and feature set. Let us now move on to the image quality assessment!