Olympus E-600 Review
December 3, 2009
|
Gavin Stoker
|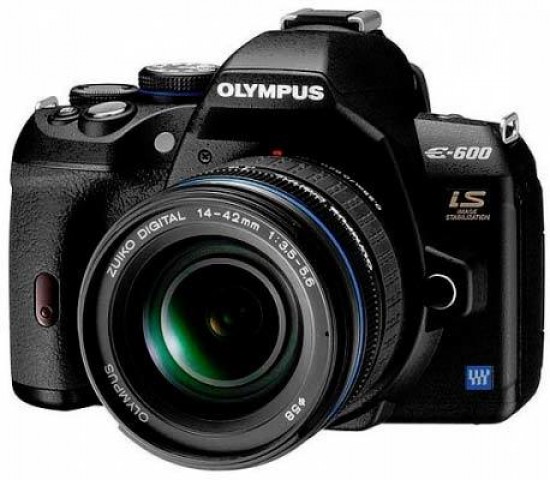 Olympus E-600 Image Quality
All of the sample images in this Review were taken using the 12.3 megapixel Fine JPEG setting, which gives an average image size of around 5Mb.
On a clear bright day with our 14-54mm test lens attached, we were blown away by the quality of results achievable when married with the E-600. Images look very crisp, with good exposure latitude and impressive edge-to-edge sharpness, even at maximum wideangle setting. Purple pixel fringing is evident between areas of high contrast, but it's hidden much better than we'd normally witness from DSLRs in this price bracket and only visible when really magnifying detail in an image. The effects filters, though only three in number, are fun, with the pinhole camera ape-ing option getting used the most and delivering particularly moody results.
As we've found with nearly every Olympus digital camera we've tested, the competency of auto white balance can vary from shot to shot, and even when manually selecting the tungsten setting from among its user adjustable options, we got still images with the familiar yellow-orange colour cast when taken without the aid of pop up flash. Not a massive 'problem' by any means, but something to be aware of that seems more apparent on E-series DSLRs than those of competing brands.
In terms of ISO performance, the E-600 doesn't make the best ever showing, noise creeping into shadow areas from as low a setting as ISO 250, and, while it's not really noticeable across the image until ISO 800, any degradation is still at more than acceptable levels. Even at top whack ISO 3200 where noise is taking on a gritty sand-like appearance, results would still be usable at a push, though we'd feel happier sticking at ISO 1600 or below.
None of the above results are deal breakers however, and twinned with our test lens (around £350 if bought on its own) we were generally very pleased with what we achieved on the E-600.
Noise
There are 6 ISO settings available on the Olympus E-600. Here are some 100% crops which show the noise levels for each ISO setting:
| | |
| --- | --- |
| ISO 100 (100% Crop) | ISO 200 (100% Crop) |
| | |
|   |   |
| ISO 400 (100% Crop) | ISO 800 (100% Crop) |
| | |
|   |   |
| ISO 1600 (100% Crop) | ISO 3200 (100% Crop) |
| | |
Sharpening
Here are two 100% crops which have been Saved as Web - Quality 50 in Photoshop. The right-hand image has had some sharpening applied in Photoshop. The out-of-the camera images are just a little soft at the default sharpening setting and benefit from some further sharpening in a program like Adobe Photoshop. You can also change the in-camera sharpening level to suit your tastes by changing the Picture Modes.
| | |
| --- | --- |
| Original (100% Crop) | Sharpened (100% Crop) |
| | |
|   |   |
| | |
Flash
The flash modes include Auto, Manual, Slow synchronisation, Slow synchronisation 2nd curtain, Red-eye reduction, Slow synchronisation with red-eye reduction, Fill-in, and Off. These shots of a white ceiling were taken at a distance of 1.5 metres.
| | |
| --- | --- |
| Flash Off - Wide Angle (28mm) | Flash On - Wide Angle (28mm) |
| | |
|   |   |
| Flash Off - Telephoto (108mm) | Flash On - Telephoto (108mm) |
| | |
And here are some portrait shots. As you can see, neither the Flash On setting or the Red-eye reduction option caused any amount of red-eye.
| | |
| --- | --- |
| Flash On | Flash On (100% Crop) |
| | |
|   |   |
| Red-eye Reduction | Red-eye Reduction (100% Crop) |
| | |
Night
The Olympus E-600 lets you dial in shutter speeds of up to 60 seconds and has a Bulb mode as well for exposure times as long as 30 minutes, which is very good news if you are seriously interested in night photography. The shot below was taken using a shutter speed of 1 second, aperture of f/2.8 at ISO 800. We've included a 100% crop to see what the quality is like.
| | |
| --- | --- |
| Night Shot | Night Shot (100% Crop) |
| | |