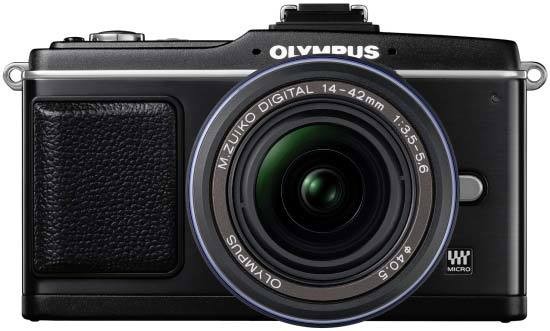 Introduction
The Olympus E-P2 is the second Micro Four Thirds camera from Olympus, following last Summer's launch of the popular E-P1 model. Offering DSLR-like image quality in an ultra-compact format, the E-P2 adds a number of features to tempt you to upgrade from the E-P1. These include a dedicated port for either a detachable high-resolution electronic viewfinder or a microphone, auto-focus tracking mode, two new Art Filters (Diorama and Cross Process), a colour-boosting i-Enhance function, remote slideshow control via the new HDMI connection, and an option to record high-definition movies using the Manual shooting mode. The Olympus E-P2 is also finished in a more serious black rather than the silver or white versions of the E-P1. Other core features remain the same as the E-P1, including a 12.3 megapixel DSLR sensor, built-in image stabilisation, ISO speeds up to 6400, RAW format support, HD 720p quality video with continuous auto-focus, a 3 inch LCD screen, 3fps continuous shooting, and a Supersonic Wave Filter dust reduction system. The Olympus E-P2 is available in kit format with a 14-42mm lens and the external EVF for £899 / $1,099.99, or with just the EVF for £849.
Ease of Use
Announced last summer to much fanfare, Olympus' digital re-imagining of its Pen series film compacts of the 1950s and 60s in the E-P1 proved a breath of fresh air to jaded tech journalists and buying public alike. With its up-to-the-minute DSLR-like specification, mirror box-less design, compact yet chunkily solid retro casing that enabled shooting from the hip and the flexibility to do more or less all you asked of it, here was a camera that you might not just own but fall in love with.
Like relationships can, this one hit a rocky patch last Christmas with a series of bafflingly Zen UK TV ads ('camera chow, picture wow', 'hurty thing' anyone?), but that was OK, because by then we already had our eye on beginning a new affair with the E-P2, the second generation of the Digital Pen, newly arrived on the Photography Blog test slab. 
Again, as is the way with these things, by this point we're sure that people are whispering behind our backs that our new partner looks very like much like the old one.
Dimensions without protrusions are given as exactly the same as the E-P1, and the weight too is identical at a body-only 335g. Handling wise it still resembles a foreshortened Olympus E-Series DSLR with esoteric yet fun features such as the Art Filter in-camera digital effects, and less esoteric but very useful in-body sensor shift image stabilisation. Unlike the latest raft of point and shoots though, there's not been a resolution hike to 14 megapixels. At its heart beats the same 13.1 megapixel Live Mos sensor (12.3 MP effective) found in its sibling last year.
| | |
| --- | --- |
| | |
| Front | Rear |
Indeed, the first impression of the E-P2 is that Olympus has finally issued an E-P1, formerly only available in brushed silver or white, in black. For those of us wondering 'is that it?' there are of course a few additional under-the-bonnet tweaks to justify the 'new' camera, which doesn't replace the E-P1 but sits alongside it for the moment as a sister model, and we'll examine whether these are essential or inessential refinements.
Most notably, whereas a £100 clip-on optical viewfinder (VF-1) was offered as an extra at the time of the E-P1's release, with the E-P2 model an electronic viewfinder (VF-2) - tilt-able to 90° so the camera can be used as you would a medium format model and with 100% field of view - is now included as part of the package. This has however prompted the overall boxed price for camera plus 14-42mm (28-84mm equivalent) standard zoom lens used for our test shots to rise to a suggested £899 in the UK (a kit with just body and EVF is also available for £849). In other words, this latest Pen costs serious money, more than the most feature-packed of compacts in the Canon G10, G11, Ricoh GR III, Sigma DP2, whilst being more also than most starter and mid range digital SLRs.
The EVF now has its own newly included port, situated just below the E-P2's hotshoe and protected as on Panasonic's own Micro Four Thirds system GF1 - this camera's closest rival - with a slide-off piece of plastic that will quickly get lost in the recesses of your camera bag. Said port also allows the attachment of an accessory microphone (availability promised this month, says Olympus) if so desired via an adapter EMA-1. The new feature means the hotshoe itself sits a little higher than on the more streamlined E-P1 body.
Whilst these are the only exterior changes, the specification has had a slight reshuffle. Two additional Art Filters are included (so eight in total) - Diorama (making people and buildings look as if they've been photographed with a specialist tilt and shift lens and so appear to be on a toy town scale) and Cross Process (ape-ing the wet darkroom process) - along with a purportedly colour boosting iEnhance function. Also added to the Pen's list of specification is remote slideshow control via HDMI, plus M mode (full manual) HD movie capability. Maximum movie resolution remains at 1280x720 pixels and 30fps with stereo sound, as per the E-P1 (and the GF1, except that its rival records in mono).
| | |
| --- | --- |
| | |
| Electronic View Finder | Rear |
One notable omission still remains however. Unlike Panasonic's very similarly specified GF1, the Digital Pen series - at the time of writing - doesn't yet offer built-in flash, and deliberately so says Olympus, which offers a FL-14 accessory flash instead. And yet its continued absence, along with the steep recommended price is undoubtedly a barrier to purchase, at least at consumer level. Admittedly, as we've found using the E-P1 over the months since its release, if you prefer to utilise natural/ambient light for your photography (or simply shell out extra for accessory flash) there's a work around in that performance at higher ISOs (here up to ISO6400) is acceptable. Will the E-P2 prove to be the same?
From the front, this camera continues to reveal its closeness to its E-P1 sibling with retro-look leather effect pad to the left hand side of the lens mount, springy and plenty large lens release button over to the right, and pin pricks either side of the Olympus logo (directly above the lens) housing the built-in stereo microphone.
Gripped in the palm, the immediate impression is that, in its black incarnation, the E-P2 looks closer to the more conventionally styled and modernistic GF1 from Panasonic - also available in black. The fact that its rock-solid feel construction is mostly metal - steel and aluminum in fact - is less immediately obvious than it was with the original E-P1 in its silver and white varieties. It's tempting to therefore draw the conclusion that a large part of the E-P2's reason for being seems to be that Olympus felt it needed a version in a darker hue, just because that's what everyone else has in their respective ranges. Plus, at the same time it thought that this might also be an opportunity to perform a few operational nip and tucks to justify its introduction as a 'new' model.
Unsurprisingly the top plate control layouts of E-P2 and E-P1 are one and the same, not that there was any reason to go changing. The E-P2 features a dedicated exposure compensation button to its far right (if viewing the camera from the rear), whereas the GF1 uses this space for a dedicated video record button. Next to this on the Olympus is a large raised shutter release button with a nicely definite halfway point - the camera lightning fast in determining focus and exposure when pressed. Adjacent to both of these is an indicator lamp marked SSWF for Olympus' grandly named Supersonic Wave Filter dust prevention. Due to the fact that we were using the Pen with the 14-42mm test lens, which features a retractable design mechanism to minimize overall size of camera and lens combined when inactive, powering up the camera proved to be a slower process (than without) as, as on the E-P1, the lens has to first be manually unfurled before the camera will operate.
| | |
| --- | --- |
| | |
| Top | E-P1 and E-P2 |
Hopping over to the other side of the hotshoe we again find a shooting mode wheel recessed into the top plate, keeping the Micro Thirds E-series more streamlined than its Panasonic rival. This is again operated via a ridged edge poking out slightly at the back, where it falls under the thumb of the left hand when gripping the camera in both to take a shot. It's quite stiff to turn, which, while it means users can't quite race through the settings, is unlikely to get jogged when fetching the camera out of a sizeable jacket pocket or camera bag. Although press shots may suggest otherwise, like the E-P1 and GF1, this can't be accurately described as a pocket camera. The shooting settings are identical to those found the E-P1's mode dial. As well as the creative quartet of program, aperture priority, shutter priority and manual, we get the ever-reliable iAuto (intelligent auto) allowing for purely point and shoot operation (the camera choosing which of its settings most aptly matches the scene or subject), the aforementioned Art Filters, plus the usual smattering of scene modes and a dedicated video capture setting.
As with its predecessor and other cameras in the E-series with Art or 'Magic' filters, these digital effects are applied at the time of capture which means write speeds are inevitably a couple of seconds longer than for regular images. When shooting using certain filters, such as the new Diorama, the screen's refresh rate slows dramatically providing a jerkily relayed image as the camera struggles to provide a preview of how the eventual image may look. Rather than try to follow this we found it best just to take the shot and delete any experiments we weren't happy with - we weren't wasting film after all.
Olympus hasn't used the opportunity of a new model to boost the resolution/visibility of the 3-inch LCD screen with Live View that dominates the backplate; here it remains at a standard if perfectly adequate 230k pixels, again mirroring the E-P1, but falling short of the Panasonic GF1's much more lifelike 460k display.
Alternatively, slide the provided VF-2 EVF into the vacant hotshoe, whereupon its 'male' attachment connects with the 'female' port below and swap from use of the LCD to EVF with a press of the monitor button provided on the EVF unit. Though useful as a compositional aid in bright sun, or providing the ability to take shots at formerly awkward angles, such as from waist height, we actually preferred to rely in the main on the larger LCD. A more comfortable eye relief for the EVF wouldn't go amiss.
| | |
| --- | --- |
| | |
| Memory Card Slot | Battery Compartment |
Otherwise the rest of the E-P2's backplate - and general operation - remains the same as that of its predecessor, with controls that fall readily to hand and respond as quickly to each prod and press as you'd like. Top right of the backplate we have a command wheel-style dial with ridged edge for easier purchase that can be used for scrolling through on-screen menu options when in capture mode, or - with a twist to the right - enlarging portions of your images to check focus when in playback. Twist this to the left in review mode and previously captured images appear as a collection of thumbnails. Again, the purpose of this control is clearly marked, as are all the buttons. A case in point is that, to the left, the two separated by the built in speaker, we find an auto exposure/focus lock button as we would on a DSLR.
Just below this in a vertical row of three further identically sized buttons are one for playback, another for deletion of images - always good to have a dedicated control for this - plus equally self-explanatory menu button. Press this and whatever mode the user happens to be in, both image capture playback and set up folders are presented, each with a mixture of large, legible type and common use icons identifiable at-a-glance. A further means of navigating these options is presented by a familiar command pad to the right hand side of the backplate, with 'OK' (or set) button at its centre and a Canon PowerShot-style scroll wheel encircling its edge. At four points in between are a means of accessing ISO settings, manually adjusting white balance - which comes in particularly useful when shooting daylight interiors, given a blue-ish cast if left to the camera's auto default, or familiar orange cast if shooting under tungsten light - plus calling up self timer and continuous/sequential shooting options, and, finally adjusting AF mode. It's here we find the AF tracking option along with the expected single or continuous AF, plus manual AF options. At the very bottom of the camera back, lurking almost unnoticed is a button marked 'info'. This isn't as you might expect from the Olympus Mju series a short cut to an on-screen help guide but rather a means of calling up a live histogram in capture mode or sniper style crosshair, plus in playback mode essential shooting info and also histograms for each colour channel.
The right hand side of the camera features a flap covering combined USB in/out and AV out ports, plus a separate High Definition Multimedia Interface as previously mentioned and now expected from a camera at this price and level. With vacant lugs for attaching the shoulder strap the only other adornments to be found at the camera's side, the base features a combined compartment housing optional SD or SDHC card plus lithium ion battery, good for up to a perfectly acceptable 300 shots using Live View, along with centrally positioned screw thread for attaching a tripod.