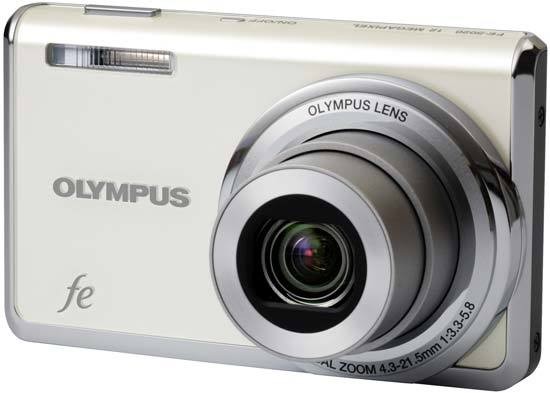 Introduction
The Olympus FE-5020 is a new 12 megapixel compact camera with a 5x super wide-angle optical zoom lens in an ultra-slim body. Providing a versatile focal length of 24-120mm, Digital Image Stabilisation is also available to help prevent blur caused by camera shake, and In addition the Olympus 5020 features a 2.7 inch LCD screen, auto-focus tracking, i-Auto mode for beginners, Advanced Face Detection Technology which can detect up to 16 faces, and some creative Magic Filters - Pop Art, Fish-Eye, Sketch, and Pin Hole - to help add an artistic flair to your images. Available in Pure White, Dark Grey, Mocca Brown and Ocean Blue, the Olympus FE-5020 retails for £169 / $160.
Ease of Use
Looking for an inexpensive pocket snapshot to supplement your all-guns-blazing main kit, or to hand to the kids and not be too upset if it doesn't last so long?
Barely larger than a business card at 24.7mm 'thick', the 'auto everything' 5x wide optical zoom 12 megapixel Olympus FE-5020 may be one of the company's affordable budget models at a suggested UK price of £169, but at least in the metallic finished white-fronted version we had on test (grey, brown and blue alternatives also available), it doesn't show it. Perhaps style and value for money aren't always mutually exclusive. And the camera is lightweight rather than insubstantial too at 107g.
While that augurs well, also in the FE-5020's favour is a newly introduced ingredient to the Olympus compact range: magic. Or to be more precise, a set of what the manufacturer has perhaps slightly patronizingly termed 'magic filters'. Put simply these are the art filters found in the company's E-series DSLRs and the E-P1 renamed. Again, with a press of the 'menu' button we get a choice of extra vivid Pop Art and corner shading Pin Hole camera, plus here a perspective distorting Fish Eye and a new grainy black and white 'Sketch' mode.
The other features Olympus is flagging up on the FE-5020 include an 35mm equivalent lens reach of 24-120mm (broader then than the average snapper), AF tracking function to in theory deliver sharp images even if your subject is moving (not 100% effective as it happens) plus 14 user selectable scene modes including 'cuisine' and 'pet'. As expected, also along for the ride are 640x480 pixels movies with sound at a maximum transitional speed of 30fps. Shame not to see a High Definition video capability, but then at this price we can hardly complain.
Suggesting the camera is perhaps aimed at those upgrading from taking snaps on their mobile phone, a plastic adapter for use of a microSD card is provided. Any card is of course an optional extra – no removable media is provided in the box. Acting as back up though is a 48MB internal capacity.
Advanced Face Detection for up to 16 people in the frame at once is additionally on board, aiming to deliver perfectly focused and exposed portraits, while an increasingly ubiquitous intelligent Auto (iAuto) option affords point and shoot operation  - the camera automatically recognising and adjusting settings for five common scenes and subjects.
| | |
| --- | --- |
| | |
| Front | Rear |
Unlike the equally new Mju 7010 we had in to review at Photography Blog Towers at the same time, the FE-5020 only features digital image stabilisation rather than the additional mechanical variety of its more expensive sibling; nor do users get the benefit of automatic shadow adjustment (which may in fact be a blessing). This pocket camera does however boast the same light sensitivity range as its bigger brother, running from ISO64 through to a maximum ISO1600.
In the absence of an optical viewfinder, picture composition and review are both via the same 2.7-inch LCD screen. And, to avoid confusing potential users young and old, Olympus has given a more swish cartoon-ish make over to its on-screen menu icons for both capture and playback modes. Each had, in truth, been looking a little tired of late.
Examining and handling the FE-5020 in more detail, the front of the camera is clean and unfussy – the full extent of the lens largely hidden within the body when not in use, and the faceplate shrouded in a layer of clear plastic so that the Olympus insignia seems almost to hover above the bodywork. Set into this layer are a pin prick for built-in microphone bottom left of the lens surround, plus a thin sliver of a window for the on-board flash, located top left.
This moulded see-through layer extends up and over the top plate, into which a rectangular shutter release button and much smaller on/off button are embedded.
Press the FE-5020's power button and, like its 7010 relative, with a brief musical flourish the rear LCD almost instantly bursts into life, zoom lens extending to its maximum wideangle setting. This fast response extends to the a quick determining of focus and exposure with a half press of the shutter release button; the on-screen AF point illuminating in green and a beep of affirmation letting the user know it's OK to go on and take the picture. With barely discernable shutter lag the FE-5020 is marginally slower however to commit a full resolution JPEG to memory. There's a wait of between three and four seconds, the screen freezing on a display of the captured image while the orange indicator light directly above flashes like crazy.
| | |
| --- | --- |
| | |
| Front | Top |
The back-plate of the FE-5020 is dominated by a 2.7-inch LCD screen of adequate visibility for the class of camera, right of which is a familiar smattering of user controls running from top to bottom. What's notably missing here, however, is any form of mode wheel.
Instead, users get a toggle switch just below a similar control for the zoom, with a camera icon (for image capture) on the left and a playback icon (for reviewing images) on the right. A press of the camera icon brings up a toolbar of options that would otherwise be located on a mode dial top left of the screen display.
The user scrolls through this, left to right, with subsequent presses of the same shooting mode button. This takes a little getting used to; the natural instinct is to try and tab through the choices provided with the four-way control pad lower down the camera back, as one would normally. In any event, the selectable options found here are Program, intelligent Auto for purely snapshot operation, image stabilisation, scene mode and video capture.
Of course a 5x optical zoom is better than that found on most digital compacts and, like the rest of the camera's operation, it's quick and responsive too, gliding from maximum wideangle to extreme telephoto in a couple of seconds, sound-tracked by a quiet mechanical whirr.
As an aid to composition, with a press of the 'display' button at the back users can call up a nine zone compositional grid to practice the Rule of Thirds, while if pressing the same button when tabbing through on screen menu options, a brief on-screen text explanation of each is provided to beginners. That said the camera is surely intuitive enough as it is.
| | |
| --- | --- |
| | |
| Memory Card Slot | Battery Compartment |
Yet, given the beginner market the FE-5020 is aimed at, you'd have imagined its manufacturer would have wanted to make it as easy to use as possible. And while it is, for the most part, Olympus has stubbornly provided a slot at the base – shared with the camera's rechargeable lithium ion battery – for the now outdated xD Picture Card only, rather than the more readily accessible SD or SDHC. As we mentioned at the beginning a teeny plastic adapter is additionally provided for use of microSD, but we can see this being quickly lost down the back of the sofa.
Beneath the image capture and playback icons on the camera back is that aforementioned square four-way control pad with an OK/function button at its centre. Identical in layout to that also found on the 7010, at 12 o'clock on the pad is a means of manually adjusting exposure compensation (again a choice of +/- 2EV) with thumbnail images on screen helpfully providing a neat visual representation of the effect incremental changes will have.
At three o'clock we get a means of selecting from the camera's modest flash modes: auto flash, red eye removal, fill-in or off. Also modest is that the self timer control that follows at 6 o'clock on the dial can merely be set to on or off, while last but by no means least at nine o'clock we have a choice of macro or super macro settings.
Tucked just beneath this pad is the self-explanatory 'menu' button, next to one for deleting unwanted images in playback mode. The base of the camera again features an expected screw thread for attaching a tripod if wanted, plus an unprotected slot for connection of a USB cable. As on the Mju 7010, a sliding catch locks the hatch for the joint memory card and battery slot – the battery itself the same Li-42B cell found in its pricier sibling.
At the end of the day, the FE-5020 is another undemanding, inexpensive point and shoot, but the Magic Filters save it from being 'just' another. However, do the images it provides raise the bar, or lower the tone? Read on to find out…