Olympus M.ZUIKO Digital 45mm f/1.8 Review

Introduction
Equivalent to 90mm in 35mm terms, the Olympus M.Zuiko Digital 45mm f/1.8 is a fast short telephoto lens for the Micro Four Thirds system. Featuring the manufacturer's MSC (Movie & Stills Compatible) AF technology for fast and near-silent focusing, the Olympus 45mm f/1.8 offers an optical formula that comprises nine lens elements in eight groups, including two E-HR (Extra-High Refractive index) elements. Announced earlier this year the small and lightweight lens is now available for around £280 / $400 in the UK and the US, respectively.
Ease of Use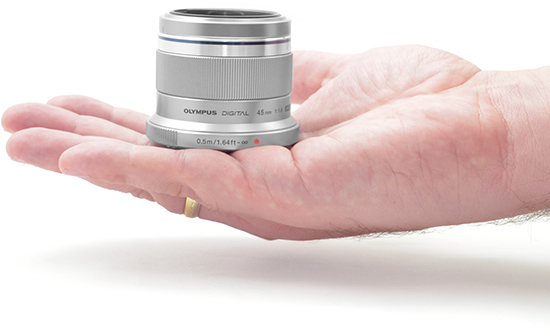 Tipping the scales at just over 115 grams and measuring only 46x56mm, the M.Zuiko Digital 45mm f/1.8 is a truly small and lightweight lens that fits easily in the palm of your hand.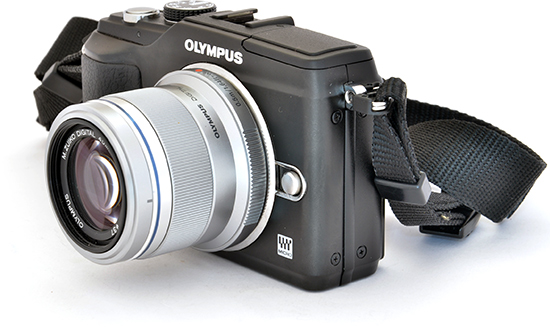 The Olympus M.Zuiko Digital 45mm f/1.8 lens mounted to an Olympus E-PL2 body
As seen in the photo above, the Olympus 45mm f/1.8 balances nicely on the E-PL2 camera body used for this test.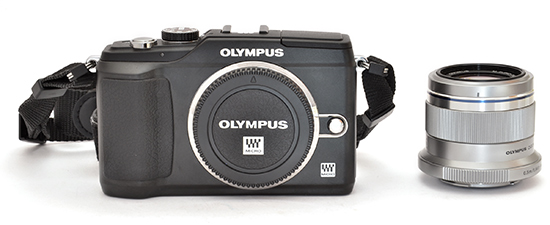 Alongside the E-PL2
The shiny metal-like finish and rangefinder-esque aesthetics might lead you to believe that this is an all-metal lens. In reality, most of the exterior parts are made of plastic, but the lens still feels very nice to the touch.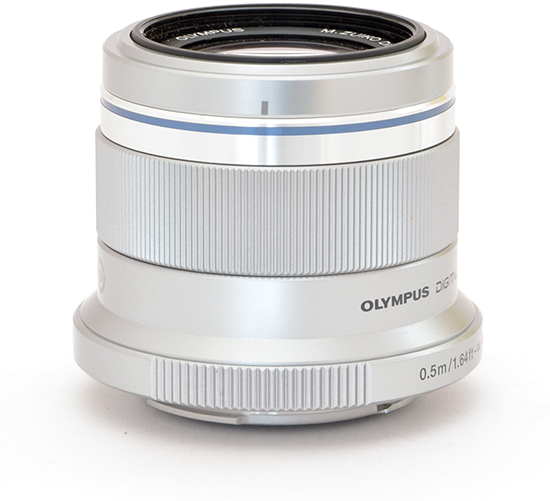 Putting aside its fast maximum aperture of f/1.8, the lens offers very little in the way of features. There is no distance scale, DoF marks, focus limiter or optical image stabiliser on board. The latter won't really be a problem for users of Olympus' own digital PEN cameras, all of which boast a sensor-shift anti-shake mechanism, but Panasonic owners should be aware that this is a non-stabilised lens. The only control on the lens barrel is the focus ring, which isn't mechanically coupled to the moving lens elements but still feels very nice and natural in use. As the Olympus 45mm f/1.8 lens has an internal focusing mechanism, the length of the lens barrel does not change and the filter thread does not rotate on focus.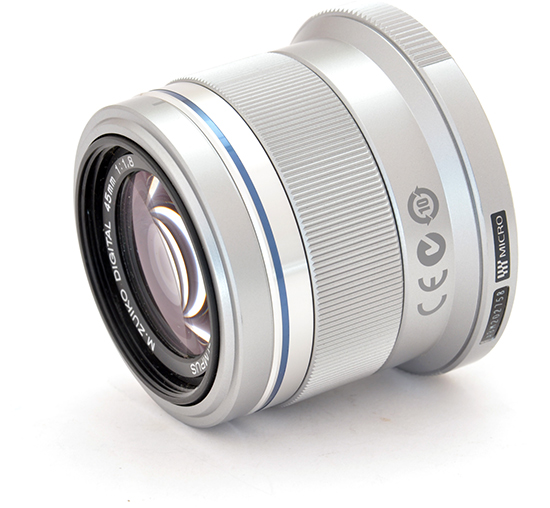 The lens takes tiny 37mm filters and offers a bayonet mount for the optional LH-20B hood, which retails for around £20/$35. When not in use this mount is concealed by the DR-40 decoration ring -  which ships with the lens - as seen in the photo above.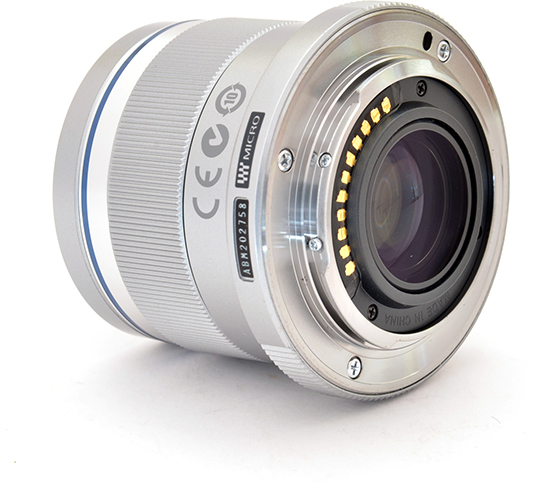 Rear of lens, isometric view
The M.Zuiko Digital 45mm f/1,8 may have a lot of plastic parts but the lens mount is, thankfully, made of metal. Olympus does not claim any sort of weather resistance for this lens, and indeed you cannot see a rubber seal around the mount (note that no current Micro Four Thirds camera is weather sealed anyway)
Focusing
We tested the focus speed of this lens on two different camera bodies, including the older Olympus E-PL2 and the brand new E-PL3. On the former, focus acquisition was pleasantly fast, but not instant. On the latter, it was extremely quick, very much in the same league as an SLR camera with a premium AF lens attached. This is truly impressive performance for a mirrorless combo.
Focusing isn't simply fast - it's almost silent, too, courtesy of the Movie & Stills Compatible (MSC) technology employed. This is good news for videographers and anyone who's into unobtrusive and discreet photography.
As noted earlier the wide, ridged focus ring is not mechanically coupled but works very much as if it was - except that it has no stops, hard or soft, at either end of the focus range, making it difficult to judge whether you've reached the close-focus point or the infinity setting. Otherwise it feels like a "proper" focus ring, with smooth action and no perceptible delays.
Chromatic Aberrations
Lateral chromatic aberrations, typically seen as blue or purple fringes along contrasty edges, are very well controlled with this lens - the example below shows the worst-case scenario you are likely to encounter.
Light Fall-off
With the lens wide open, you can see some light fall-off in the corners, but it is not very severe, and goes away almost completely upon stopping down to f/2.8.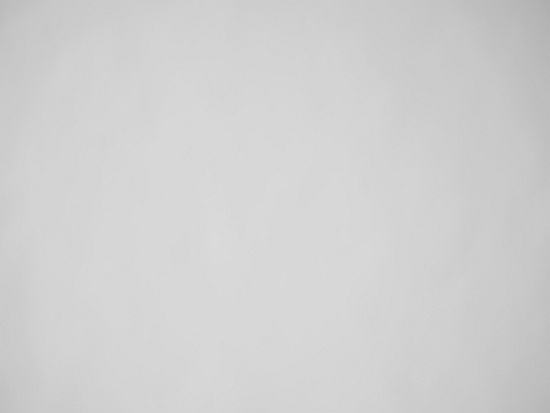 Macro
Offering only 0.11x magnification, the M.Zuiko Digital 45mm f/1.8 is certainly not a macro lens. The following example demonstrates how close you can get to the subject, in this case, a Compact Flash memory card.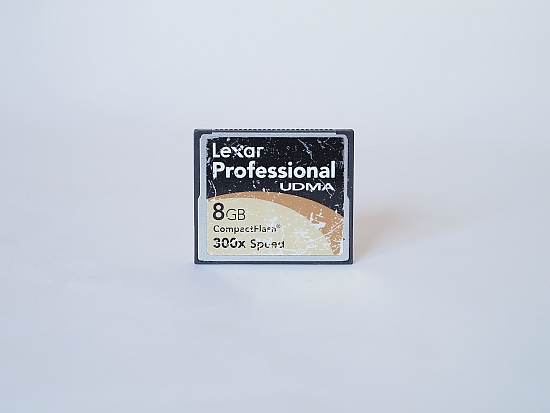 Close-up performance
Bokeh Examples
Bokeh is a word used for the out-of-focus areas of a photograph, and is usually described in qualitative terms, such as smooth / creamy / harsh etc. One of the reasons to buy a fast lens is to be able to isolate the subject from the background, and Olympus were apparently very much aware of this as they employed an iris diaphragm with seven rounded blades for a pleasant rendering of the out-of-focus areas. Based on what we're seeing in our sample images, their efforts have been successful - the Olympus M.Zuiko Digital 45mm f/1.8 rewards its users with a nice, smooth bokeh, particularly when used wide open.
Sharpness
In order to show you how sharp this lens is, we are providing 100% crops on the following page.