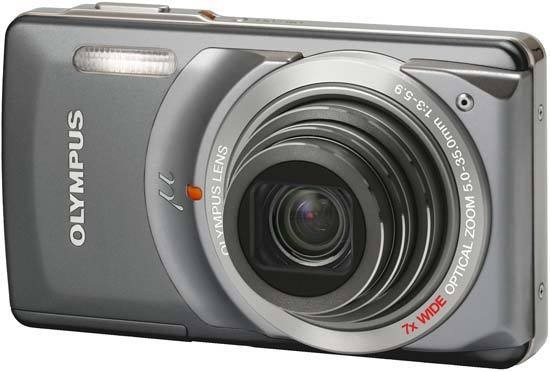 Image Quality
All of the sample images in this Review were taken using the 12 megapixel JPEG setting, which gives an average image size of around 5Mb.
At its maximum 28mm wide-angle setting there is some noticeable loss of focus towards the edges of the frame. As we've noted with Olympus images in the past, on default settings results look distinctly cool - so it's apt that the 7010 has its 'magic filters' on board to boost contrast and saturation and overall add a bit of definition to what are rather wishy-washy results straight out of the camera.
Whereas competing snapshot models from Panasonic and Sony imbue everything with a healthily warm hue, the unadulterated, unedited JPEG images from the 7010 can't help but look pallid by comparison - if not using the 'pop art' style magic filter to up the saturation to retina searing levels that is. Some sort of halfway house between the two as the camera's default setting would seem the ideal.
Of course, the overall look of the 7010's shots - along with occasionally inconsistent white balance performance - can be improved immeasurably with a little messing about in Photoshop, but that would rather seem to go against the auto everything ethos of an ideal point and shoot compact. That's to say users won't, in fairness, be able to achieve the best results if entrusting everything to the camera. Also, when faced with contrast-y situations, the camera will err on the side of overexposure to lift shadow detail, therefore burning out highlights.
In terms of ISO performance, noise starts to intrude from as low as ISO 400, which, while not unheard of, is a little disappointing. At ISO800, levels of image deterioration are akin to what closest point and shoot rivals would now display at ISO 1600; results at top setting on the Olympus resembling a multi coloured sandstorm. One could argue that the Mju 7010's chosen audience won't for the most part be looking to shoot at higher ISOs anyway, but it's our role here to be critical.
Noise
There are 6 ISO settings available on the Olympus Mju 7010. Here are some 100% crops which show the noise levels for each ISO setting:
| | |
| --- | --- |
| ISO 64 (100% Crop) | ISO 100 (100% Crop) |
| | |
|   |   |
| ISO 200 (100% Crop) | ISO 400 (100% Crop) |
| | |
|   |   |
| ISO 800 (100% Crop) | ISO 1600 (100% Crop) |
| | |
Sharpening
Here are two 100% crops which have been Saved as Web - Quality 50 in Photoshop. The right-hand image has had some sharpening applied in Photoshop. The images are just a little soft at the default sharpening setting. You can't change the in-camera sharpening level.
| | |
| --- | --- |
| Original (100% Crop) | Sharpened (100% Crop) |
| | |
|   |   |
| | |
Chromatic Aberrations
The Olympus mju 7010 handled chromatic aberrations excellently during the review, with very limited purple fringing present around the edges of objects in certain high-contrast situations, as shown in the example below.
Example 1 (100% Crop)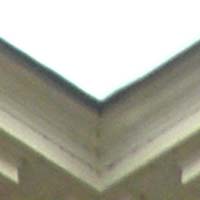 Macro
The Olympus mju 7010 offers a Super Macro setting that allows you to focus on a subject that is 2cms away from the camera when the lens is set to wide-angle. The first image shows how close you can get to the subject (in this case a compact flash card). The second image is a 100% crop.
| | |
| --- | --- |
| Macro Shot | 100% Crop |
| | |
Flash
The flash settings on the Olympus mju 7010 are Auto, Red-eye reduction, Fill-in, and Off. These shots of a white coloured wall were taken at a distance of 1.5m.
| | |
| --- | --- |
| Flash Off - Wide Angle (28mm) | Flash On - Wide Angle (28mm) |
| | |
|   |   |
| Flash Off - Telephoto (196mm) | Flash On - Telephoto (196mm) |
| | |
And here are a couple of portrait shots. As you can see, neither the Flash On or the Red-Eye Reduction options caused any red-eye.
| | |
| --- | --- |
| On | On (100% Crop) |
| | |
|   |   |
| Red-eye Reduction | Red-eye Reduction (100% Crop) |
| | |
Night
The Olympus mju 7010's maximum shutter speed is 4 seconds in the Night scene mode, which is disappointing news if you're seriously interested in night photography, as it doesn't allow you to capture enough light in most situations. The shot below was taken using a shutter speed of 4 seconds at ISO 100. I've included a 100% crop of the image to show what the quality is like.
| | |
| --- | --- |
| Night Shot | Night Shot (100% Crop) |
| | |