Olympus Mju Tough 6010 Review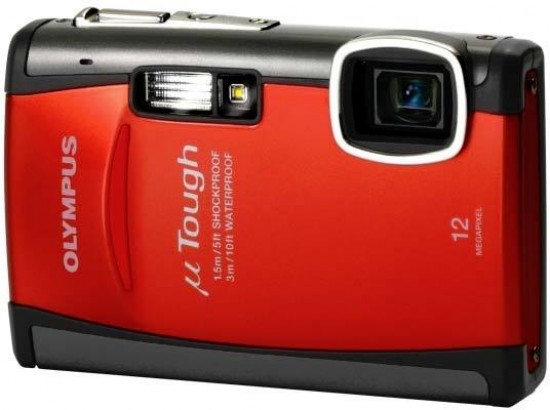 Introduction
As its name suggests, the Olympus Mju Tough 6010 is the latest shockproof, waterproof and freezeproof compact camera on the block. Freezeproof to -10 degrees Celsius, waterproof to 3m and shockproof against drops of up to 1.5m, the Olympus 6010 can survive almost everything that daily life subjects it to. In addition the 12 megapixel Mju 6010 features a 3.6x wide zoom lens (28-102mm) with Dual Image Stabilisation to prevent unwanted blurry shots, a 2.7 inch LCD screen, Intelligent Auto Mode for novices, built-in Magic Filters to spice up yourt photos, and the innovative Tap Control mode that allows you to control the camera even when wearing gloves. The Olympus Mju Tough 6010 is available in Titanium Grey, Turquoise Blue and Lava Red for £299.
Ease of Use
It can indeed be 'tough' to make your product stand out in an ever-crowded compact market, especially given that sales have gradually slowed now interest has shifted to affordable DSLRs and fancy new hybrid cameras. So, not only does the boxy, protective rubber o-ring sealed Olympus Mju Tough 6010 work hard to catch the attention of the casual observer by being freezeproof to -10°C, drop proof from heights of up to 1.5 metres, plus shockproof to JIS 6 standard, it also adds in-camera digital effects in the form of Magic Filters. These are basically a junior version of the Art Filters found on E-series DSLRs and Digital Pens.
Here we get the colour saturation boosting Pop Art, the corner darkening Pinhole camera, charcoal pencil-like Sketch and 180° Fisheye options selectable via the cartoon-ish icons that pop up with a press of the menu button on the Mju's backplate. As we found with the Mju 7010, reviewed last year, results vary and, though the temptation is to do otherwise, the filters are best deployed sparingly.
For a suggested price a penny shy of £300, the splash it, dunk it, drop it Mju Tough 6010 does battle with the similarly priced and equally all-weather Canon PowerShot D10 and Panasonic Lumix DMC-T1 (the latter not freezeproof), plus the less expensive Pentax Optio WS80 and Fujifilm Finepix Z33WP (both waterproofed only). So, Magic Filters aside, is there any additional weapon with which to definitively blitz the competition?
Not from a quick glance down the spec sheet. Underneath the meaty exterior there lurks a fairly conventional compact: 12 megapixel effective resolution, internally folded/stacked 3.6x optical zoom commencing at a wide angle 28mm equivalent and running up to 102mm at the telephoto end, plus movie clips at a standard resolution 640x480 pixels, when for the price we'd hoped for High Def video (perhaps something for the inevitable next generation model). Close focusing is down to 2cm, courtesy of a 'Super Macro' mode, which isn't bad given the camera's otherwise entry-level specification. Also modest is a light sensitivity range stretching from ISO64 to ISO1600 with all points in between.
Squirreled away within the set up menu options is however the ability to implement the use of Tap control and so forgo use of the small, plastic-y buttons on the Mju's backplate - otherwise impossible to use when wearing gloves and equally fiddly with wet fingers. As it sounds, tap the 2.7-inch, 230k-dot resolution screen to, for example, play back captured images, or either side of the camera to scroll back and forth through them.
Aside from the tumble-ready toddler proof qualities, which suggest the Mju Tough 6010 as a family holiday friendly option, we also get the promise of AF tracking, advanced face detection for up to 16 subjects, 19 scene modes (including mainly portrait biased and underwater options, plus the useful snow/beach setting), along with Olympus' own exposure enhancing shadow adjustment technology and a beauty mode located on the rear mounted halfpenny sized mode dial. Like Samsung's variation, this smoothes (or rather blurs) skin tones free of obvious blemishes. More predictable perhaps is that the camera is available in a choice of three finishes: grey, red or blue. We had the middle option in to test, garish enough that you won't lose it easily in the snow. Luckily during our test period we also had two bouts of the crunchy white stuff in the UK, so were able to get out and test it in conditions it was arguably made for, with suitable seasonal images to match.
| | |
| --- | --- |
| | |
| Front | Rear |
Relatively lightweight still at 149g without card and battery, the Mju Tough 6010 slips easily into trouser or jacket pocket. Whilst that makes it portable and unobtrusive when taking to the ski slopes or indulging in a spot of snorkeling, there's little on the camera to enable a firm grip when shooting handheld except for a very narrow sliver of rubber in a semi circular arc at the front.
This means that, despite Olympus' promise of dual image stabilisation, both mechanical and digital, a higher than usual percentage of our shots turned out soft due to camera shake. Left on iAuto setting the camera is unduly keen to fire the flash, even when there is plenty of natural light available.
Whilst still more attractive than the pug-like D10 from D10, from the front the 6010 otherwise looks fairly utilitarian, partly because the full extent of the zoom - usually the most vulnerable part of a camera when dropped - is stored safely within the body of the camera at all times. Otherwise, its faceplate features an indicator for self-timer inset alongside built-in flash, top left of which is a pin prick indicating a microphone for accompanying movie mode.
The lens features top right, with sliding metal lens cover as an extra protective layer when the camera is inactive. Once again, as with flat fronted cameras from Olympus' competitors, the positioning of the optics means that fingertips can occasionally stray into frame when gripping the camera in both hands for a steadier shot. Likewise the middle finger of the right hand can drift in front of the flash while your forefinger hovers over the shutter release button on the top plate.
Also inset on the bolted-on raised top plate is the on/off button. Press this and the camera powers up from cold in just over two seconds, lens cover automatically retracting and rear LCD blinking into life with a musical chime (unless in-camera sounds have previously been disabled). Shooting settings are controlled and selected with subsequent twists of the familiar halfpenny sized mode wheel sitting just under a narrow rocker switch for the zoom top right of the backplate. This dial contains settings for iAuto, program Auto, 19 scene modes, separate beauty mode, video plus playback. There's also an additional playback button below right of the wheel, letting users quickly review shots without necessarily dipping out of capture mode to do so, making the instance of the review option on the mode wheel feel quite superfluous. The zoom switch is fast and responsive, gliding from maximum wide-angle to extreme telephoto setting in just under two seconds, sound-tracked by a quietly unobtrusive mechanical whine. Unfortunately the zoom is inoperable when the recording of video clips has commenced.
| | |
| --- | --- |
| | |
| It's Tough! | Side |
Otherwise user friendliness extends to a quick determining of focus and exposure, central AF point illuminating in green and a beep of affirmation letting the user know it's OK to go on and take the shot. Do just that and a maximum resolution JPEG file is committed to memory in around three seconds while the screen momentarily freezes - unspectacular but acceptable.
As Panasonic and Olympus have a development partnership, the latter here includes the former's intelligent auto functionality, as previously mentioned. This works in the exact same way as its rivals: point the camera at a given scene or subject, whereupon said scene will be quickly analysed and relevant scene mode selected to provide optimal results. This helps further ensure that the Mju 6010's operation is literally point and shoot; useful when you want to be concentrating on snow-plough technique or avoiding dive-bombing kids in the hotel pool rather than fiddling around with controls.
It's a shame then that the rest of the controls at the rear, whether actual metal or not, appear small and plastic-y, like a novelty item from a Christmas cracker. As press of the aforementioned 'menu' provides an instant overview of the camera's key settings, and includes the ability with a couple of further button presses to tweak image quality, key camera settings, access the set up menu, Magic Filters, panorama shooting aid, reset all previously selected options, plus deactivate the camera sounds so it runs silently (the nagging bleeping when you've run out of memory space being the loudest and most irritating sound effect). The menu's cartoon-ish icons are welcoming, unthreatening and enable the user to spot at a glance the option they are looking for rather than having to wade through text heavy screens. Operation then is almost child's play.
The other controls on the backplate include a paddle-shaped rocker switch top right of the screen for adjusting the camera's zoom. Press this and the framing will glide from maximum wide-angle to extreme telephoto setting in just under two seconds, sound-tracked by an unobtrusive yet present mechanical whine.
Beneath the menu and playback buttons is a cross keys control pad with an OK/function button at its centre. At 12 o'clock on the pad is a means of manually adjusting exposure compensation (a choice of +/- 2EV) with, as when utilising the Magic Filters, thumbnail images on screen helpfully providing a neat visual representation of the effect incremental changes will have.
| | |
| --- | --- |
| | |
| Memory Card Slot | Battery Compartment |
At three o'clock we get a means of selecting from the camera's modest flash modes (when not in iAuto mode): auto flash, red eye removal, fill-in or off. Also modest is that the self timer control that follows at 6 o'clock on the dial can merely be set to on or off, while last but by no means least at nine o'clock we have a choice of macro or super macro settings - the latter allowing the user to get as close in as 2cm. These standard-ised features are identical to those found on the non-Tough Mju 7010.
The final buttons below the cross keys on the Mju Tough 6010's backplate are for adjustment of the LCD display and/or image deletion. Press 'display' when in program auto mode and on-screen info disappears to provide a 'clean' view of your subject, press again and a nine zone compositional grid pops up; press a third time and unexpectedly (at this level) a real time histogram appears to enable the user to check exposure is even across the image.
Press the same button when in playback mode and shooting info captured at the time your shot was taken is instead displayed. Alternatively, when in capture mode pressing the same button permanently illuminates the self-timer lamp at the camera's front to act as an aid for the camera's auto focus - a manually activated AF assist lamp if you like.
While that's it for the camera's backplate, the right hand side of the 6010 (if seen from the back) features a chunky catch that flips open the water-tight door protecting a joint USB 2.0, power and AV out port in the absence of any HDMI connectivity. Beneath this sits an eyelet for attaching a wrist strap and underneath again, we find the camera's built-in speaker.
With a modest 45MB internal memory to get users started out of the box, the Mju's images are optionally saved to the less well-travelled xD-Picture Card, for which a protected slot at the base is provided next to one for the lithium ion battery. Battery life is claimed to be good for up to 250 shots from a single charge, but we started to get a battery low indicator at around half that amount.
With the 6010's operation being otherwise generally efficient if unremarkable, can the resultant images add pep and desirability? Read on to find out…