Olympus OM-D E-M1X Review
More Pages
Image
Quality
Sample
Images
Product
Images
Product
Specs
Rating &
Conclusion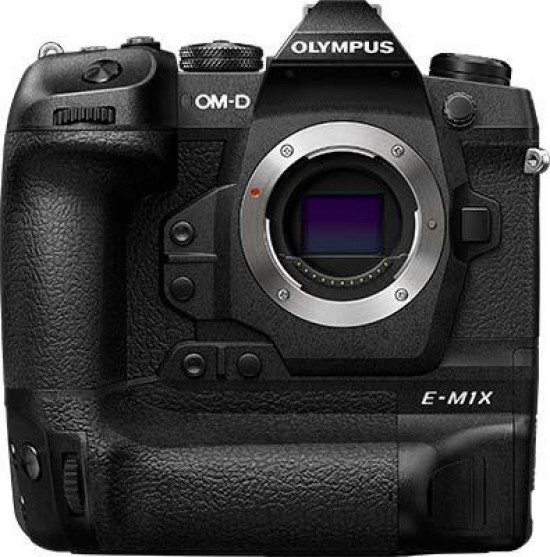 First Impressions
The Olympus O-MD E-M1X is a new flagship mirrorless camera that boasts a 20 megapixel Four Thirds sensor, 18fps burst shooting with full-time AF or 60fps without, 80 megapixel multi-shot high-resolution mode, 7.5-stops image stabilisation, 2,580 shot battery life, a vari-angle touchscreen LCD, full weather-proofing and Cinema 4K video recording.
We've spent a little time getting to know the OM-D E-M1X, so check out our first impressions of Olympus' impressive new compact system camera...
The E-M1X is the new flagship model in Olympus' premium OM-D mirrorless camera range, aimed at pro users. In fact, the brand is calling the E-M1X its 'flagship reimagined'. It sits alongside the existing E-M1 Mark II camera, rather than directly replacing it.
Olympus OM-D E-M1X - Built-in Battery Grip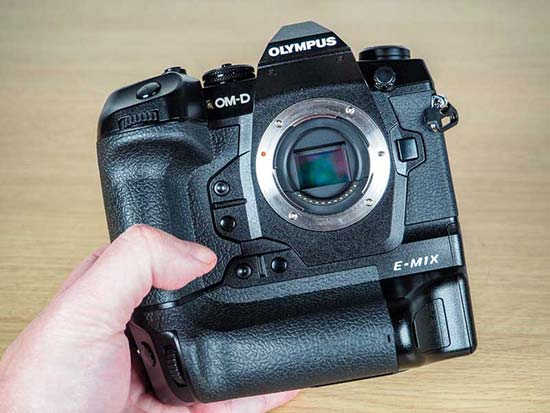 The most notable difference between the two cameras – and, indeed, between Olympus' latest high-end offering and its rivals' mirrorless cameras – is the new OM-D E-M1X's larger format, thanks to the addition of a built-in dual battery grip. The manufacturer told us at an exclusive preview that this delivers around a generous 2,580 shots in total from the two BLH-1 batteries, once fully charged (a process taking around two hours). Such a grip is of course something that would normally be offered as an optional accessory – so Olympus is breaking with convention here. The batteries can also be charged in-camera via the USB port.
The provision of the grip provides both additional power plus improved ergonomics and ease of use when shooting with the Olympus OM-D E-M1X held vertically or horizontally. Olympus tells us that the controls – buttons and multi-selector joystick – have also been re-positioned on the E-M1X to make for easier portrait or landscape capture.
Olympus OM-D E-M1X - Burst Shooting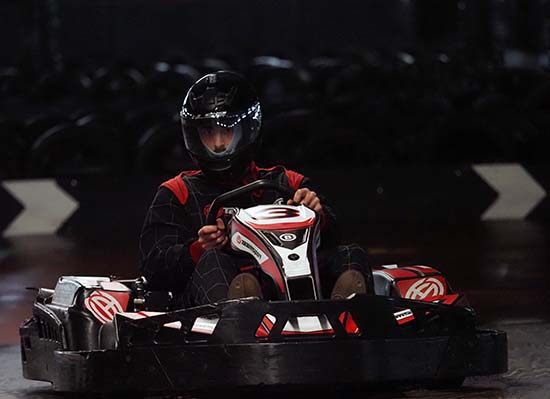 Olympus imagines the new camera's intended audience, however, as photographers specialising in sports and wildlife photography, thanks to an impressively swift 18fps capture speed for 74 continuous Raw frames, or up to a blisteringly fast 60fps with AF locked.
Olympus OM-D E-M1X - Auto Focusing
It features a 121-point all-cross-type phase detection AF system, with the user being able to select focus points using the camera's joystick. There are dedicated intelligent tracking modes provided for the shooting of trains, airplanes and motorsports. We were able to try the latter option at a very dark go-kart track, just prior to Christmas, which proved a major test of the camera's mettle. See our provided Olympus OM-D E-M1X sample images.
Olympus OM-D E-M1X - Weatherproofing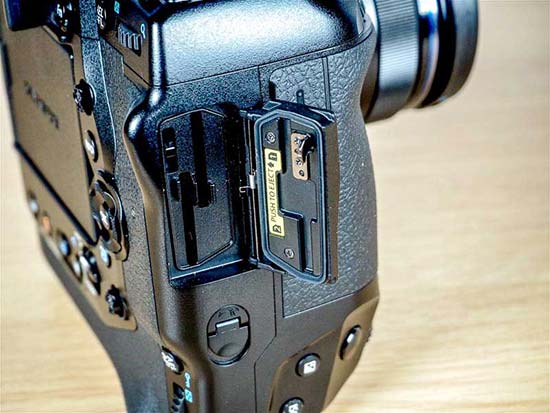 As one would also expect of a top tier product, the E-M1X is weather resistant, boasts dust reduction and heat management features, as well as being able to capture Cinema 4K video along with 20 megapixel stills (in standard shooting mode).
Thanks to the addition of the aforementioned grip it also feels closer to the experience of shooting with a DSLR than previous generations of OM-D – something that had us scratching our head a little, given that past Olympus marketing has always positioned the range as smaller, lighter and less back breaking than its DSLR equivalents. That said, of course, its compatible lenses and accessories remain just as compact as before, meaning that the whole package still manages to offer a more portable alternative, particularly to a pro-end DSLR.
Olympus OM-D E-M1X - Four Thirds Sensor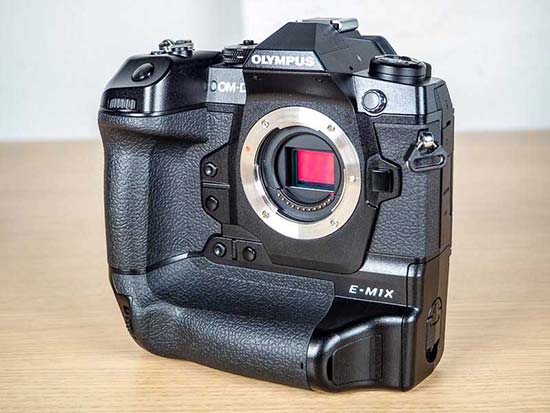 Whilst most of Olympus' rivals – and even its original co-development partner Panasonic – have opted for full frame sensors of late, particularly for their range-topping cameras – the E-M1X sees this manufacturer sticking with its tried and tested Four Thirds CMOS chip.
To further underline the fact that Olympus feels there is life in the old system yet (and its attendant Micro Four Thirds lens mount), in tandem with the E-M1X for 2019 it's announcing a new lens in a 150-400mm f/4.5 super telephoto, alongside new teleconverters, an FL-700WR flashgun, plus compatible controller/commander (FC-WR) and receiver (FR-WR). Olympus' UK Marketing Manager Georgina Pavelin told us her company is "100% committed" to Micro Four Thirds.
Olympus OM-D E-M1X - Swivelling LCD Screen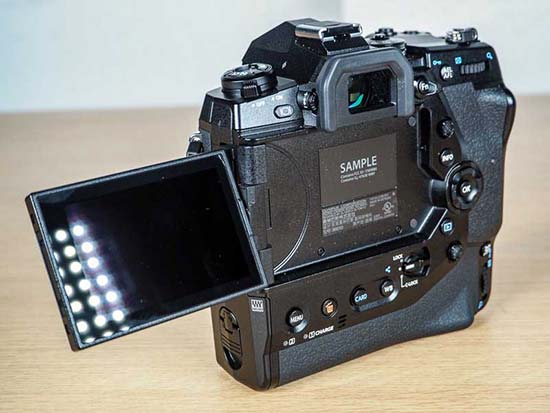 Other features worth picking out from the E-M1X specification list include a tilt and swivel touch screen LCD that can be swung out from the body like that of a camcorder. It also features a durable shutter, claimed to have been tested to 400K actuations, plus a customisable menu. Stills and videos are recorded to dual card slots, with SD being the media of choice. This port is protected by a twist and lock release, which the manufacturer says has been inspired by its Olympus Tough compact camera series.
Olympus OM-D E-M1X - Stabilization and High Resolution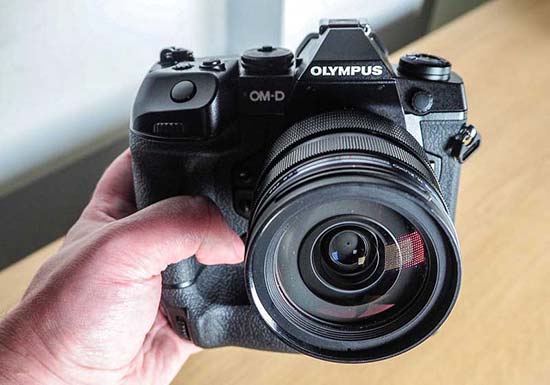 With two TruePic VIII engines on board, the Olympus OM-D E-M1X offers 5-axis in-built image stabilization, which on this model provides a claimed equivalent of 7.5 steps. Though the camera sensor's headline resolution is 20.4 megapixels, this being an Olympus OM-D, we also get a 50MP high resolution Handheld Shot option, plus a whopping 80MP Tripod High Resolution Shot facility. With support for Olympus Workspace image management software offered, pro photographers also have the further option of shooting via Wi-Fi or tethered, while GPS is built-in.
Olympus OM-D E-M1X - Price
An initial launch offer for UK consumers who are considering purchasing the E-M1X sees the manufacturer offer a £200 trade in 'bonus' offer until March 15th 2019. The UK price for the camera is £2799 body only, and the price in Europe has been given as 2999 Euros.
Image Gallery
Click on a thumbnail to see the full version.
Image
Quality
Sample
Images
Product
Images
Product
Specs
Rating &
Conclusion