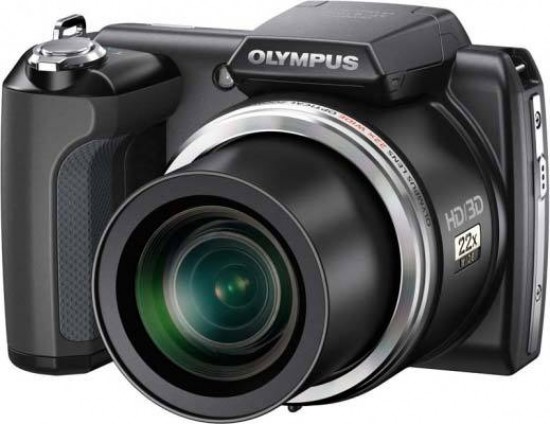 Introduction
Announced earlier this year, the Olympus SP-610UZ is the successor to last year's SP-600UZ, sporting a 14-megapixel sensor and a new 22x ultra-zoom lens. Also on board is Olympus' sensor-shift image stabilisation system, a range of Art Filters and a feature that allows the camera to combine two separate photos into a single 3D image stored in MPO format. The new model carries over the 720p HD video recording functionality that was already present in its predecessor, and also has a mini HDMI port that allows users to hook the camera up to an HDTV via an optional HDMI cable. Powered by 4 AA batteries, the Olympus SP-610UZ is a remarkably affordable entry into the world of superzoom cameras, with retail pricing hovering around the £160/$200 mark in the UK and the US, respectively. But does it deliver? Find out in our in-depth review.
Ease of Use
As you pick up the Olympus SP-610UZ for the first time you immediately know it's a budget product, betrayed by a decidedly plastic feel in the hand. On the plus side, it is quite comfortable to hold courtesy of a well-sculpted and relatively big right-hand grip, which also houses the four AA batteries that power the camera. The design is, unsurprisingly, dominated by the large 22x zoom lens that provides an extremely versatile focal range of 5-110mm, or 28-616mm in old money. While this isn't quite as big as the class-leading 35-36x zooms of the Canon Powershot SX30 IS and the Nikon Coolpix P500, in real-world use it provides enough width and enough reach to satisfy most photographers' needs. Superzooms have always had a reputation for having a high "fun factor", and the SP-610UZ is no different. The ability to quickly go from wide angle to ultra-telephoto is something that has to be experienced in order to be fully appreciated. It certainly gives you a kind of freedom you do not feel with any other type of camera.
For its size, the SP-610UZ's lens is also respectably fast, with maximum apertures of f/3.3 at 28mm and f/5.7 at 616mm. As the lens lacks an iris diaphragm, there is no aperture control of any kind - whether automatic or manual - available on the camera. In very bright light, the SP-610UZ engages a built-in 2.5-stop neutral density filter in order to prevent overexposure, but this obviously has no effect on depth of field. The camera comes with a large lens cap, which can be secured to the body with the included tether.
In being dominated by that big lens, the front of the Olympus SP-610UZ is very sparse looking, save for a lamp for the AF assist light to the left of the lens (if viewed head on). This isn't a bad thing though, as the almost-minimalist design lends an air of sophistication to what is otherwise very much an entry-level product. Zooming is done by way of a conventional zoom lever that encircles the shutter release button sitting atop the right-hand grip. The only other control found on the top plate is the elongated on/off button, which has a small LED sitting next to it, enabling the photographer to quickly check if the camera is powered on. The SP-610UZ's flash can only be raised manually - the camera won't pop it up for you. While advanced users will likely welcome this solution, it might initially confuse the intended target user of the Olympus SP-610UZ. The camera has no hot-shoe, so the only way to sync up an external flashgun with it is to use an optical slave (of the variety that isn't fooled by the pre-flashes emitted by the built-in unit). Unlike more expensive superzooms, the Olympus SP-610UZ has no eye-level electronic viewfinder, either.
This means that the pictures can only be composed on the 3" TFT monitor that occupies most of the camera's rear plate. This is a fairly basic affair with a resolution of 230,000 dots - which is a bit on the low side for a screen of this size - and pretty narrow viewing angles. That's hardly surprising - you can't realistically expect a £160 camera to boast a high-resolution OLED display after all. To the right of the screen is a group of controls including a one-touch movie shutter release, a Playback button, a dial that doubles as a navigation pad with a centred OK button, plus a Menu and a Help button. That's all - which means that the SP-610UZ's operation is, to all intents and purposes, almost entirely menu based. Even the most often used functions - such as exposure compensation or ISO sensitivity - are only accessible by way of a menu setting.
| | |
| --- | --- |
| | |
| Front | Rear |
To be fair, there are a couple of functions mapped unto the wheel controller / navigation pad, but these are rather limited. The Up button cycles through the available information displays in Record as well as Playback mode. These include no info, restricted info and full info. In Record mode, the latter means all shooting menu icons plus a shooting grid and a very useful live histogram, whereas in Playback mode it comprises a thumbnail image, a luminance histogram and detailed shooting data. The Down button acts as an Erase button in Playback.
The Function Menu allows you to select the desired shooting mode (Program Auto, iAuto, Panorama, 3D Photo, Magic Filter or Scene - the camera offers no manual or semi-automatic modes), flash mode, macro mode, self-timer, exposure compensation, white balance, ISO sensitivity setting and drive mode. Note that the some of these menu options may not be available in every shooting mode. As to the scene modes on offer, there are 16 of them, including separate modes for taking pictures of cats and dogs. (In these two modes, the camera takes a photo automatically whenever it detects an animal of the given species in the frame. In other words, these modes represent a novel - though perhaps somewhat bizarre - use for the now-standard face detection technology.)
Like all Olympus cameras these days, the SP-610UZ has a multitude of Magic Filters, including Watercolour, Sparkle, Punk, Soft Focus, Drawing, Fish-eye, Pinhole and Pop Art. These built-in filters allow users to apply special effects to their photos as they are being captured, rather than at the post-processing stage. As such, they are likely to be popular with the target consumer, who may not want to spend hours editing photos in front of a computer screen.
| | |
| --- | --- |
| | |
| Side | Top |
The SP-610UZ's Panorama mode is also interesting, at least on paper. There are three options on offer, including Auto, Manual and PC. In Auto mode, you only have to press the shutter release once. After that, all you need to do is move the camera to the next position, so that the target marks and pointers overlap, and the camera automatically releases the shutter for you. Three frames can be taken this way, which are then combined into a single panoramic image automatically in camera. The problem with this mode is that it's almost impossible to stop moving the camera exactly when the target marks and pointers overlap, which ultimately results in image blur and poor-quality stitching. In Manual mode, you can also take three frames with the help of an on-screen guide, but you have to release the shutter manually. After that, the camera stitches the frames as above. Finally, in PC mode, you can take up to 10 photos, which can be stitched using the supplied PC software after being downloaded to the computer. Given that both the Auto and Manual modes result in a rather low-resolution panorama, PC mode is the way to go if you plan on printing your panoramic images.
3D Photo is a novelty for Olympus, at least in this segment. In this mode, you take a photo of your subject, then shift the camera by a few centimetres to one side and take another shot. The SP-610UZ then combines the two pictures into a single 3D image and saves it as an MPO file, which can then be viewed on a compatible 3D display device. As the camera's own screen is 2D only, you cannot check in the field how your 3D photos turned out (though you can view a 2D version as the camera saves a JPEG image alongside each MPO file).
The Olympus SP-610UZ has a number of drive modes but curiously, full-resolution images can only be taken in single-shot mode. The manual explicitly warns that in Sequential shooting mode, Image Size cannot be set to "14M", i.e. 14 megapixels - which is all the more surprising given that the frame rate is not exactly stellar. There are two other burst modes, Hi1 and Hi2, which are faster but limit resolution further, to 5 and 3 megapixels, respectively.
| | |
| --- | --- |
| | |
| Memory Card Slot | Battery Compartment |
Movie recording on the Olympus SP-610UZ is a mixed bag. The dedicated movie record button works well, eliminating the need to enter a dedicated video shooting mode. The video settings can be adjusted beforehand via the setup menu. The options are limited to resolution (720p, VGA or QVGA) and quality (Fine or Normal). You can also tell the camera whether or not to record (mono) sound along with the footage, and whether or not to provide image stabilisation. If you opt to turn off the audio, you can use the optical zoom while filming (example here). If you want video with sound, however, you need to give up the ability to use the optical zoom while recording a movie - which is a bit frustrating on a camera whose main claim to fame is its 22x zoom lens. Exposure, gain or audio levels cannot be adjusted manually. Videos are compressed using the H.264 codec and stored in MPEG-4 format.
Photos and movies are stored on SD, SDHC or SDXC memory cards. The memory card slot is found within the battery compartment. This is not the greatest solution, as there is nothing to keep the batteries in place once the compartment door is open - this is something you need to remember when changing cards. The - plastic - tripod socket is very close to the battery/card compartment, meaning you cannot change batteries or cards while the camera is mounted on a tripod. As noted earlier, the Olympus SP-610UZ runs on 4 AA batteries, including both rechargeable and disposable cells. On one hand, this is great, as you can pick up fresh batteries almost anywhere, even in a garage store or a petrol station in the middle of nowhere. However the use of AA batteries has its downsides too, namely that if you want to use rechargeables, you need to buy them - as well as a charger - separately, and depending on the charger, they may take longer to charge than a proprietary Li-ion battery pack.
Using the Olympus SP-610UZ has left us with slightly mixed feelings. On one hand, having a 22x zoom literally at your fingertips is a fantastic experience. Being able to photograph everything from wide vistas to extreme close-ups of faraway subjects without having to change lenses is something that has to be experienced in order to be fully appreciated. The zooming action is pretty smooth for a power zoom, and reasonably fast too; certainly much faster than changing lenses on an SLR. On the other hand, the lack of an eye-level EVF and direct-button access to exposure compensation and ISO sensitivity - not to mention things like shutter speed - was a big minus. Auto-focus speeds were satisfactory for shooting stationary or slow-moving subjects in bright light, but don't expect the camera to keep up with fast motion, especially in low light. When shooting video, we missed the option of simultaneously recording audio and using the optical zoom. All things considered, though, the Olympus SP-610UZ provided us with a pleasant shooting experience for the price.
This concludes our evaluation of the Olympus SP-610UZ's ergonomics, handling and feature set. Let us now move on to the image quality assessment!