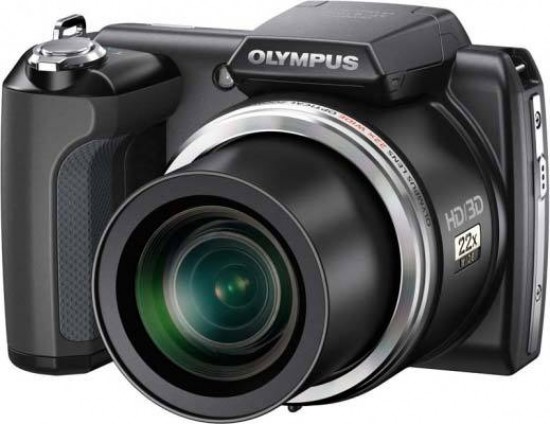 Image Quality
All of the sample images in this Review were taken using the 14 megapixel JPEG setting, which gives an average image size of around 6Mb.
A camera with a tiny, pixel-packed sensor and a huge zoom ratio will always be a set of compromises, and anyone expecting top-notch image quality from such a device is bound to be disappointed. Within those constraints, though, the Olympus SP-610UZ actually produces more than usable images, at least outdoors in bright light.
Noise reduction takes its toll on fine detail even at the camera's base sensitivity setting, and pictures taken in the telephoto range often suffer from uneven sharpness across the frame, but our photos have still turned out better than expected. Colours are vibrant without being over-saturated, and the pictures still hold enough detail to produce some pretty big prints. Going up the sensitivity ladder brings more detail smearing and loss of saturation, especially from ISO 400 onward, but the output remains good enough for smaller prints and Web display.
One thing that the Olympus SP-610UZ is definitely not optimised for is night photography, as the slowest shutter speed is limited to 4 seconds and in Night Scene mode you cannot set the ISO sensitivity manually. On a more positive note, Red-Eye Reduction for flash portraits worked well, and the camera also put up a more than decent macro performance too. The image stabiliser was less effective than we would have liked, but it still helped produce somewhat sharper images at slow shutter speeds.
Noise
The Olympus SP-610UZ has six sensitivity settings ranging from ISO 80 to ISO 1600. The 100% crops below show what the quality is like at each setting.
| | |
| --- | --- |
| ISO 80 (100% Crop) | ISO 100 (100% Crop) |
| | |
|   |   |
| ISO 200 (100% Crop) | ISO 400 (100% Crop) |
| | |
|   |   |
| ISO 800 (100% Crop) | ISO 1600 (100% Crop) |
| | |
Focal Range
The 22x lens has an extremely versatile focal range, as demonstrated by the examples below.
| | |
| --- | --- |
| 28mm | 616mm |
| | |
Sharpening
Here are two 100% crops which have been Saved as Web - Quality 50 in Photoshop. The right-hand image has had some sharpening applied in Photoshop. The out-of-the camera images are a little bit soft at the default sharpening setting, and benefit from some further sharpening in a program like Adobe Photoshop.
| | |
| --- | --- |
| Original (100% Crop) | Sharpened (100% Crop) |
| | |
File Quality
The Olympus SP-610UZ does not save images in raw format. The available JPEG settings are Normal and Fine.
| | |
| --- | --- |
| 14M Fine (100% Crop) | 14M Normal (100% Crop) |
| | |
Chromatic Aberrations
For an ultra-zoom, it was very surprising to see practically no trace of chromatic aberrations in the images. Evidently there is some clever processing going on in the background to eliminate all kinds of purple fringing - and it's successful.
Example 1 (100% Crop)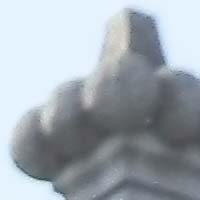 Macro
The Olympus SP-610UZ has a supermacro mode that lets you focus as close as 1cm from the front lens element. This allows you to fill the frame with an object that is smaller than a CompactFlash memory card. Geometric distortion is significant, but sharpness is quite good.
| | |
| --- | --- |
| Macro Shot | 100% Crop |
| | |
Flash
The camera has a pop-up flash that has to be raised manually. The available settings are auto, fill in, redeye-reduction and off. Note that the settings can only be adjusted when the flash is raised. These shots of a white ceiling were taken at a subject distance of 1.5m.
| | |
| --- | --- |
| Flash Off - Wide Angle (28mm) | Flash On - Wide Angle (28mm) |
| | |
|   |   |
| Flash Off - Telephoto (616mm) | Flash On - Telephoto 616mm) |
| | |
And here are some flash portraits. As you can see the flash produced a bit of red-eye but the in-camera red-eye reduction system was able to eliminate it.
| | |
| --- | --- |
| Flash On | Flash On (100% Crop) |
| | |
|   |   |
| Red Eye Reduction | Red Eye Reduction (100% Crop) |
| | |
Night
The Olympus SP-610UZ is not very well suited to night photography, as you cannot use very slow shutter speeds. The photo below was taken in the Night Scene mode at a shutter speed of 2.5 seconds, sensitivity setting of ISO 200 and aperture of f/3.3, all chosen by the camera. The 100% crop demonstrates the quality you can expect.
| | |
| --- | --- |
| Night Shot | Night Shot (100% Crop) |
| | |
Image Stabilisation
The Olympus SP-610UZ has a mechanical image stabilisation system of the sensor-shift variety. In our tests it has proven to be less effective than similar systems employed in some of Olympus' - and the competition's - other cameras. The following crops are from two photos taken at a 35mm equivalent focal length of 73mm and shutter speed of 1/15 second - as you can see, there is more detail in the stabilised image, but it's still not completely sharp.
| | |
| --- | --- |
| On (100% Crop) | Off (100% Crop) |
| | |
3D
The Olympus SP-610UZ has a 3D mode, in which you take two photographs of the same subject from slightly differing viewpoints. The camera then merges the two photographs into a single MPO file, which can be played back on a compatible 3D display device. Given that the SP-610UZ's own screen is 2D only, the camera also saves a 2D image in JPEG format alongside the MPO file.
Panorama
The Olympus SP-610UZ is capable of stitching three overlapping photographs in-camera for a panoramic image. The resolution isn't very high but is more than adequate for on-screen viewing. If you intend your panoramas to be printed though, it is recommended to do the stitching yourself using the supplied PC software.