Olympus SP-620UZ Review
February 23, 2012
|
Mark Goldstein
|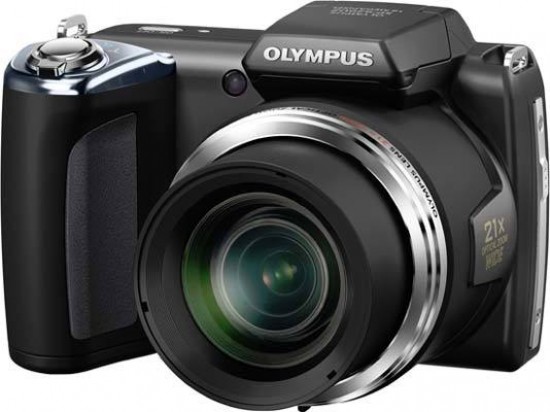 Olympus SP-620UZ Image Quality
All of the sample images in this Review were taken using the 16 megapixel Fine JPEG setting, which gives an average image size of around 6.5Mb.
As we've noted prior to the Olympus SP-620UZ, apart from all-in-one convenience, super zoom cameras are all about the quality of the performance at maximum wideangle and extreme telephoto. We're looking to determine whether the camera maintains edge-to-edge sharpness and avoid obvious barrel distortion as regards the former, and steers clear of repeated soft shots when shooting handheld as regards the latter?
As the zoom range on the SP-620UZ is comparatively modest at 21x - certainly when compared to Nikon's 42x P510 for example - we didn't have too much of a problem getting relatively sharp results first time when shooting handheld at maximum 525mm equivalent telephoto setting. That in itself is commendable, though this is in daylight it has to be noted.
Way over at the other 25mm end of the zoom, some corner softening was also noticeable, if only on very close inspection, though barrel distortion and any fish eye effect is kept well under control. To nitpick further the familiar Olympus bugbear of the results from auto white balance shifting shot-to-shot even when shooting the same subject rears its head.
Happily too, any concerns about a sensor over-loaded with a high pixel count can be largely dismissed. Though detail softens slightly at ISO 800 and upwards, we'd be happy keeping the results of images shot up to ISO 1600. In fact the very usable performance at this top setting indicates that Olympus could have stretched things a bit further by at least providing an ISO 3200 option, but then cost and market sector have to be also taken into account.
On an equally positive note, the Magic Filters are readily to hand to achieve added visual pep when required. The likes of pop art prove useful in accenting a particular colour scheme or you're faced with an otherwise dull day. But as ever it's worth some initial experimentation. Otherwise in regular Program and Auto modes colours are naturalistic, which is no bad thing.
Happily then, in conclusion the SP-620UZ's performance more than justifies the price tag. If this were a £500 model we might have some issues, but in this case despite the lack of frills we can be very pleased with what we've paid for.
Noise
The Olympus SP-620UZ has six sensitivity settings ranging from ISO 80 to ISO 1600. The 100% crops below show what the quality is like at each setting.
| | |
| --- | --- |
| ISO 80 (100% Crop) | ISO 100 (100% Crop) |
| | |
|   |   |
| ISO 200 (100% Crop) | ISO 400 (100% Crop) |
| | |
|   |   |
| ISO 800 (100% Crop) | ISO 1600 (100% Crop) |
| | |
Focal Range
The 21x lens offers a very versatile focal range, as demonstrated by the examples below.
| | |
| --- | --- |
| 25mm | 525mm |
| | |
Sharpening
Here are two 100% crops which have been Saved as Web - Quality 50 in Photoshop. The right-hand image has had some sharpening applied in Photoshop. The out-of-the camera images are a little bit soft at the default sharpening setting, and benefit from some further sharpening in a program like Adobe Photoshop.
| | |
| --- | --- |
| Original (100% Crop) | Sharpened (100% Crop) |
| | |
|   |   |
| | |
Chromatic Aberrations
As yoiu'd expect for an ultra-zoom camera, there are some chromatic aberrations in the images, particularly at the edges of the frame.
| | |
| --- | --- |
| Example 1 (100% Crop) | Example 1 (100% Crop) |
| | |
Macro
The Olympus SP-620UZ has a supermacro mode that lets you focus as close as 1cm from the front lens element. This allows you to fill the frame with an object that is smaller than a CompactFlash memory card. Geometric distortion is significant, but sharpness is quite good.
| | |
| --- | --- |
| Macro Shot | 100% Crop |
| | |
Flash
The camera has a pop-up flash that has to be raised manually. The available settings are auto, fill in, redeye-reduction and off. Note that the settings can only be adjusted when the flash is raised. These shots of a white ceiling were taken at a subject distance of 1.5m.
| | |
| --- | --- |
| Flash Off - Wide Angle (5mm) | Flash On - Wide Angle (25mm) |
| | |
|   |   |
| Flash Off - Telephoto (525mm) | Flash On - Telephoto (525mm) |
| | |
And here are some flash portraits. As you can see there's no red-eye in either mode.
| | |
| --- | --- |
| Flash On | Flash On (100% Crop) |
| | |
|   |   |
| Red Eye Reduction | Red Eye Reduction (100% Crop) |
| | |
Night
The Olympus SP-620UZ is not very well suited to night photography, as you cannot manually use very slow shutter speeds. The photo below was taken in the Night Scene mode at a shutter speed of 3 seconds, sensitivity setting of ISO 320 and aperture of f/4.5, all chosen by the camera. The 100% crop demonstrates the quality you can expect.
| | |
| --- | --- |
| Night Shot | Night Shot (100% Crop) |
| | |