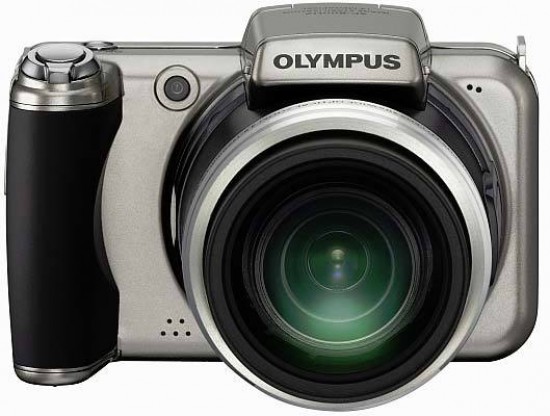 Conclusion
The Olympus SP-800UZ is the latest in a long series of ultra-zoom cameras from Olympus, and one of only two digicams in the world to offer a 30x optical zoom. That immediately makes it special, and worthy of anyone's attention. Being able to photograph everything from wide vistas to extreme close-ups of distant subjects without having to change lenses is something that has to be experienced in order to be fully appreciated. Having said that, we must also note that the difference in angle of view between the Olympus SP-800UZ's 840mm equivalent telephoto lens and the 624...676mm of its closest rivals is not nearly as huge as one might expect.

The camera is remarkably lightweight, but that's not necessarily 100% positive news. For lightweight cameras have little physical inertia, and are therefore hard to hold steady, which can cause problems when shooting at the long end of the zoom range. Having mechanical image stabilisation on board helps, but the only surefire way to avoid motion blur in hand-held use is to use a fast shutter speed. Given that the Olympus SP-800UZ has no shutter priority or manual mode, the only way to ensure that is to use a high ISO speed or select the Sports scene mode, which will likely do the same thing. That's where the problems begin - the tiny and pixel-packed sensor of the SP-800UZ is inherently noisy, and upping the ISO can lead to considerable loss of fine detail, as seen in some of our sample images. Mounting the camera on a tripod and dialling in a relatively low ISO sensitivity setting is a viable solution, but only if your subject cares to stand still.

We were not fully pleased with the Olympus SP-800UZ's user interface either. The camera's operation is almost entirely menu based, which means that accessing important settings like exposure compensation or ISO speed requires just a little too much time and effort, which could have been saved through the use of more hard buttons and other external controls. Therefore this camera is best suited to those users who appreciate the long zoom, but do not want to fiddle much with camera settings.

Overall, we have found the Olympus SP-800UZ a unique camera with a remarkable lens that caters mostly to the needs of the point-and-shoot brigade. Experienced photographers might find it a bit limiting, but then they are probably not the target group anyway.
Ratings (out of 5)
Design
3.5
Features
4
Ease-of-use
3.5
Image quality
3.5
Value for money
4