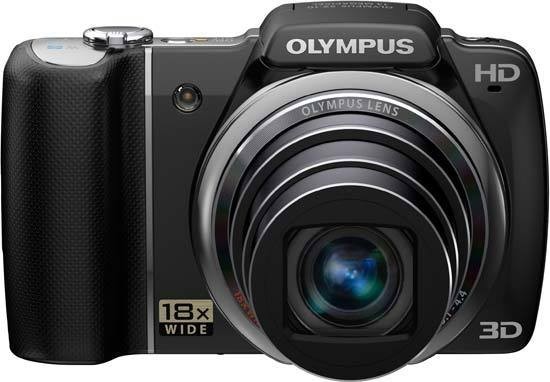 Introduction
The Olympus SZ-10 is a pocketable 14-megapixel travelzoom camera offering 18x optical zoom, mechanical image stabilisation, HD movie capture, in-camera panorama stitching and a range of "Magic Filters". Like a number of other recent compact cameras from Olympus, it can also combine two separate photos into a single 3D image stored in MPO format. A large, three-inch rear screen, a 1cm super macro mode and Eye-Fi memory card compatibility round off the features list. The Olympus SZ-10 is available now, priced at around £155 / $250 in the UK and the US, respectively.
Ease of Use
Announced earlier this year, the Olympus SZ-10 is currently the most affordable – though not quite the smallest or lightest – model in Olympus' new SZ (Super Zoom) line of pocketable travelzoom cameras. Powered off, with its 18x zoom lens retracted for storage, the Olympus SZ-10 easily fits into a front jeans pocket, making it easy to carry around even on long journeys and tedious hikes. It has a small but well sculpted, textured hand-grip, which I much preferred over the somewhat bigger but much more slippery grip of the SZ-30MR.
Switch on the camera, and the lens extends in about two seconds; a very good performance given the massive focal range on offer. The lens goes from 5mm to 90mm, which is equivalent to 28-504mm in 35mm terms. It's worth noting that in most interchangeable-lens systems, you would need a minimum of three lenses to cover this range. While it isn't unprecedented to see so much zoom power crammed into a body this small (in fact the Nikon Coolpix S9100 and the Samsung WB700 are smaller still, while offering a similar zoom ratio, whereas Olympus' own SZ-30MR packs a 24x zoom lens in a marginally bigger body), it still amazes us, especially at this price point. It's a fairly fast lens too, with maximum apertures of f/3.1 at the wide end and f/4.4 at full telephoto. The latter value is especially remarkable considering that most competing models are f/5.6 or slower at the telephoto end. Low-light focussing is aided by an AF assist light located top left of the lens surround (if viewed head on).
The shutter release is found in its usual location, within easy reach of your right forefinger, encircled by the zoom lever. Right next to it is a small and recessed on/off button and a small LED that enables the photographer to quickly check if the camera is powered on. On the other side of the flash housing is a tiny spring-loaded switch for popping up the onboard flash. There's no hot-shoe, so the only way to sync up an external flashgun with the camera is to use an optical slave (of the variety that isn't fooled by the pre-flashes emitted by the built-in unit). Unlike some bigger and more expensive superzooms, the Olympus SZ-10 has no eye-level electronic viewfinder, either.
This means that the pictures can only be composed on the 3" TFT monitor that occupies most of the camera's rear plate. On paper, this is a good display, with a resolution of 460,000 dots. In actual use, it unfortunately did not prove to be quite as sharp and detailed as the specs would have you believe, and the colours also looked a lot more washed-out than they really were. To the right of the screen is a group of controls including a one-touch movie shutter release, a Playback button, a wheel controller that doubles as a navigation pad with a centred OK button, plus a Menu and a Help button. That's all - which means that the SZ-10's operation is, to all intents and purposes, almost entirely menu based. Even the most often used functions - such as exposure compensation or ISO sensitivity - are only accessible by way of a menu setting.
| | |
| --- | --- |
| | |
| Front | Rear |
To be fair, there are a couple of functions mapped unto the wheel controller / navigation pad, but these are rather limited. The Up button cycles through the available information displays in Record as well as Playback mode. These include no info, restricted info and full info. In Record mode, the latter means all shooting menu icons plus a shooting grid and a very useful live histogram, whereas in Playback mode it comprises a thumbnail image, a luminance histogram and detailed shooting data. The Down button acts as an Erase button in Playback.
The Function Menu allows you to select the desired shooting mode (Program Auto, iAuto, Panorama, 3D Photo, Magic Filter or Scene - the camera offers no manual or semi-automatic modes), flash mode, macro mode, self-timer, exposure compensation, white balance, ISO sensitivity setting and drive mode. Note that the some of these menu options may not be available in every shooting mode. As to the scene modes on offer, there are seventeen of them, including separate modes for taking pictures of cats and dogs. (In these two modes, the camera takes a photo automatically whenever it detects an animal of the given species in the frame. In other words, these modes represent a novel - though perhaps somewhat bizarre - use for the now-standard face detection technology.)
Like all Olympus cameras these days, the SZ-10 has a multitude of Magic Filters, including Watercolour, Sparkle, Punk, Soft Focus, Drawing, Fish-eye, Pinhole and Pop Art. These built-in filters allow users to apply special effects to their photos as they are being captured, rather than at the post-processing stage. As such, they are likely to be popular with the target consumer, who may not want to spend hours editing photos in front of a computer screen.
The Olympus SZ-10's Panorama mode is also interesting, at least on paper. There are three options on offer, including Auto, Manual and PC. In Auto mode, you only have to press the shutter release once. After that, all you need to do is move the camera to the next position, so that the target marks and pointers overlap, and the camera automatically releases the shutter for you. Three frames can be taken this way, which are then combined into a single panoramic image automatically in camera. The problem with this mode is that it's almost impossible to stop moving the camera exactly when the target marks and pointers overlap, which ultimately results in image blur and poor-quality stitching. (Here the SZ-10's implementation differs from that of the SZ-20, whose "Smart Panorama" mode is more similar to Sony's "Sweep Panorama" feature, with no target marks to worry about.)
| | |
| --- | --- |
| | |
| Side | Top |
In Manual mode, you can also take three frames with the help of an on-screen guide, but you have to release the shutter manually. After that, the camera stitches the frames as above. Finally, in PC mode, you can take up to 10 photos, which can be stitched using the supplied PC software after being downloaded to the computer. Given that both the Auto and Manual modes result in a rather low-resolution panorama, PC mode is the way to go if you plan on printing your panoramic images.
There's a 3D image capture mode as well, which works exactly the same way as on the Olympus SZ-20, SZ-30MR and SP-610UZ.  In this mode, you take a photo of your subject, then shift the camera by a few centimetres to one side and take another shot. The SZ-30MR then combines the two pictures into a single 3D image and saves it as an MPO file, which can then be viewed on a compatible 3D display device. As the camera's own screen is 2D only, you cannot check in the field how your 3D photos turned out (though you can view a 2D version as the camera saves a JPEG image alongside each MPO file).
Like most of the new Olympus compacts, the SZ-10 has a dedicated Help button. This gives you access to a searchable in-camera user guide that makes it easier to find answers to your questions than flipping through a printed manual. That said, we would love to be able to assign a user-defined function (say, ISO access) to this button as it would make the camera faster and easier to handle.
Movie recording on the Olympus SZ-10 is a mixed bag. The dedicated movie record button works well, eliminating the need to enter a separate video shooting mode. The video settings can be adjusted beforehand via the setup menu. The options are limited to resolution (720p, VGA or QVGA) and quality (Fine or Normal). You can also tell the camera whether or not to record sound along with the footage, and whether or not to provide image stabilisation. If you opt to turn off the audio, you can use the optical zoom while filming. If you want video with sound, however, you need to give up the ability to use the optical zoom while recording a movie - which is a bit frustrating on a camera whose main claim to fame is its 18x zoom lens. Exposure, gain or audio levels cannot be adjusted manually. Videos are compressed using the H.264 codec and stored in MPEG-4 format.
| | |
| --- | --- |
| | |
| Memory Card Slot | Battery Compartment |
Photos and movies are stored on SD, SDHC or SDXC memory cards, with the camera providing support for Eye-Fi media. This feature makes it easier to upload pictures and movies to a local computer or directly to the Internet.
The Olympus SZ-10 is powered by a proprietary lithium-ion battery that has to be charged in-camera, much like a cell phone battery. Olympus supplies a mains cable,  an adapter/transformer and a USB cable - you can charge the battery by plugging the USB cable into the adapter or an available port on your PC or laptop. We aren't great fans of in-camera charging as this precludes the use of a spare battery while the depleted one is being charged at home. The SZ-10's own USB port / multi-connector - as well as the Type D HDMI socket - is sheltered behind a plastic cover on the right side of the camera, if viewed from behind.
Overall, we have found the Olympus SZ-10 to handle reasonably well for a pocket camera, but as mentioned we'd really like to see ISO mapped unto the Help button (at least as an option), and we'd also like to be able to set exposure compensation simply by spinning the wheel controller, as opposed to having to enter a menu and navigate to EC.  The live histogram and grid overlay are immensely useful though.
This rounds off our evaluation of the camera's handling and feature set. Let us now move on the image quality assessment!