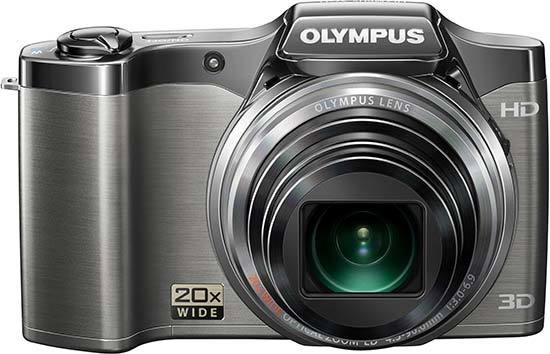 Introduction
The Olympus SZ-14 is a pocketable 14-megapixel travel-zoom camera offering a 24x optical zoom with a focal range of 25-600mm, TruePic III+ processing engine, sensor-shift image stabilisation, "Advanced Face Detection" and "Shadow Adjustment" technologies, a range of Magic Filters, in-camera panorama stitching, 3D photo shooting, 720p HD videos with "Multi-motion Movie IS" and Eye-Fi memory card compatiblity. The Olympus SZ-14 is officially priced at £199 / €229 in the UK and Europe respectively.
Ease of Use
Following on from last Spring's SZ-20 and SZ-30 models, which boasted 12.5x and 24x optical zooms respectively, the SZ-14 is Olympus' new 'Super Zoom' on the block, the latest addition to what the company is calling its 'traveller' series. Unlike the SZ-30 it doesn't feature a GPS antenna to appeal to those looking for the ultimate holiday/vacation camera perhaps, but it does match its 24x optical reach plus also retails for a very affordable £199. Until recently 14 effective megapixels from a 14.5 MP 1/2.3-inch CCD sensor and such a lens reach for the price of a standard 5x point and shoot, as Olympus' SZ-14 offers, would have been unthinkable. And yet it costs the same as the 12.5x SZ-20 did last year, even if that camera did add two million more pixels.
The design of the 24x SZ-14 hasn't changed dramatically from last Easter's SZ-20 either – the SZ-14 still resembles a bridge camera that has been miniaturized – though there have been little stylistic refinements giving rise to an even more streamlined appearance. The stereo microphones on the front plate now sit so close to the lens barrel they're almost hidden, for example. The camera will also squeeze into the pocket of your jeans, at a push, so it's portable too. With dimensions of 106.5x68.7x39.5mm, it weighs a manageable 216g with rechargeable lithium ion battery and choice of SD card inserted. We had the silvery grey SZ-14 in for review, which looks the part and goes some way to disguising a camera that feels a little plastic-y to the touch despite the purportedly metal build in the main. Black and red are the alternative body colours available in the UK.
Aside from the impressively broad dual image stabilized focal range on offer which drags the faraway closer or alternatively squeezes expansive landscapes into frame, and boasts the equivalent of a wide 25-600mm in 35mm film terms, on the SZ-14 Olympus again flags up its USP of Magic Filters. Here these digital effects number 11 in total and include the recently added fragmented filter which lends shots a tiled, collage-type effect; most are accessible when shooting video too, not just stills. The extra gimmicks on the SZ-14, as we found on the SZ-20, include an increasingly ubiquitous auto stitch panorama option, plus 3D image creation mode (stereoscopic results saved as an MPO file viewable only on a 3D TV). Also offered up here are AF tracking, automatic face detection and even pet detection, plus Olympus' Shadow Adjustment Technology to help ensure (when activated) exposures straight out of the camera requiring little adjustment even in trickier lighting scenarios.
We also get Olympus' new(ish) multi-motion movie IS functionality, aimed at reducing blur if the videographer is walking as they're recording, so potentially jogging the camera. For the SZ-14's budget friendly price we don't get Full HD 1080p video however, rather the lesser but still useful 720p. HDMI output is lurking under a plastic side flap too for hooking the camera up to a flat panel TV, though – typically – the required cable isn't provided. Fortunately the optical zoom can be used when recording video and without the sound cutting out when it's in motion either. There is a low mechanical buzz recorded, but it's negligible enough to be unobtrusive.
Here, helping to avoid the bane of red eye, flash is of the pop up variety, with a manual lever squirreled away to the side of the lens barrel with which to raise it. The flash bulb sits astride the lens rather than alongside it, which further lends the camera that appearance of a slimmed down bridge model. Pictures and video are unsurprisingly composed and reviewed via the three-inch backplate LCD in the absence of optical or electronic viewfinder. Unusually for a model in this price bracket, the Olympus SZ-14's screen boasts a better than average resolution of 460k dots.
So, to re-cap, the Olympus SZ-14 is offering us an affordable 24x optical zoom camera that will squeeze into a trouser pocket, with operation being largely of the point and shoot variety, but with a few little extras like those Magic Filters – applied automatically at the point of capture once selected – to stop boredom setting in over time. While that much is true, is the camera actually any good?
| | |
| --- | --- |
| | |
| Front | Rear |
From the front the SZ-14 boasts an appearance more sophisticated than the £199 price tag initially suggests, with the retracting and extending lens obviously dominating proceedings. Despite the broader than average zoom range it's not a brick of the camera, though a larger handgrip than we would usually find on a pocket camera, plus that positioning of the pop up flash above the lens, does add a little chunkiness. Looking to gain physical support towards the telephoto end of the zoom we managed to curl two (and a half) fingers around the curved grip, though it would certainly benefit from some rubber padding as its surface is smooth and a little slippery to the touch. At the base of the grip is where the battery and SD card is stored. As with most recent compacts, compatibility with Eye-Fi media cards is additionally offered. There's no separate mains charger provided; instead the Olympus' lithium battery is charged in camera, an adapter plug and USB lead provided for the purpose. Alternatively if you're in transit but you happen to have a laptop handy, the SZ-14 can be charged from a USB socket. Moving back to the faceplate for a moment, the only other feature is a small porthole for the self-timer/AF assist lamp. This is situated top left of the lens when viewing the camera front on.
The top of the camera is a similarly spartan and equally shiny affair; a lozenge shaped on/off button and raised shutter release button encircled by zoom lever set into a plastic top strip. No beginner is going to be confused as to how to turn the camera on and take a picture. As long as the time and the date have been preset a press of the power button and the camera readies itself for the first photo or video in just over two seconds, lens extending a couple of centimeters from its housing to arrive at maximum wideangle setting followed by the screen bursting into life accompanied by a musical flourish. A half squeeze of the shutter button and the Olympus is refreshingly quick to determine focus and exposure, a green AF point highlighted on screen with an accompanying bleep within the time it takes the user to blink. With the SZ-14 incorporating a TruePic III+ processor, there is a wait of around four seconds while a maximum resolution, Fine compression level image is committed to memory however, the screen briefly blacking out before freezing to display the captured picture. Flick the zoom lever with the forefinger meanwhile and the SZ-14's optical zoom glides through the entire focal range in three seconds, the zoom barrel extended a good five centimeters at its full extremity without looking ridiculous or overly vulnerable. Try the same when recording video however and the zooms progress slows, taking 6-7 seconds to make the same journey from extreme wide angle to maximum telephoto.
At the back of the Olympus the rear fixed LCD screen takes up three quarters of available space, with five buttons plus control pad/scroll wheel arranged in a strip to the right of it. The uppermost control is the red record button for shooting video – a thumb press of which will nigh instantly commence filming no matter what alternative stills mode is selected on screen at the time. This control is sensibly slightly inset to prevent accidental activation. Immediately below is a dedicated playback button, and beneath this again a separate menu button, a press of which brings up a choice of no fewer than seven folders, with stills functionality spread across two, one given over purely to video, a separate playback folder and then set up options spread across three. When the user tabs down to the last item in each folder the camera automatically jumps to those options presented in the folder immediately below, so in this way navigation feels intuitive and straightforward enough. Should any user feel muddled or confused there is a separate searchable camera help mode, here denoted by a quizzical '?' at the very bottom of the camera back.
| | |
| --- | --- |
| | |
| Side | Top |
Typically for one of Olympus' snapshot cameras these days, what's missing is any obvious shooting mode button or standard dial with readily-accessible options marked upon it. Instead that functionality is accessed with a press of the 'OK' button at the centre of the control pad/scroll wheel, which has 'info' marked above it. Not obvious at all then.
This summons up a toolbar that appears at the right hand side of the screen, with a more expansive array of options being presented in Program mode as opposed to the default setting of the scene and subject recognising iAuto (intelligent Auto). Aside from these two shooting modes, at the very top of the screen, the other options presented by tabbing or scrolling left or right are 16 portrait, landscape and pet covering scene modes, Magic Filter modes, automatic stitching panorama mode (all the photographer has to do is sweep the camera through an arc), and once again Olympus' rudimentary 3D mode which takes two shots from different angles and combines them to produce a single MPO file viewable on the requisite 3D TV. A 2D JPEG is also produced alongside as a reference tool, viewable on the camera's LCD as normal.
As with previous and recently reviewed Olympus snapshots, after taking the first image in 3D mode a ghostly outline remains on the screen whilst the user lines up the second shot; keeping things as simple as possible the camera then automatically fires its shutter when it deems the two images sufficiently in sync.
Alternatively, here the Magic Filters are 11 in number, most of which will work with video as well as stills, apart from the newest in the tile effect fragmented plus self explanatory 'sparkle'. Otherwise, provided here are the colour boosting 'pop art', corner darkening pin hole camera, perspective warping fisheye, 'drawing' which deconstructs an image so only scratchy black outlines on white background remain, plus soft focus, 'punk' (lending subjects a heavy photocopied-style outline against a pink/purple background), reflection, tilt and shift lens ape-ing miniature and watercolour.
| | |
| --- | --- |
| | |
| Memory Card Slot | Battery Compartment |
As on last year's Olympus SZ-20 and the more recently reviewed SP-620UZ, all of the above shooting options are tabbed through and selected via use of the Olympus's backplate control pad come scroll wheel, sitting in the bottom right hand corner of the backplate. Though they're supposed to speed up operation, we're not big fans of scroll wheels, and here trying to be exacting in the selections you make quickly becomes tedious and frustrating as the scroll wheel is so slippery and over-sensitive it's all too easy to alight on a setting you didn't actually want. The result is that there is a lot of back and forth involved to get where you want, which seems to defeat the purpose of having a scroll wheel in the first place. Yes, you can press a thumb down on the edges of the pad to gingerly tab through settings instead, but it's still easy for the thumb to slip and the user end up scrolling past required options. For us, this ultra slippery control is the biggest black mark with regards to this camera.
Returning to the other options presented on the on-screen toolbar apart from the shooting modes, and selected via the same scroll wheel when in Program mode are flash options – only 'active' once the flash has been manually raised – plus self-timer (two second, 10 seconds or off), macro focus, exposure compensation (+/- 3EV), white balance, ISO and drive mode options, plus we also get 'menu' re-presented at the very bottom though it has its own dedicated button. Here light sensitivity settings range from ISO80 to a so-so top manually selectable setting of ISO1600. On a positive note it's good that these aren't alternatively buried within dense menu screens, but shame that they're more awkward to precisely select than needs be.
The bottom of the Olympus SZ-14 features an off-centrally positioned screw thread for attaching a tripod, and catch operated cover protecting the joint battery and card compartment, located at the base of the grip as we've mentioned. Battery life is good for XXX shots from a full charge.
Once again for an Olympus compact with a fixed optic the SZ-14 comes across as user friendly at one turn, frustratingly obstructive at the next. Lose the scroll wheel and having a shooting mode button summoning up a virtual dial or better still an actual dial and handling would be much improved.
Image quality is what counts though and on that score can the SZ-14 still snatch glory? Read on to find out…