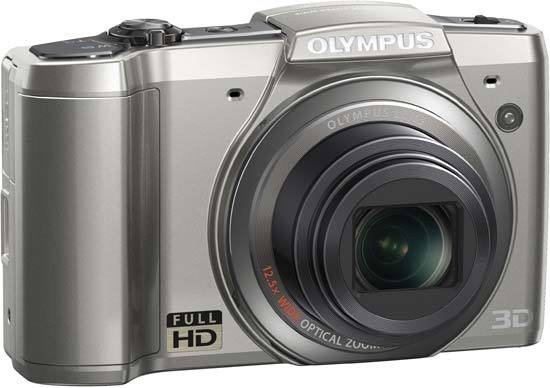 Introduction
The Olympus SZ-20 is a new super-slim travel-zoom compact camera, offering a 16 megapixel backlit CMOS sensor, Full 1080p HD movies, 3 inch LCD screen, 9fps high-speed continuous shooting, and 3D photo shooting mode. There are eight Magic Filters, including Sparkle and Watercolour options, a Pet Detection mode, Hand-held Starlight mode, Eye-Fi card compatibility and Smart Panoramas. The Olympus SZ-20 is available now for £199.
Ease of Use
The 'travel zoom' camera sector has been experiencing a boom of late, not just in the volume of available units from nearly all the major photographic and electronics manufacturers, but also in variety.
It's seemingly no longer enough just to shoehorn a long lens into a slender shell that will fit in your pocket; a few extra gimmicks thrown into the mix are what's needed. Olympus has responded with the 24x optical zoom SZ-30, which includes GPS, and this, the SZ-20, a more modest 12.5x zoom offering without GPS but with an affordable price tag. Fittingly, the Olympus' 'SZ' prefix stands for 'Super Zoom'.
The extra gimmicks on the SZ-20 include Olympus' integral 'digital darkroom' of Magic Filters digital effects (applied at the point of capture), an increasingly ubiquitous auto stitch panorama option, plus 3D image creation mode (stereoscopic results saved as an MPO file viewable only on a 3D TV). Aside from Fujifilm with its W3 compact, Olympus is the first non-electronics manufacturer (we're thinking Sony, Panasonic) to offer 3D image creation.
Retailing for just under £200, the Olympus SZ-20 looks the part too, a glossy champagne-silver exterior in the case of our review sample, retro futurist styling and something approaching an actual handgrip – an essential in our view that most pocket zoom rivals omit. Official build dimensions for the SZ-20 are closely comparable to its 18x zoom rival in the Nikon S9100 at 102.4x64x30.4mm, while it weighs a marginally lighter 186g, something that's reflected, unfortunately, in the larger proportion of plastic in the build. Although well disguised by its exterior, the budget build is immediately noticeable upon picking the camera up.
With available shutter speeds ranging from 1/4 to 1/2000 sec, bear in mind that like the rest of its super zoom/travel zoom ilk, the SZ-20 wouldn't claim to be a camera for the photo enthusiast. Look to the impressive if inevitably pricier Olympus XZ-1 high performance compact for that.
Current rivals for the SZ-20 include the aforementioned Coolpix S9100 and previously reviewed Panasonic Lumix DMC-TZ20, along with the Canon PowerShot SX220HS and SX230HS, Casio Exilims EX-H30 and EX-H20G, Fuji FinePix F550EXR, plus the Samsung WB600 and Samsung WB650.
| | |
| --- | --- |
| | |
| Front | Rear |
Clearing having its work cut out in such a competitive class, Olympus has responded by fielding a best-in-class 16-megapixel resolution derived from an 16.8MP 1/2.3-inch CMOS sensor, its focal range extending from a wide angle 24mm to 300mm at the telephoto end (35mm equivalents), supported by mechanical image stabilisation.
Photos and Full HD 1920x1080 pixels video are committed to SD, SDHC or SDXC card. As with most recent compacts, compatibility with Eye-Fi media cards is additionally offered. So while there's the ability to go wireless with the SZ-20 and Olympus trumpets the fact in its press blurb, it's by no means unique in that respect. For those hoping to shoot in lower light, ISO ranges from a lower than most ISO80 through ISO3200, which is respectable enough. Closest focus distance is 1cm in macro mode, which about as good as one could hope for.
With the Olympus deploying contrast detection auto focus, stills and moving footage are framed and reviewed via 3-inch, 4:3 aspect ratio LCD boasting a better than average 460k-dot resolution. As expected there's no alternative viewfinder.
Also missing is a standard mains charger. As with the Nikon S9100, the Olympus' lithium battery is charged in camera, an adapter plug and USB lead provided for the purpose. Alternatively if you're in transit but you happen to have a laptop handy, the SZ-20 can be charged from a USB socket.
The front of the Olympus is unsurprisingly dominated by its relative whopper of a lens, a manually raised pop up flash located directly above. The lens is, surprisingly given the budget asking price, flanked by stereo microphones, and there's an AF assist/self timer lamp nestling top right of the front plate. The rounded grip to the other side of the faceplate is of just about sufficient size to curl three fingers around.
A press of the top plate on/off button and, providing date and time have already been set out of the box, the camera powers up from cold in around two seconds, again a respectable if standard timing. Press the shutter release button down halfway and, thanks to that contrast AF, pleasingly focus and exposure is determined nigh instantly however, square AF point highlighted in green accompanied by a beep of confirmation.
| | |
| --- | --- |
| | |
| Front | Top |
Press down fully to take a picture and, with minimal shutter lag, a full quality JPEG is committed to memory in approximately three seconds. The LCD display briefly blacks out and out then freezes to showcase the captured image. Again this is a standard timing for its travel zoom class.
Nudge the SZ-20's zoom lever with a forefinger and the Olympus' optical zoom travels from 24mm wide angle setting to maximum 300mm equivalent telephoto in approximately three seconds: again, fairly standard and no slouch in that respect.
Top right of the backplate on the SZ-20, tucked just beneath a rudimentary thumb rest, we additionally get an increasingly familiar red record button for commencing 'movie' capture. And fortunately the full extent of the optical zoom can be accessed when shooting video. Its adjustments are noticeably slower and smoother than when toggling back and forth to frame stills - no bad thing as it avoids lurching transitions. There is a low mechanical buzz however that is inevitably transferred to the audio in quieter environments. HDMI connectivity for flat panel TV owners is provided courtesy of a port sitting under a side flap along with combined USB/AV output.
One thing that struck us as odd on the Olympus is that there's no standard shooting model dial presented – and not even a button marked 'mode'. Instead, selectable shooting modes sit at the top of a toolbar that runs down the right hand side of the SZ-20's back screen when in capture mode. It's here the program, subject recognising iAuto, scene modes, panorama, 3D mode, and Magic Filters options are to be found via tabbing left and right through the selectable options.
In terms of 3D shooting, unlike say the 'true 3D' Fuji FinePix W3, which features two lenses and two sensors with which to produce its single stereoscopic image, the Olympus here merely takes two separate images and automatically combines them.
After taking the first shot a ghostly outline remains on the screen whilst the user lines up the second shot; keeping things as simple as possible the camera then automatically fires its shutter when it deems the two images sufficiently in sync. As noted at the outset, this process generates an MPO image file that is only viewable on a 3D TV or monitor, though a low resolution 2D JPEG is also produced alongside as a reference tool. This can be viewed on the camera's LCD as normal.
Alternatively, here the Magic Filters are eight in number, seven of which will work with video as well as stills. They comprise colour boosting 'pop art', corner darkening pin hole camera, perspective warping fisheye, 'drawing' which deconstructs an image so only scratchy black outlines on white background remain, plus soft focus, 'punk' (lending subjects a heavy photocopied-style outline against a pink/purple background), the photos-only sparkle (a sprinkling of visual fairy dust) and watercolour. The effect of applying latter to our eyes more closely a poster painting that's been dipped in the bath so that everything smudges.
| | |
| --- | --- |
| | |
| Memory Card Slot | Battery Compartment |
The other option worth mentioning here is that 'Smart Panorama' mode. Here the camera automatically generates an elongated image. All the photographer has to do is sweep the camera through an arc, though, as the result looks distinctly low resolution, you probably won't want to place it on the mantelpiece.
All of the above shooting options are tabbed through and selected via use of the Olympus's backplate control pad come scroll wheel, sitting in the bottom right hand corner of the backplate. We're not big fans of scroll wheels, though they are also included on the Nikon S9100 and Canon PowerShot SX220HS competitors, as we think the slightly quicker access they provide (when compared to finger presses on a control pad) is somewhat negated by scroll wheels simply being a bit fiddly to operate. It's very easy to 'slip' onto a setting you didn't actually want, and particularly so on the SZ-20 where it is very responsive to any slight rotation and where the options are ranged top to bottom and further extend out into the middle of the screen when alighted on. Basically there's a lot of back and forth involved to get where you want, which quickly frustrates.
Also included on the same toolbar and located via the same scroll dial are flash, self-timer, macro focus, exposure compensation, white balance, ISO and drive mode options. Again, good that these aren't alternatively buried within dense menu screens, but shame that they're more awkward to access than needs be.
In the centre of the control/pad scroll wheel sits the familiar 'OK' button for effecting setting changes, and just above this a dedicated playback button. Always useful, as it allows the user to jump back to capture mode with a half press of the shutter release button rather than having to flick a switch to otherwise toggle between both modes.
Directly beneath the scroll/wheel command pad combo, so parallel to this, is a further pair of buttons. One is the self explanatory 'menu', whilst its neighbour is, like a Batman villain, identified with an enigmatic question mark. Press this and the user is presented with what is basically a built in manual for the beginner, and surprisingly comprehensive it is too, with searchable terms governing how to shoot, view and edit pictures, as well as flagging up which are the best modes to use for a given scene or subject. The suggested options can then be directly selected from this mode, which is neat – being both user friendly and a time saver to boot.
The bottom of the camera features an off-centre screwthread for attaching a tripod, and catch operated cover protecting the joint battery and card compartment. Battery life is good for 300 shots from a full charge, which betters most immediate rivals with the exception of the 1,000 shot battery life of the Casio Exilim EX-H30.
So, whilst the SZ-20 is a strange mix of user friendliness with its built-in user guide and fun Magic Filters, 3D and panorama modes, and unnecessary obstructive nature largely thanks to that scroll wheel, does all come good with regard to the images the SZ-20 produces? Read on to find out…