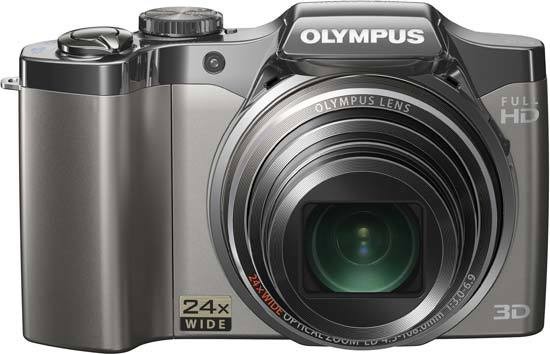 Introduction
The Olympus SZ-30MR is a pocketable 16-megapixel digital compact camera with a whopping 24x optical zoom, image stabilisation, 1080p Full HD movies with stereo sound, a 3-inch LCD screen, and an intriguing multi-record (MR) mode that enables you to take two photos or even two high-definition video clips simultaneously. There are eight Magic Filters, including Sparkle and Watercolour options, a Pet Detection mode, Smart Panoramas and a 3D recording option. The Olympus SZ-30MR is available in black or silver for £250 / $350.
Ease of Use
These days, when manufacturers are releasing cameras with 30x, 35x and even 36x zoom lenses, a camera with "only" 24x optical zoom may almost seem modest - until you learn it's so small it fits in a jeans pocket. As of writing, the Olympus SZ-30MR is the only camera in the world to have accomplished this feat, which alone makes it worthy of our attention.
Upon picking it up for the first time, we simply could not believe they've actually packed all that zoom power in the SZ-30MR. With the camera switched off, the lens sits fully retracted into the body, making the SZ-30MR look like an ordinary compact. Power on the camera and the lens extends in under three seconds; a remarkable accomplishment considering the massive focal range on offer. Spanning a range of 4.5-108mm or 25-600mm in old money, the lens sports a fairly fast maximum aperture of f/3.0 at the wide end but a decidedly slow f/6.9 at full telephoto. This has a bearing on focusing times - with the lens fully zoomed out, auto-focus acquisition is surprisingly quick for a compact camera, but you'll find that it's much slower at the 600mm equivalent end. So much so that you'll find the much-touted AF Tracking option almost useless when shooting in the telephoto range.
To aid you in holding the camera still, the SZ-30MR features mechanical image stabilisation. This allows you to take sharp photos at somewhat slower shutter speeds than what's considered normal for a given focal length, but it can't do miracles - to take blur-free shots at the 600mm end of the zoom range you'll often need to raise the ISO speed too, in order to maintain a hand-holdable shutter speed. In action, we have found the image stabiliser to be quite a bit louder than usual, but it's something that's pretty easy to get accustomed to. The lens is flanked by stereo microphones and there's an AF assist/self timer lamp nestling top left of the lens surround, which comes in handy when shooting indoors.
The camera features a moderately chunky hand-grip that has an unfortunately slippery finish. Testing the Olympus SZ-30MR alongside the SZ-10, I found that I preferred the latter's textured grip, even though it was somewhat smaller. Having said that, the hand-grip on the SZ-30MR, aided by the tiny but effective thumb rest on the rear panel, does provide a means of purchase for your fingers - I just wish it had a textured rubber coating for added safety.
The shutter release is found in its usual location atop the hand-grip, surrounded by the zoom lever. The other top-mounted controls include the recessed on/off button and a shooting mode dial. A quick glance at this dial makes it clear that for all its bells and whistles, the Olympus SZ-30MR is essentially a point-and-shoot camera with no manual exposure mode on offer. To the left of the mode dial - when viewed from above and behind - is the pop-up flash, which is raised manually by way of a sliding switch located on the outer rim of the lens housing.
| | |
| --- | --- |
| | |
| Front | Rear |
The back panel of the Olympus SZ-30MR is dominated by the large, three-inch rear screen. On paper, this is a good display, with a resolution of 460,000 dots. In actual use, it unfortunately did not prove to be quite as sharp and detailed as the specs would have you believe. More annoyingly, it was fairly difficult to see in bright light, which was a shame given that there's no other way to frame your shots. Viewing angles were poor, especially when trying to take pictures from above your head.
To the right of this screen, we find a cluster of controls including a one-touch movie record button, Playback, Menu and Help buttons and a combined wheel controller / navigation pad with a centred OK button. That's all - which means that the SZ-30MR's operation is almost entirely menu based. Even the most often used functions - such as exposure compensation or ISO sensitivity - are only accessible by way of a menu setting. This is a shame - we believe that a firmware update that would allow you to map ISO access to the Help button and apply exposure compensation by simply rotating the wheel controller (without having to enter a menu) would make the camera's handling a lot more intuitive.
As far as shooting modes are concerned, we have already pointed out that there is no manual exposure mode on offer, and neither are there semi-manual modes like aperture or shutter priority. Nevertheless you do get a fairly large number of shooting modes to choose from, some of which are unique to the Olympus SZ-30MR. One of these is the so-called "Photo with Video Clip" mode, which allows the camera to save a few seconds of video before and after you take a photo, while the other is the SZ-30MR's stand-out Multi-Record (MR) mode.
Courtesy of the onboard Dual Engine TruePic III+ image processors, the camera can capture either two photos, two video clips or a photo and a video clip simultaneously. There are a number of options: you can take a wide-angle and a telephoto shot at the same time (this is probably the least useful, as the "telephoto shot" is simply the central part of the wide-angle image blown up), or allow the camera to save an image in two different sizes so that you have a high-resolution file suitable for printing and a smaller, lower-resolution image file for onscreen viewing and uploading to places like Facebook, or take full-resolution pictures while recording high-definition video, or capture two video files of different resolutions and sizes so you have a Full HD version for playback on your HDTV and a smaller version for fast uploading to YouTube.
Probably the most ingeniuous use for the Multi-Record mode is to capture two high-definition video clips simultaneously, with different angles of view. This is more useful than the still-image version of "Multi-Framing" as it gives you two pieces of footage of the same event with different framing, allowing you to mix and match them at will at the editing stage. Finally, the MR mode also allows you to shoot an image (or video clip) with normal settings and another one with a 'Magic Filter' applied. The list of Magic Filters includes Pop Art, Pinhole, Fisheye, Soft Focus, Punk, Sparkle, Drawing and Watercolour.
There's a 3D image capture mode as well, which works exactly the same way as on the Olympus SP-610UZ.  In this mode, you take a photo of your subject, then shift the camera by a few centimetres to one side and take another shot. The SZ-30MR then combines the two pictures into a single 3D image and saves it as an MPO file, which can then be viewed on a compatible 3D display device. As the camera's own screen is 2D only, you cannot check in the field how your 3D photos turned out (though you can view a 2D version as the camera saves a JPEG image alongside each MPO file).
| | |
| --- | --- |
| | |
| Side | Top |
Of course there are more conventional shooting modes too, like Programmed Auto, iAuto and the usual legion of scene modes. Programmed Auto - denoted with a simple camera icon on the mode dial - gives you access to the largest number of settings, including flash, macro and drive modes, ISO sensitivity, exposure compensation and the self-timer. In iAuto and the various scene modes, you are presented with a narrower range of menu options (you typically can't set the ISO speed manually in these modes, for instance).
The overall handling of the camera isn't really geared towards those users who want a great degree of control over the picture taking process - as mentioned earlier, the lack of direct, hard-button access to ISO sensitivity settings and exposure compensation -  not to mention things like shutter speed, aperture or raw image capture - is particularly unwelcome. On a more positive note, the camera can display a 3x3 shooting grid and a very useful live histogram.
The SZ-30MR's Panorama mode is also interesting, at least on paper. There are three options on offer, including Auto, Manual and PC. In Auto mode, you only have to press the shutter release once. After that, all you need to do is move the camera to the next position, so that the target marks and pointers overlap, and the camera automatically releases the shutter for you. Three frames can be taken this way, which are then combined into a single panoramic image automatically in camera. The problem with this mode is that it's almost impossible to stop moving the camera exactly when the target marks and pointers overlap, which ultimately results in image blur and poor-quality stitching.
In Manual mode, you can also take three frames with the help of an on-screen guide, but you have to release the shutter manually. After that, the camera stitches the frames as above. Finally, in PC mode, you can take up to 10 photos, which can be stitched using the supplied PC software after being downloaded to the computer. Given that both the Auto and Manual modes result in a rather low-resolution panorama, PC mode is the way to go if you plan on printing your panoramic images.
We've already touched upon the SZ-30MR's movie shooting capabilities, but they deserve a closer look. The camera can capture Full HD video with stereo sound, and allows you to use the optical zoom while filming. Image stabilisation is available, but as you can see from our sample clip, it does not prevent you from shooting shaky footage if using the camera hand-held at the 600mm equivalent setting.
| | |
| --- | --- |
| | |
| Memory Card Slot | Battery Compartment |
You don't get any manual control over video exposure, gain or audio levels but there are some cool features like applying a 'Magic Filter' to your video on the fly as it's being recorded, or the afore-mentioned ability to shoot two HD videos with different framing. In the latter case, both videos are captured at 720p resolution - the wider one is subsampled from the sensor's full resolution, while the tighter one apparently comes direct from the sensor. (Finally, there's some benefit to using a high-resolution imager in a compact camera!) Note that any camera shake is greatly magnified so using a tripod is pretty much mandatory if you plan on taking advantage of this "Multi-Framing" option.
Once you've captured a photo or video, you can view it by pressing the Playback button. Going from Record to Playback is quick and seamless, but returning to Record mode - accomplished with another press of said button or a half-press on the shutter release - takes much longer (think seconds), meaning you might miss an interesting moment if it happens to come along while reviewing your images. The Olympus SZ-30MR presents you with a number of in-camera editing options. You can downsize still images to VGA or QVGA resolution (not that useful), crop them, add a voice memo, apply a "Beauty Fix" to portraits, bring up the shadows, retouch red eyes, export selected video frames as stills, and trim long video clips.
The camera is powered by a proprietary lithium-ion battery that has to be charged in-camera, much like a cell phone battery. Olympus supplies a mains adapter / transformer and a USB cable - you can charge the battery by plugging the cable into the adapter or an available USB port on your PC or laptop. We aren't great fans of in-camera charging as this precludes the use of a spare battery while the depleted one is being charged at home (yes, you can buy a dedicated LI-50C charger, but it's an optional extra). The camera's own USB port / multi-connector - as well as the Type D HDMI socket - is sheltered behind a narrow and extremely fragile-looking plastic cover that we fully expect to be the first part to break off the camera after a few weeks of use.
Overall, we have found the SZ-30MR to handle reasonably well, but as mentioned we'd really like to see ISO mapped unto the not-so-helpful Help button (at least as an option), and we'd also like to be able to set exposure compensation simply by spinning the wheel controller, as opposed to having to enter a menu and navigate to EC.  The live histogram and grid overlay are immensely useful though, and the multi-recording features are genuinely interesting.
As to having a 25-600mm equivalent zoom in a camera that actually fits in a front jeans pocket when powered off - well, it's unbelievable indeed. The ability to go from ultra-wideangle to ultra-telephoto in less than three seconds is something that has to be experienced in order to be fully appreciated. It certainly gives you a kind of freedom you do not feel with any other type of camera, and the fact that you have it literally in your pocket is nothing short of mind-blowing. Note however that hand-holding a 600mm lens is quite a challenge, especially if it comes in such a featherweight package. The image stabiliser helps, but it's strongly recommended to use at least a monopod or some other kind of support when shooting at the telephoto end.
This rounds off our evaluation of the camera's handling and feature set. Let us now move on the image quality assessment!