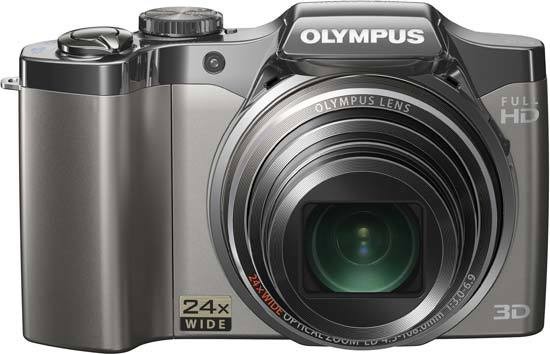 Conclusion
In a sea of me-too compacts, the Olympus SZ-30MR stands out in more ways than one. Packing a 25-600mm equivalent zoom lens in a body that can be shoved into a front jeans pocket is a remarkable achievement in its own right, but the Olympus SZ-30MR doesn't stop there. Its Multi-Framing function can prove genuinely useful when filming an event with a single camera, while the other Multi-Record options are also worth a look. For instance, the ability to take a photo or capture a video clip with a Magic Filter applied, knowing that you also have an "original" with standard settings to fall back on if you don't like the result is not to be underestimated. We've generally been pleased with the camera's overall operational speed too, although focusing speeds in the telephoto range leave something to be desired, and returning from Playback to Record mode was also slower than we'd have liked.

In absolute terms, the camera's image quality is far from being stellar, due mostly to the aggressive noise reduction applied. Up close at 100% magnification you can see a smearing of fine detail even at base sensitivity, and it only gets worse as you move to higher ISO settings. On the other hand, the images are clean and print well at the sizes most prospective buyers are likely to print their pictures. They also look good when downsampled to typical screen resolutions - so if you are only going to view and show off your pictures on your computer monitor, laptop screen, tablet, HDTV or digital picture frame, you shouldn't worry too much about detail smearing at full resolution. The camera's macro mode is fantastic - though be prepared that focusing may take a while in super-macro mode in low light -, the Magic Filters are fun, and the colours are generally pleasing. Like all small-sensor compacts, the Olympus SZ-30MR has a propensity to clip highlights easily in high-contrast lighting, but consulting the live histogram, applying the necessary amount of exposure compensation and allowing Olympus' Shadow Adjustment Technology to do its magic on the shadows should be enough to pull off a usable shot in these circumstances too.

Speaking of exposure compensation, one of our biggest handling quirks with the Olympus SZ-30MR was that we had to dive into the shooting menu every time we needed this important feature. We really hope Olympus can, and will, release a firmware update enabling the use of the wheel controller for this. While we are at it, we'd also like to see ISO sensitivity assigned to the Help button in P mode. These two modifications would lead to a much better shooting experience in our view.

Of course, ultimately the Olympus SZ-30MR is a point-and-shoot camera geared mostly towards users who want the greatest possible degree of automation. Advanced users looking for a carry-everywhere all-rounder might very well be put off by the lack of raw image capture, manual exposure and manual AF point selection, not to mention thigs like an eye-level viewfinder or a hot shoe. At this point in time, we can only hope that Olympus has plans to release a pocketable travel-zoom camera for serious amateurs - we think there'd be a market for it, even with the image quality compromises inherent in such cameras.
Ratings (out of 5)
Design
4
Features
4.5
Ease-of-use
3.5
Image quality
3.5
Value for money
4