Olympus Tough TG-1 Review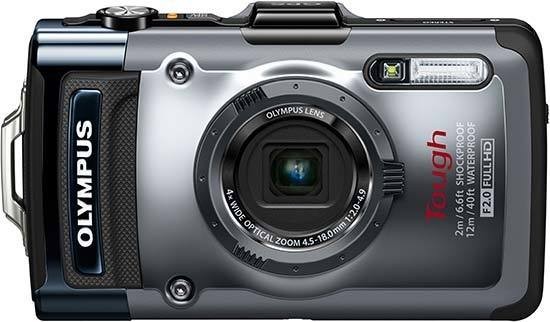 Introduction
Announced back in 2012, the Olympus Tough TG-1 is one of the toughest Olympus cameras ever released. The 12 megapixel TG-1 is crushproof, waterproof to a depth of 12m, shockproof from heights of up to 2m, and freezeproof to -10°C; and has a 25-100mm equivalent zoom lens with a maximum aperture of f/2 at the wide-angle end. Other highlights include an integrated GPS module, Full HD movies with stereo sound, and the ability to take auxiliary lenses. The Olympus Tough TG-1 comes in silver and black and sells for £349.00/$299.99 in the UK and the US, respectively.
Ease of Use
Over the past few years, we have reviewed a number of increasingly rugged "tough" cameras here on Photography Blog. Of late, camera manufacturers have been devoting more and more resources to this market segment – which is no wonder given the ebbing profitability of the more "traditional" digital compacts in the wake of an onslaught of continually improving camera phones. These ruggedised cameras all appeared to share one trait: for all their toughness and ability to withstand conditions that would prove lethal to a regular shooter, they tended to come with slowish and arguably mediocre lenses that prevented them from taking truly good pictures, especially in low light.
Enter the Olympus Tough TG-1 and its 25-100mm (eq.) f/2.0-4.9 lens. The maximum aperture of f/2.0 at the wide end is unusually bright for a compact camera – and doubly so for an all-weather model. And while it's two and a half stops slower at the 100mm equivalent setting, f/4.9 is still not too bad (many compacts make do with a maximum aperture of f/5.6 or even f/6.7 at the telephoto end).
Thoughtfully, Olympus has applied a water-repellent coating to the front element of the lens to reduce the possibility of stubborn water droplets ruining your pictures when shooting away in the rain or right after taking the camera out of the water. And while the lens itself is – of course – not interchangeable, you can at least use an add-on teleconverter (TCON-T01) as well as a fisheye conversion lens (FCON-T01) with the Olympus TG-1, making it one of the more versatile compacts out there. Do note that you'll need the optional CLA-T01 adapter to mount either of these accessory lenses. The converters have the same waterproof rating as the camera itself.
The lens boasts some serious close-up capabilities. It has a "regular" macro mode allowing you to focus down to 10cm while still being able to use the optical zoom; a super macro mode with a minimum focus distance of 1cm and the lens fixed at the 75mm equivalent zoom setting; and a super macro with LED - "S-Macro LED" - mode, which enables you to use the camera's LED illuminator for focusing (though only for subjects that are at least 7cm from the front lens element).
| | |
| --- | --- |
| | |
| Front | Rear |
The Olympus Tough TG-1 also features a sensor-shift image stabilisation mechanism, which in principle enables you to take sharp hand-held shots at shutter speeds that would otherwise be critically slow for the focal length used. Do not expect it to be as effective as the five-axis IS found in Olympus's newer and higher-specified cameras though. Note that in quiet environments, you might hear a faint sound coming from the camera with the image stabiliser turned on.
While the TG-1 lacks a "proper" hand-grip, the front plate has a sizeable rubberised area with a raised ridge that provides for a surprisingly secure hold, even when shooting underwater. In fact, the entire camera feels a lot more robust in the hand than you'd think based on a cursory look at the product shots. Having said that, the Olympus TG-1 still handles much like a "traditional" digital compact. Unusually for a ruggedised camera, it even has a mode dial for quick access to the main shooting modes. These include intelligent Auto, (iAuto), Programmed Auto (P), "Super Sport," Scene and "Magic." You can even save your preferred settings to two custom memory banks (C1 and C2), just like on a professional camera. In light of this, it's somewhat disappointing that the camera does not offer a manual exposure mode. The mode dial has firm detents and is thus not particularly prone to accidental bumps. If anything, the dial is a little too hard to rotate, at least with wet fingers.
Apart from the mode dial, there's only a handful of physical controls on the Olympus TG-1. These include the on/off button and shutter release, a pair of zoom rockers, a dedicated video record button, a traditional four-way pad with centred OK button, plus playback and menu buttons. Notable by absence is any sort of direct-button access to exposure compensation and ISO sensitivity settings – unfortunately. you have to delve into the menu to modify these. As with many other Olympus compacts, there is an optional "tap control" function that allows you to perform certain operations by tapping the top, back and sides of the camera. This can come in handy when shooting underwater.
The Olympus TG-1 has a number of menus, including a Quick menu – accessible via the OK button – plus Shooting, Movie, Playback and Setup menus. In Programmed Auto, the Quick menu gives you access to the flash settings, macro, self-timer, exposure compensation, white balance, ISO sensitivity, drive mode and resolution. In the other modes, you typically get a narrower range of options to choose from. The Shooting menu is reserved for less often used (or modified) settings such as compression, image stabilisation, digital zoom, shadow adjustment, AF illumination, date stamp etc. Somewhat surprisingly, you also need to delve into this menu to set your desired focusing and metering modes.
| | |
| --- | --- |
| | |
| Front | Side |
The camera's rear screen is a generous 3" Organic LED display with a resolution of 610,000 dots. This monitor has excellent viewing angles and a good sharpness to images and text alike, but its colours are not always representative of what you'll see after downloading your photos to a computer and viewing them on a calibrated screen.
The Olympus Tough TG-1 has a very decent movie mode. The available video resolutions range from VGA to 720p to 1080p Full HD, and you can use the optical zoom while filming. What's more, the camera has a pair of stereo microphones on its top plate, which are capable of recording above-average quality audio. Importantly, you can also shoot movies in Macro and S-Macro LED modes, enabling you to capture tiny beings in their natural habitats – an important consideration for an "adventure" camera. The Olympus TG-1 has an HDMI out port allowing users to play back their videos on an HD TV.
The camera's rugged credentials are among the best we've seen from Olympus. It's waterproof down to depths of 12m for up to an hour, freezeproof to -10 °C, crushproof to 100kg and able to survive drops from a height of up to 2m. The battery / memory card compartment and connection ports (a multi-terminal and an HDMI connector) are protected by sturdy covers with double locks. The body is metal, and build quality is very good, as you would expect from a camera of this class. Those who wish to go deeper than the specified 12m can purchase an additional PT-053 housing which allows them to take the cameras to a depth of 45m, although it costs almost as much as the camera itself.
| | |
| --- | --- |
| | |
| Memory Card Slot | Battery Compartment |
In use, we have found the Olympus Tough TG-1 to be faster and more responsive than any other all-weather camera from Olympus. Previous models in the Tough range tended to suffer from slow focusing and a sluggish interface – thankfully, both of these have been addressed in this model. That doesn't mean it's on a par with your SLR camera, of course – erratically moving subjects can still prove a challenge for the auto focus system, but that's to be expected from a compact camera.
In terms of continuous shooting, the TG-1 does a very decent 5fps in 12-megapixel mode, with up to 60fps available at a reduced resolution. As you'd expect from an "outdoor" camera, the Olympus TG-1 features an integrated GPS module for automatic geotagging and creating GPS track logs. These track logs are stored in the GPSLOG directory on the memory card. A built-in manometer allows the camera to display the current altitude or water depth and warn you when approaching the maximum depth it's rated for. The camera has a slimline built-in flash, which isn't particularly powerful but surprisingly, it's compatible with the Olympus Wireless RC Flash System.
The Olympus Tough TG-1 is powered by a proprietary lithium-ion battery which has to be charged in-camera, unless you purchase a separately sold UC-90 charger. Photos and movies are recorded on SD, SDHC and SDXC memory cards. And while the camera does not feature an integrated Wi-Fi module, it's at least compatible with Eye-Fi's wireless memory cards.