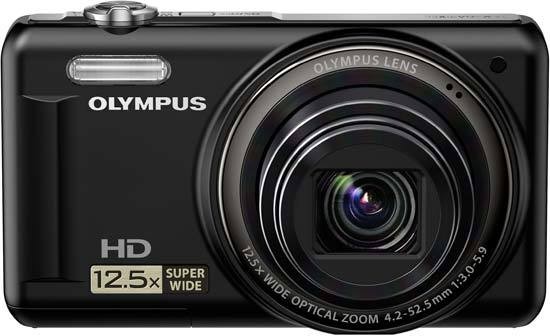 Image Quality
All of the sample images in this Review were taken using the 14 megapixel JPEG setting, which gives an average image size of around 5Mb.
As we've noted on previous occasions, travel zoom cameras are all about the quality of the performance at maximum wideangle and extreme telephoto; does the camera maintain edge-to-edge sharpness and avoid obvious barrel distortion as regards the former, and steer clear of repeated soft shots when shooting handheld as regards the latter?
Like we found when we tested the Olympus VR-320, which as with our VR-320 here offers a 300mm equivalent maximum reach, results were hit and miss. We noticeably struggled to achieve a sharp image shooting handheld towards the telephoto end of the zoom, and as noted in the main body copy even in broad daylight. And best to forget about interiors without flash entirely. Although not unheard of on a physically small camera with a broader than average focal range, it was disappointing that the VR-320 was not more reliable.
At the other 24mm end of the zoom, some corner softening is visible, if only on very close inspection. To nitpick further the familiar Olympus bugbear of the results from auto white balance shifting shot-to-shot even when shooting the same subject rears its head, and in bright sunlight some obvious purple pixel fringing and burnt out highlight detail was also noticeable. However did admire the arm and vibrant colours achievable when all the planets align correctly.
To accentuate the positive further, the Magic Filters are readily to hand to achieve added visual pep when required. The likes of pop art can be useful in accenting a particular colour scheme or you're faced with an otherwise dull day, with pin hole our second favourite and 'punk' unsurprisingly the most garish and visually arresting, though images with strong contrasts seem to work best in this mode.
For low light shooting without flash, the ISO range here may be nothing to write home about, starting out at ISO80 and going up to ISO1600. You'll want to stick at ISO400 if you want to avoid the speckled appearance of image noise however which makes itself readily visible without even having to enlarge a portion of the image at ISO800. At ISO1600 then, unsurprisingly we have both softened detail and increased noise, so is a top setting best left alone. A distinctly average performance from the VR-320 that doesn't come as a massive shock given the asking price.
Noise
The Olympus VR-320 has six sensitivity settings ranging from ISO 80 to ISO 1600. The 100% crops below show what the quality is like at each setting.
| | |
| --- | --- |
| ISO 80 (100% Crop) | ISO 100 (100% Crop) |
| | |
|   |   |
| ISO 200 (100% Crop) | ISO 400 (100% Crop) |
| | |
|   |   |
| ISO 800 (100% Crop) | ISO 1600 (100% Crop) |
| | |
Sharpening
Here are two 100% crops which have been Saved as Web - Quality 50 in Photoshop. The right-hand image has had some sharpening applied in Photoshop. The out-of-the camera images are a little bit soft at the default sharpening setting, and benefit from some further sharpening in a program like Adobe Photoshop.
| | |
| --- | --- |
| Original (100% Crop) | Sharpened (100% Crop) |
| | |
|   |   |
| Original (100% Crop) | Sharpened (100% Crop) |
| | |
Chromatic Aberrations
The Olympus VR-320 handled chromatic aberrations fairly well during the review, with some purple fringing present around the edges of objects in certain high-contrast situations, as shown in the examples below.
| | |
| --- | --- |
| Example 1 (100% Crop) | Example 2 (100% Crop) |
| | |
Macro
The Olympus VR-320 offers a Super Macro setting that allows you to focus on a subject that is 1cm away from the camera when the lens is set to wide-angle. The first image shows how close you can get to the subject (in this case a compact flash card). The second image is a 100% crop.
| | |
| --- | --- |
| Macro Shot | 100% Crop |
| | |
Flash
The flash settings on the Olympus VR-320 are Auto, Red-eye reduction, Fill-in, Off. These shots of a white coloured wall were taken at a distance of 1.5m.
| | |
| --- | --- |
| Flash Off - Wide Angle (24mm) | Flash On - Wide Angle (24mm) |
| | |
|   |   |
| Flash Off - Telephoto (300mm) | Flash On - Telephoto (300mm) |
| | |
And here are some portrait shots. Both the Flash On and the Auto/Red-eye Reduction settings caused a small amount of red-eye.
| | |
| --- | --- |
| Flash On | Flash On (100% Crop) |
| | |
|   |   |
| Red Eye Reduction | Red Eye Reduction (100% Crop) |
| | |
Night
The Olympus VR-320's maximum shutter speed is 4 seconds in the Candle scene mode, which is not great news if you're seriously interested in night photography. The shot below was taken using a shutter speed of 1/3 second at ISO 400.
| | |
| --- | --- |
| Night Shot | Night Shot (100% Crop) |
| | |