Panasonic Lumix DMC-3D1 Review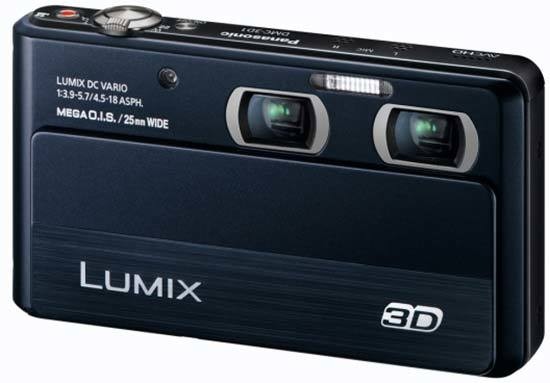 Introduction
The Panasonic Lumix DMC-3D1 is a new 3D compact camera. Sporting a 4x optical zoom and twin 25mm lenses, the Panasonic 3D1 can record 8 megapixel 3D photos and 1920x1080 3D HD video at the same time. Alternatively it can also use its twin lenses to record photos or video at different focal lengths. The Panasonic Lumix DMC-3D1 has a 12.1 megapixel High Sensitivity MOS sensor, a 3.5-inch Smart Touch screen and can shoot at 8 fps (without auto focusing) and 4 fps (with auto focusing) in full resolution. The Panasonic Lumix DMC-3D1 / ZS20 is available in black for £449.99 / $499.99.
Ease of Use
If you're a global electronics manufacturer/retailer and a chunk of your product range comprises 3D TV sets and 3D Blu-ray players, alongside cameras, then finding a means whereby the purchase of one might prompt a subsequent purchase of the other makes perfect sense.
Enter Panasonic's 12.1 million effective pixel Lumix DMC-3D1, the world's smallest 3D photo and video shooting camera. It's only the second ever compact - after Fujifilm's innovative yet chunky 'true 3D' W1 and W3 pocket cameras of a couple of years back - to feature a twin lens set up via which to generate its stereoscopic images. Prior to this Panasonic had of course offered a 3D lens for its interchangeable lens Lumix cameras. But now with the advent of the 3D1 users can purely point and shoot to generate their own 3D content and combat the paucity of currently available commercial 3D material.
Whereas the Fujis featured a twin lens and twin sensor set up, plus provided a lenticular-like display on the camera monitor so users could very usefully get an impression of the 3D effect generated on the back of the camera itself, Panasonic's rival fields two 12.8 megapixel High Sensitivity Mos sensors coupled with Venus Engine processor and a 'regular' 2D touch screen LCD. Ape-ing how the images and video might look once the camera is hooked up to a flat screen TV, this LCD is presented in elongated widescreen ratio.
While this doesn't provide a 3D view or display the MPO file format stereoscopic shots - these, as with most rivals, are only viewable on an actual 3D equipped TV - it does provide a lower resolution 2D JPEG in the same widescreen image ratio, so users can at least check they have all the compositional elements they want in shot on the back of the camera, and also have something viewable on a standard PC.
Generally, we find that self-shot 3D images work best when there are points of interest in both foreground, middle and background of shot, so it's a case with the 3D1 of composing a little differently than one normally would, which takes a little practice. In terms of connectivity, an HDMI output port is provided beneath a plastic flap at the camera's side, alongside an adjacent port for AV/USB output. An actual HDMI lead costs extra, though mains lead, charger, USB lead, wrist strap and stylus are included, along with basic quick start guide and software CD.
While the Panasonic Lumix DMC-3D1 may not be an exact match for the marvels of its Fuji predecessors, one advantage is that it is much more svelte and pocket friendly. Indeed, with its slide-open-and-shoot faceplate and brushed metal detailing, this Panasonic reminds us very much of the more fashion-conscious Sony Cyber-shot point and shoots, which, rather than deploying twin lenses, instead use software enhancements to generate their own 3D panoramas.
Like the Sonys, because of Panasonic's thumb-width depth, the optics of the 3D1 are folded within the camera's chassis. There is a zoom facility - a 4x optical zoom in fact - with a familiar lever encircling the shutter release button on the top plate, but at no point does either of the lenses protrude from the body. Focal range for each of the 3D1's optics in 2D mode is the equivalent of a wide angle 25-100mm on a 35mm film camera. In both 2D and 3D modes, the available focusing area is from 50cm to infinity at maximum wide angle and from 100cm to infinity when zoomed right in. Additionally, when in 2D mode macro/close up shooting down to 5cm is delivered, but not in 3D mode.
Other features differ between the two shooting formats - for example the 27 pre-optimised scene modes are only accessible when shooting in 2D. And, while for video, frame rate and resolution can be varied and adjusted when shooting 2D (for example users can 'dial down' to 640x480 pixels if so wished), if recording video in 3D the quality is automatically set at maximum 1920x1080 pixels.
| | |
| --- | --- |
| | |
| Front | Rear |
Similarly in 2D mode an ISO range stretching from ISO100 to ISO3200 (with ISO6400 equivalent High Sensitivity mode accessible via the scene modes) is manually adjustable. In 3D mode any ISO adjustment is fully automatic.
The downsizing of components to shoehorn two lenses into the 3D1's body has been achieved, says Panasonic, via the implementation of a new slim actuator for the shutter and iris control, and the re-designing of the camera shake reducing optical image stabiliser (OIS). The two lens units have also been downsized in length and diameter, and are comprised of 11 elements in 10 groups with five aspherical lenses.
While the Panasonic offers the ability to record Full HD 1920x1080 video clips outputting at 25fps  in 3D (and AVCHD or MPEG4 video compression format) as well as stills, the 3D photos in question are a maximum 8 megapixels, not 12.1MP. The full 12 megapixels is only available if shooting in 4:3 aspect ratio in 2D mode.
While this is perfectly usable, once you've got used to these quirks, obviously you've got to want to use the 3D facility on a regular basis to even consider this camera - especially as for the high-ish £450 UK asking price you could buy a beginners' DSLR or Panasonic's LX5. Otherwise purchasing something along the lines of an Olympus or Sony compact for 16 megapixel 2D shots in the main, and the occasional software-enabled 3D snap, makes sense.
In practice, switching between 3D and 2D shooting on the Panasonic is simplicity itself. There is no need to delve into menu screens as a dedicated 2D/3D selection lever features top right of the backplate, which is otherwise devoid of physical controls because of the implementation of the large and long 3.5-inch touch screen. This boasts a high-ish 460k-dot resolution touch screen, so physical buttons are kept to a minimum.
In 2D mode, one advantage of having two lenses is that photos can be captured with two different angles of view, one wide, and one telephoto. See some examples of this in the images section of our review. In practice the opportunity to shoot in this novel manner takes a bit of getting used to, particularly as having two 2D views presented on the backplate LCD (one large, the other small) as you're lining up the shot can be a tad distracting and discombobulating.
To be honest rather than embracing a wealth of photographic possibilities at times the 3D1 made me long for a regular single lens camera back in my hands. Still, if it all gets a bit of a headache, a finger press of the camera icon and you can switch from 'Wide and Zoom Dual Shot' mode to 'Normal Picture' taking mode. And, rather than all this technology eating up battery life, the power here lasts for up to 200 shots - in other words the equivalent of a regular £100 snapshot, but still rather poor if comparing this with what you could otherwise get for £450. Plus at one stage we found ourselves recharging the camera when we'd barely shot 70 images.
There are some other interesting tinkerings taking place under the 3D1's bonnet though. Panasonic is claiming that dramatically clear low light results are achievable with the camera thanks to multi process noise reduction that suppresses high frequency noise in darker areas and low frequency noise in lighter areas of an image. On top of this the 3D1 provides an intelligent Handheld Nightshot option that takes a burst of images and layers them to provide a blur reducing result, something that proved very effective in our own tests.
Talking of bursts, maximum consecutive shooting speed with the 3D1 is either 4fps with auto focusing at full resolution, or 8fps also at full resolution but without auto focusing. Panasonic's standard issue intelligent Auto mode allows for brain disengaging snapshot photographs, for when users really do just want to point and shoot.
| | |
| --- | --- |
| | |
| Front | Top |
For a camera that rests as easily in your palm as a back pocket, and measures 108x58.5x24.1mm, the 3D1 does appear to pack a lot in for its pricey outlay. It weighs a manageable 171g without rechargeable battery and card - all varieties of SD media - and 193g with. As we've come to expect from Panasonic, build quality feels high, the camera is solid and there's a lot of visible metal in the build, even when partly disguised by the matt black version we had for review. It's 3D done with a smattering of style.
From the front then, the 3D1 with protective lens barrier pushed up and obscuring the twin lenses is a monolithic chunk of minimalism. As we've noted it recalls the look and indeed feel of Cyber-shot cameras with their own smooth and flat faceplates plus internally stacked lens mechanisms. The only clue that this camera is anything other than a fashion-conscious snapshot when viewed from the front in this dormant state is the '3D' logo to the right hand edge.
Sliding down said cover unveils the two lenses positioned top right and about a centimetre apart, with the thin lozenge shaped sliver of the built-in and surprisingly underpowered flash positioned directly above and between them. To the left of all three is a small porthole window housing the self timer and AF assist lamp, the latter activated or deactivated via the set up menu, and the former accessed via the main shooting menu. This menu is presented in the form of icons on a toolbar that runs along the bottom of the screen. It has to be said that for the uninitiated it's not immediately clear what the purpose of each menu icon for the various camera, video and set up modes is. So a degree of familiarization and a period spent playing around is required, even though the first impression of the 3D1 is of a device that is stripped back to the essentials.
The top plate of the camera is conventional enough. The largest physical control here is of course the slightly raised shutter release button, which is encircled by the zoom lever. To the right of this is a much smaller, recessed red record button for nigh instant 'one touch' video capture, and to the left of the shutter release button we find an equally small (and again recessed) power button.
Over at the other side of the top plate are left and right stereo microphones and alongside them the built in speaker, which, when steadying the camera in both hands it's easy to obscure with a finger. Still better this than accidentally obscuring the microphones when recording. Another problem, which inflicts most compacts with internally stacked zooms, is that a finger can occasionally wander in front of the left most of the 3D1's two lenses. So we had to watch out for that too.
The Panasonic powers up in a couple of second and because of the design there are two ways to achieve this. The easiest and quickest is to simply slide down the lens cover, at which point the LCD screen bursts into life and the camera with it. The other route to powering up is a press of the top plate on/off button, but since users do have to slide open the lens cover anyway to take a shot, we found ourselves using the power button only when the lens cover open but the camera had automatically powered down to preserve battery life.
A half squeeze of the 3D1's shutter release button and there's a brief operational pause while the camera visibly makes its adjustments prior to a green AF square appearing, a beep confirming that the user is free to push down fully on the shutter release and take the shot. Do so, and in Normal Picture mode a full resolution 12 megapixel JPEG is committed to memory in 3-4 seconds. Along with the slow-ish AF then, not the fastest response ever, but it's worth remembering that despite the asking price this is basically a point and shoot camera.
As touched on earlier, with the camera switch flicked to '2D' mode, there are four shooting modes to choose from. These are selected with a tap of the camera icon that appears bottom right of screen. Incidentally the view presented here is in 4:3 aspect ratio, with black bands framing the otherwise 16:9 ratio screen at the left and the right.
We get the Normal Picture mode as previously described - Program mode by another name - plus Panasonic's regular 'smart' intelligent Auto mode that recognizes scenes and subjects and applies pre-set parameters to achieve optimum results - and very reliable it is too.
| | |
| --- | --- |
| | |
| Memory Card Slot | Battery Compartment |
Just beneath these is a square that with a finger tap implements the Wide & Zoom Dual Shot mode that we had trouble getting our heads around earlier, and which as it sounds delivers a wide and a close up shot of the same subject from slightly differing angles as obviously it is using both lenses.
The fourth shooting option is scene mode. Select this and we get the usual pre-optimised 'suspects' of portrait, kids and pets plus high sensitivity setting and low light night scene and useful multi capture hand held night shot mode.
While there's no physical playback button provided on the 3D1, whether the switch is flicked to 2D or 3D mode it's not missed as a virtual control is provided instead. This familiar green triangle sits beneath the camera icon for the above shooting modes.
Underneath these two virtual buttons we're offered a further pair: one for activating the ability to fire the shutter simply by tapping your subject on screen, with the second 'button' providing an alternative means of adjusting the zoom. Tap this and an admittedly very cool graphic of a dial appears on the right hand side of the screen. Drag a finger over its upper half to zoom in, or its lower half to zoom out. It's that intuitive; plus the response is in real time too.
Over at the left hand side of the screen, we get buttons for summoning up the on-screen menu/function list, which appears on that icon-led toolbar at the bottom of screen which is scrolled through with a tap of the arrow keys at either end. Though as we've noted the function of each icon is not always apparent until you've selected it, but the appearance is less daunting and cleaner than text spread across several menu folders, as on most rival snapshots.
Below the menu button is a 'display' button, a tap of which clears settings from the central 4:3 crop ratio part of the screen if you have 2D mode selected, but not from the black bands at the sides. These bands are obviously omitted if shooting in 3D mode, whereby the picture fills the whole screen. A subsequent tap in display mode summons up a nine zone compositional grid for those wishing to practice their Rule of Thirds.
Showing its point and shoot credentials, Panasonic has provided a dedicated button for summoning up the camera's self timer options - two seconds or 10 seconds - rather than providing a dedicated button for the likes of ISO selection, which might possibly have been more helpful. Instead ISO (ISO-100 to 3200) is selected via the menu bar.
You may be thinking what's missing here is a dedicated delete button. Well, one is provided, albeit only in playback mode, as is a checker board type icon, a tap of which displays captured shots as a series of thumbnails that can be scrolled through en mass.
At the base of the camera we're naturally provided with a screw thread for attaching a tripod - here positioned slightly off centre, while also present and correct is compartment housing both battery and SD media card, positioned side by side.
Despite the slightly off-putting Wide & Zoom Dual mode whereby as a user you're concentrating on two views at once, should you ever want to do so, the 3D1 is relatively easy to use, and, if you have the rear switch flicked to the correct setting, the generation of 3D images really is just a matter of pointing and shooting. But what are said shots and video actually like? Read on to find out more…