Panasonic Lumix DMC-3D1 Review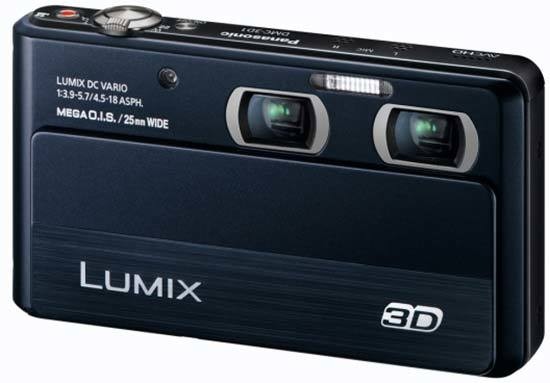 Image Quality
All of the sample images in this Review were taken using the 12 megapixel Fine JPEG setting, which gives an average image size of around 5Mb.
With the choice of swapping between standard 2D capture and stereoscopic shots and smooth-in-appearance High Def movies at the flick of a switch, the 3D1 certainly offers versatility yet simplicity in equal measure. But we are obviously paying a premium for that here. While images are bright and colourful, with the richness we expect from Panasonic, respectably even exposures are delivered under daylight conditions and the handheld night mode is very useful for avoiding shaky, blurred shots when shooting in low/er light, it must be remembered that the 3D1 is a point and shoot camera. So, inevitably, it produces shots that are very much snapshots. By which we mean slightly soft and lacking in contrast - something that can be adjusted to an extent in Photoshop for sure - but if you don't need 3D, a sub-£200 camera would deliver similar results.
There is also some softening and curvature towards the edges of frames taken at maximum 25mm equivalent wide angle setting, as well as the usual bugbear of pixel fringing between areas of high contrast - where a featureless sky meets the branches of a tree most notably. But again you've really got to want the 3D facilities on offer here to even consider the camera. As mentioned we get 4:3 ratio images - the standard default ratio for digital photographs - when shooting in 2D mode, and elongated widescreen ratio images as the default when shooting in 3D mode; we've presented both here so you can see the quality though unfortunately we can't provide an indication of the actual 3D MPO files.
In terms of low light photography we're witnessing noise creeping into shots as low as ISO800, though this has not got a great deal more intrusive by ISO1600. At ISO3200 it is a lot more noticeable, providing a speckled look across the frame, while the High Sensitivity setting selectable from amongst the scene modes seems to apply so much processing at higher ISOs that we're getting a soft look which affects the photo's realism. Stick to ISO800 or below for the best results then: which is nothing out of the ordinary for a regular snapshot.
Noise
There are 6 ISO settings available on the Panasonic Lumix DMC-3D1. Here are some 100% crops which show the noise levels for each ISO setting.
| | |
| --- | --- |
| ISO 100 (100% Crop) | ISO 200 (100% Crop) |
| | |
|   |   |
| ISO 400 (100% Crop) | ISO 800 (100% Crop) |
| | |
|   |   |
| ISO 1600 (100% Crop) | ISO 3200 (100% Crop) |
| | |
Sharpening
Here are two 100% Crops which have been Saved as Web - Quality 50 in Photoshop. The right-hand image has had some sharpening applied in Photoshop. The out-of-the camera images are a little soft at the default sharpening setting and benefit from some further sharpening in a program like Adobe Photoshop. You can change the in-camera sharpening level via the Picture Adjust menu option.
| | |
| --- | --- |
| Original (100% Crop) | Sharpened (100% Crop) |
| | |
|   |   |
| | |
Focal Range
The Panasonic Lumix DMC-3D1's 4x zoom lens provides a focal length of 24-100mm in 35mm terms, as demonstrated below.
| | |
| --- | --- |
| 25mm | 100mm |
| | |
Chromatic Aberrations
The Panasonic Lumix DMC-3D1 handled chromatic aberrations well during the review, with limited purple fringing present around the edges of objects in certain high-contrast situations, as shown in the examples below.
| | |
| --- | --- |
| Example 1 (100% Crop) | Example 2 (100% Crop) |
| | |
Macro
The Panasonic Lumix DMC-3D1 offers a Macro setting that allows you to focus on a subject that is 5cms away from the camera when the lens is set to wide-angle. The first image shows how close you can get to the subject (in this case a compact flash card). The second image is a 100% crop.
| | |
| --- | --- |
| Macro Shot | 100% Crop |
| | |
Flash
The flash settings on the Panasonic Lumix DMC-3D1 are Auto, Auto/Red-eye Reduction, Forced On, Slow Sync./Red-eye Reduction, Forced Off. These shots of a white coloured wall were taken at a distance of 1.5m.
| | |
| --- | --- |
| Forced Off - Wide Angle (25mm) | Forced On - Wide Angle (25mm) |
| | |
|   |   |
| Forced Off - Telephoto (100mm) | Forced On - Telephoto (100mm) |
| | |
And here are some portrait shots. As you can see, neither the Flash On or the Auto/Red-eye Reduction settings caused any red-eye.
| | |
| --- | --- |
| Forced On | Forced On (100% Crop) |
| | |
|   |   |
| Auto/Red-eye Reduction | Auto/Red-eye Reduction (100% Crop) |
| | |
Night
The Panasonic Lumix DMC-3D1's maximum shutter speed is 15 seconds, which is great news if you're seriously interested in night photography. The shot below was taken using a shutter speed of 4 seconds at ISO 100. I've included a 100% crop of the image to show what the quality is like. The camera takes the same amount of time again to apply noise reduction, so for example at the 15 second setting the actual exposure takes 30 seconds.
| | |
| --- | --- |
| Night Shot | Night Shot (100% Crop) |
| | |