Panasonic Lumix DMC-FP3 Review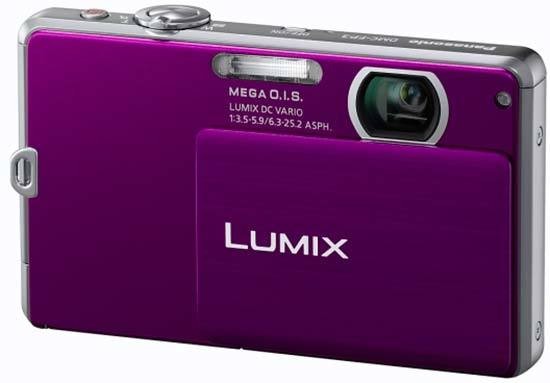 Image Quality
All of the sample images in this Review were taken using the 14 megapixel Fine JPEG setting, which gives an average image size of around 5Mb.
On a clear day with bold blue skies the Panasonic Lumix DMC-FP3 delivers a sterling performance, with vibrant colour reproduction, commendably even exposures and edge-to-edge sharpness. But these are ideal conditions for the photographer, and the only nit we can pick here regards the Panasonic group's occasional tendency to render natural blue skies a shade of turquoise when there is a lot of natural green foliage in the foreground.
On overcast days it can't quite pull the same colour-rich tricks out of the bag however, providing a more washed out look, though again good exposure latitude is delivered. The same can't quite be said when shooting interiors without flash - especially when the camera is left on iAuto - whereby there's a tendency, when the flash is manually disabled, to boost the ISO until images taken in seemingly sufficient natural daylight begin to appear quite noisy/grainy; a product of too many pixels for the chip in question?
Inevitably there are instances of pixel fringing visible when zooming in close on detail, but again such artifacts are quite subtle and most users would never notice even if they were printing up to poster size. So, on the whole, and when used as a general purpose tool, the FP3 acquits itself quite well and would be a good reliable choice for the undemanding snapper who just wants to point and shoot and let the camera worry about whatever settings will get the best out of a given scene or subject.
As suspected noise starts to intrude in shaded areas of the FP3's images from ISO 400, becoming noticeable across the entirety of the image as fine 'grit' at ISO 800. At ISO 1600 images are not only gritty in appearance but we're also beginning to lose definition, with a smudged, watercolour-like appearance suggesting Panasonic was chancing its arm even going as high as ISO 1600 with a 14MP chip. Given this you don't actually lose anything (except pixels) in opting for ISO 1600 High Sensitivity mode as the resolution drop slightly disguises the grain and so directs attention back to the subject itself.
Noise
There are 6 ISO settings available on the Panasonic Lumix DMC-FP3. Here are some 100% crops which show the noise levels for each ISO setting.
| | |
| --- | --- |
| ISO 80 (100% Crop) | ISO 100 (100% Crop) |
| | |
|   |   |
| ISO 200 (100% Crop) | ISO 400 (100% Crop) |
| | |
|   |   |
| ISO 800 (100% Crop) | ISO 1600 (100% Crop) |
| | |
Sharpening
Here are two 100% crops which have been Saved as Web - Quality 50 in Photoshop. The right-hand image has had some sharpening applied in Photoshop. The out-of-the camera images are a little soft at the default sharpening setting and benefit from some further sharpening in a program like Adobe Photoshop. You can change the in-camera sharpening level via the Picture Adjust menu option.
| | |
| --- | --- |
| Original (100% Crop) | Sharpened (100% Crop) |
| | |
|   |   |
| | |
Chromatic Aberrations
The Panasonic Lumix DMC-FP3 handled chromatic aberrations excellently during the review, with very limited purple fringing present around the edges of objects in certain high-contrast situations, as shown in the example below.
Example 1 (100% Crop)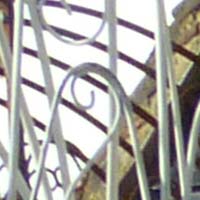 Macro
The Panasonic Lumix DMC-FP3 offers a Macro setting that allows you to focus on a subject that is 3cms away from the camera when the lens is set to wide-angle. The first image shows how close you can get to the subject (in this case a compact flash card). The second image is a 100% crop.
| | |
| --- | --- |
| Macro Shot | 100% Crop |
| | |
Flash
The flash settings on the Panasonic Lumix DMC-FP3 are Auto, Auto/Red-eye Reduction, Forced On, Slow Sync./Red-eye Reduction, Forced Off. These shots of a white coloured wall were taken at a distance of 1.5m.
| | |
| --- | --- |
| Forced Off - Wide Angle (35mm) | Forced On - Wide Angle (35mm) |
| | |
|   |   |
| Forced Off - Telephoto (140mm) | Forced On - Telephoto (140mm) |
| | |
And here are some portrait shots. As you can see, neither the Flash On or the Auto/Red-eye Reduction settings caused any red-eye.
| | |
| --- | --- |
| Forced On | Forced On (100% Crop) |
| | |
|   |   |
| Auto/Red-eye Reduction | Auto/Red-eye Reduction (100% Crop) |
| | |
Night
The Panasonic Lumix DMC-FP3's maximum shutter speed is 60 seconds, which is great news if you're seriously interested in night photography. The shot below was taken using a shutter speed of 4 seconds at ISO 80. I've included a 100% crop of the image to show what the quality is like. The camera takes the same amount of time again to apply noise reduction, so for example at the 15 second setting the actual exposure takes 30 seconds.
| | |
| --- | --- |
| Night Shot | Night Shot (100% Crop) |
| | |