Panasonic Lumix DMC-FP8 Review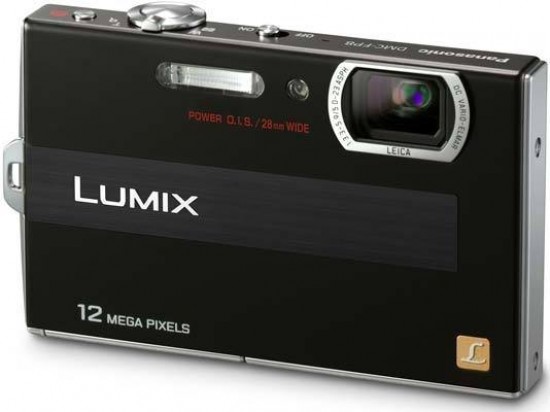 Introduction
The Panasonic Lumix DMC-FP8 is a new 12.1 megapixel compact camera with a 28mm, 4.6x Leica DC lens. The FP8 is quite different to previous designs from Panasonic, featuring a futuristic flat body and retracting lens with folding optics and blue LED cursor buttons that light up when pressed. In addition to the radical look, the Panasonic FP8 also offers 27 scene modes, including the High Dynamic mode which helps to capture a scene with moderate exposure, plus HD movies recorded at 720p quality, Venus Engine V image processor, Intelligent Auto mode for hassle-free shooting, and Power O.I.S to help prevent camera-shake. Available in red, black and silver, the Panasonic Lumix DMC-FP8 is priced at £249.99 / $299.95.
Ease of Use
In something of a design departure, Panasonic has introduced the flat fronted, square-edged 12.1 megapixel FP8 to the Lumix range of beginner-friendly, pocket-sized point-and-shoot compacts. It recalls similarly slender Sony Cyber-shots to an extent, yet even more closely apes older Konica Minolta Dimage X series digital snapshots, not just in looks but also because it features folded optics - here Leica branded - that ensure that at no point does its internally stacked 4.6x optical zoom (a 35mm equivalent 28-128mm) protrude from the body. Is imitation really here a form of flattery, or a merely a following of an already tried and tested route?
Curiously though, there's no automatic cover protecting the lens of this digital doppelganger when the camera is inactive, the glass of the FP8 permanently exposed. This inevitably means it quickly becomes smeared with fingerprints when taking the camera in and out of pockets, whilst the lens positioning towards the right hand edge of the faceplate means fingertips can initially stray into shot when gripping the camera in both hands. Hand this camera to a friend or passer by to take your photograph and there are bound to be such problems.
Clearly aimed at the fashion conscious 'status seeker', the Panasonic DMC-FP8 comes in a choice of silver, black or red bodies. We had the almost crimson version in for review and, though it lacks the sense of sophistication of the alternatives, it's certainly the most eye-catching. As an added attention grabber the unit's back plate buttons are illuminated in pale blue when in use, and bleep when pressed. Fortunately the sound can be de-activated if you want to avoid drawing attention to yourself when attempting candid shots, and the lit buttons can themselves be snuffed out if you want to look more the consummate photographer and less the gamer.
Minimalist appearance and gimmicky controls aside, the FP8's key features include its aforementioned 28mm wide-angle lens, HD movies of the 1280x720 pixels variety (with selectable 16:9 image ratio alongside 4:3 or 3:2), 2.7-inch 230k-dot LCD screen for framing in the absence of an optical viewfinder, ISO 80-1600 light sensitivity (extendable to ISO6400 via the fully auto High Sensitivity scene mode), Panasonic's pioneering intelligent auto (iA) functionality whereby the camera 'recognises' the subject before it and automatically adjusts settings, 'Power' OIS (optical image stabilization) said to be twice as effective at combating camera shake as Panasonic's previous implementation of OIS (not that we noticed), plus continuous shooting up to 10 frames per second with the caveat of incremental resolution drops (otherwise it's 2.3fps).
This functionality is all wrapped up within a solid-feel aluminum body that's portably lightweight at just 131g without supplied lithium ion rechargeable battery, or the removable SD/SDHC media card required to expand the 40MB internal cache provided.
So, taking the above into account, could the Panasonic Lumix DMC-FP8 be yet another contender for the hard fought accolade of 'ultimate travel compact'?
| | |
| --- | --- |
| | |
| Front | Rear |
The FP8's stripped down front suggests a camera of subtlety and quiet confidence, its only readily apparent features being the aforementioned lens, small porthole serving the dual purpose of housing a self timer indicator and AF assist lamp, plus thin lozenge-shaped strip for the built-in flash which has a respectable maximum reach of 5.5 metres. Take care though, the diminutive 95.7x59.6x20.2mm camera dimensions also mean the user's middle finger can stray in front of the flash too if you're not careful.
Matters only get marginally busier with an examination of the Panasonic's top plate, familiar rocker switch with raised 'lip' for operating the zoom encircling a springy shutter release button. With a small, dedicated iA mode button to the right of this and barely noticeable pinprick for the built in microphone plus a switch for powering the camera up or down to the left, the FP8 readies itself for action in just over a second - very speedy for this class of compact - its rear controls glowing blue before the rear LCD displays the image in front of the lens.
The zoom action is smooth and steady, gliding languidly from maximum wide angle to extreme telephoto in approximately three seconds. There's no Quick Zoom button provided here.
Press the shutter release button halfway and the camera is swift to determine focus and exposure in under a second, central AF point highlighted in green followed by a beep of affirmation. Go on to press the shutter release down fully and maximum resolution JPEGS are committed to memory in a couple of seconds, metering on the money for the most part. So in terms of speed of response we have little to grumble about in the FP8.
Unsurprisingly two thirds of the Panasonic DMC-FP8's back plate is swallowed up by the adequate 2.7-inch 230k-dot resolution LCD on offer for shot composition and review. We say adequate, because while the screen is relatively clear in terms of visibility when shooting outdoors, when panning around rooms indoors there is slight ghosting and image lag visible; not unexpected at the entry level end of the market.
Whether the screen is utilised as an electronic viewfinder, or a display device for playing back images, is determined by a slider switch top right of the camera back, a location that ensures it naturally falls under the thumb. While this makes for quick access, the fact that a switch has to be thrown, rather than a button pressed, to alternate between capture and review means that a half press of the shutter release button when in playback mode won't automatically throw the user back into capture mode. This means that sudden, unexpected photo opportunities can be lost as the user has a switch to fumble with before the shutter can be fired.
| | |
| --- | --- |
| | |
| Front | Top |
To the right of the LCD are eight small and narrow thumb-operated control buttons that appear larger than they are by (as previously mentioned) glowing attractively in unison when one of them is pressed.
Top left of the eight controls is a self-explanatory mode button. Press this and users are offered the choice of taking a 'normal' fully auto picture, selecting one of the pre-optimised 28 scene modes for just about any given subject, or opting for My Scene Mode, whereby the camera is always set to one particular subject of the user's choosing, all of which are again reproduced in slightly superfluous fashion. The last shooting mode option is for video capture, while a press of the dedicated iA button to the right of the shutter release on the camera's top plate lets the user quickly flip between auto capture and whatever alternative mode was last in use; so far so straightforward.
The FP8's beginner friendly operation continues in the shape of the menu/set button provided alongside the mode control. Press this when in record mode and four folders of shooting settings are provided, each limited to five options to prevent the intended user from becoming overwhelmed with choice.
The ability to control picture size and quality lead the options found here, which include the ability to turn on/off automatic features such as intelligent ISO (capping the camera's ability to shoot at ISO400 or ISO800 rather than ISO1600 if so desired) plus face recognition, intelligent exposure, and even cap minimum shutter speed to a setting of your choosing. Colour effects can additionally be deployed; with the choice of swapping the default 'standard' look to natural, vivid, black and white, sepia, cool or warm.
Added to the four shooting mode folders are a further five set up folders. These allow the likes of monitor brightness to be adjusted as well as thankfully including the option to turn the illuminated keypad off if it begins to grate. The menu display can also be presented in a larger typeface if desired. Ensuring all the usual suspects are here, a compositional grid and live histogram showing brightness levels in your image can be called up on screen.
The playback folders accessible with a press of the same menu button allow the user to perform some rudimentary image edits including the ability to re-size and trim, but, more unusually, to level wonky horizons and usefully transfer shots from internal memory to inserted SD card.
| | |
| --- | --- |
| | |
| Memory Card Slot | Battery Compartment |
Staying at the back of the Panasonic DMC-FP8, below the mode and menu/set buttons we find cross keys affording access to the adjustment of exposure (the standard issue -/+ 2EV), flash modes (auto, auto with red eye reduction, forced on, slow sync with red eye reduction or simply off), macro mode (AF macro or macro zoom), plus self timer (10 seconds or two seconds).
The final two buttons on the FP8's back are the self explanatory 'display' - turning essential shooting info off or, with a further press, adding a nine zone compositional grid - plus the less self evident 'Q Menu' (or Quick Menu) which offers up a shortcut to key shooting settings in the form of a tool bar with drop down options running across the top of the screen.
Here we get access to image stabilizer settings, burst shooting, AF modes, white balance, ISO, intelligent exposure (on/off), picture size and LCD mode (including a 'high angle' visibility option for shooting over the heads of a crowd when holding the camera at arm's length). In playback mode the same button doubles up as an essential delete button.
The base of the Panasonic DMC-FP8 is a similarly simplistic affair, featuring a centrally located screw thread for attachment to a tripod plus, directly alongside, a sliding door hiding the rechargeable lithium ion battery, good for up to 350 shots from a single charge. That's certainly respectable, without being class leading.
The same 'respectable without being class leading' assessment could be leveled at the FP8 as a whole. Though most of what we expect to find here is present and correct, the camera lacks sparkle, except in the very basic sense, as indicated by its illuminated buttons and smooth to the touch aluminum surfaces. Though surface glitz may be reason enough to purchase for some, much of what is here we've seen before, both within Panasonic's own range and, as mentioned, that of others several moons before.
Can the pictures the Panasonic DMC-FP8 produces therefore lift our spirits and very real sense of deja vu? The 'trouble' with compacts boasting internally folded, or vertically stacked, optics is that as much emphasis has been obviously put on form as function. So does this mean that performance has been sacrificed on the altar of style? Read on to find out.