Panasonic Lumix DMC-FS18 Review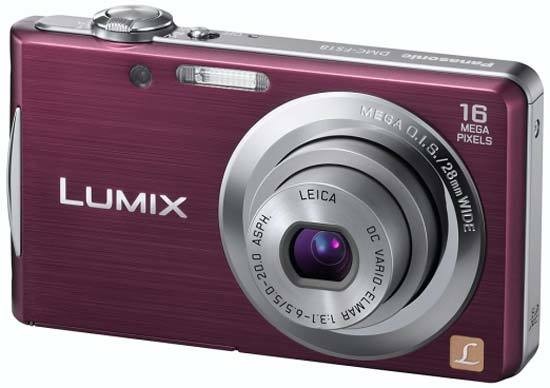 Introduction
The Panasonic Lumix DMC-FS18 (also known as the DMC-FH5) is a 16 megapixel compact digital camera with a 4x, 28-112mm optical zoom lens. Measuring just 19mm thick, the FS18 also features a 2.7 inch LCD screen and it can record 720p HD movies at 24fps. The DMC-FS18 offers Panasonic's now standard Intelligent Auto mode for quick and easy shooting, optical image stabilisation, fast AF system, High Sensitivity mode and 5x Intelligent Zoom. The FS18 / FH7 is available in silver, black, gold or violet for £139 / $169.
Ease of Use
On the lookout for a consistent performing pocket zoom offering point and shoot simplicity and decent results without the need to spend a king's ransom? Panasonic is normally a reliable first stop. The 16.1 effective megapixel, 4x optical zoom Panasonic Lumix DMC-FS18 is one of two new slim-line pocket shooters from the brand for 2011, the other being the 14.1 megapixel FS16 which naturally sits just below it in the 'FS' (fashionable and stylish) range.
Both cameras boast an optically image stabilised wide-angle 28mm equivalent Leica branded lens - here extending up to 112m at the telephoto end - shoehorned into their slender 18.8mm depth. We also get an f/3.1 maximum lens aperture and 1/2.33-inch CCD sensor. Overall dimensions are 94.3x53.5x18.8mm, and the FS18 weighs a very manageable 121g with battery and SD memory card (104g without), pulling off that trick of feeling portably lightweight held in the palm, yet reassuringly sturdy when grasped tighter. The slender portions ensure it meets the demands of current fashion - eye appeal being buy appeal - with the black finish accentuating its dinky-ness. Other than that it's the usual boxy Panasonic rectangle; in other words nothing we haven't seen before.
As well as stills, 1280x720 pixels High Def video clips are further offered, here at 24fps and recorded in Motion JPEG format. Both are composed and reviewed via the aid of adequately visible if nothing special 2.7-inch, 230k dot resolution LCD, here presented in 4:3 aspect ratio with a 100% field of view, images written to optional SD card or 70MB internal memory straight out of the box. The screen is also auto adjusting according to ambient brightness levels, with 11 incremental steps for it to choose from. If you want to opt for the extremities of digital zoom, or as Panasonic calls it the 'Extra Optical Zoom', then this can be boosted up to a 36x equivalent, with inevitable resolution drop. Conversely, macro focus is down to 5cm from your subject, which isn't bad at this end of the market whilst at the same time hardly class leading.
In terms of image processing the FS18 sports a latest generation engine in the impressively monikered Venus Engine IV, which not only provides response times that in truth are average for its class, but also what Panasonic describes as Intelligent Resolution technology. Selectable by drilling down into the menus, the latter claims to detect and suitably enhance three areas of an image - outlines, detailed textures and areas of soft gradation - and purportedly does this pixel by pixel to achieve optimum results.
Like the FS37 further up the range, it's no surprise to find that the FS18 offers up to a maximum ISO6400 light sensitivity, as this is standard issue for the Lumix range, but this is only achievable if the camera itself opts for it in High Sensitivity low light mode. Otherwise the manually selectable top setting is a more modest ISO1600, perhaps an indication of the need to minimize possible noise arising from cramming so many pixels on an average sized CCD sensor. We'll see how it gets on in our 'image quality' section.
One of the most enticing features of the otherwise fairly modest FS18 is the price, this compact being an affordable £159.99 on its manufacturer's e-shop. We found prices closer to £130 elsewhere at the time of writing, which is much more like it and brings the Panasonic into line with the impressive if slightly smaller and thus fiddlier Nikon Coolpix S3100.
As, like that rival, the FS18 is a point and shoot camera first and foremost it's also no surprise to find intelligent Auto mode, now backed up with AF tracking and shadow/highlight enhancing intelligent exposure, featuring. There are 28 scene modes to choose from, with the camera's own Intelligent Scene Selector choosing from six modes to suit most common scenes or subjects: that sextet being macro, portrait, scenery, night portrait, night scenery and sunset. Largely reliable it is too. The above seem to be standard issue for the Lumix range this year, as this specification is identical to the FS37 model we were testing alongside this.
While those two cameras also look similar, they're not identical. From the front the svelte FS18 is your standard, unthreatening snapshot, though the mirrored chrome outer ring surrounding the retractable lens is a nice touch. Intentionally or otherwise, it lets the user catch sight of their face to enable self-portraiture.
| | |
| --- | --- |
| | |
| Front | Rear |
Above this and top left of the faceplate is a thin sliver of a window housing the built in flash; it's so slim it's almost like the flash is embarrassed to be there and is retreating within the bodywork. Having said that, the bulb's sufficiently far away from the edge of the camera to prevent the forefinger wandering accidentally in front when gripping the FS18 in the right hand, your thumb coming to rest on a pad of nine raised nodules at the rear to prevent slippage.
Otherwise as expected there's no grip at all to the attractive brushed metal front, just a semi circular chrome slither at the right hand edge. Portability not just practicality is the order of the day.
The FS18's top plate is similarly straightforward in terms of control layout, the main button being a large and obvious shutter release encircled by a lever for operating the zoom, with a ridged upper edge to promote purchase. This sits next to an old-fashioned on/off lever switch that there's certainly no mistaking, itself residing next to a pin prick of a built in microphone.
Flick the power switch and within a couple of seconds the rear LCD screen blinks into life and the lens extends to maximum wideangle setting ready for the first shot. This action is accompanied by a gnat-like mechanical buzzing, so it's disappointing but not wholly unexpected to find that the optical zoom is disabled when shooting movies. Although it does make a low grinding noise when utilized in stills mode, it isn't the loudest or most intrusive we've heard, so in this respect we feel Panasonic was perhaps being a little overly cautious. In stills mode the lens moves relatively sluggishly from maximum wideangle to extreme telephoto in around three seconds. There's no separate 'quick zoom' button as on the FS37.
A half press of the shutter release button and the FS18's LCD screen reveals the camera making its adjustments, the shot temporarily blurring before snapping into focus a second later. AF point/s are highlighted in green with an accompanying beep of confirmation that the shot is yours for the taking.
Squeeze the shutter release button fully and with minimal shutter lag (officially 0.007 seconds) a maximum 16 megapixel JPEG is committed to memory in the standard 2-3 seconds, screen momentarily blacking out before displaying a frozen frame of the image being stored; all pretty expected.
This being one of the cheaper Lumix models, the straightforward approach continues with a switch on the backplate for flicking between capture and playback modes. This unfortunately means that, as a time saver, a simple half squeeze of the shutter release won't propel the user back into capture mode if a fresh photo opportunity unexpectedly presents itself (as is the case with a standalone playback button) - the actual switch has to be thrown first. But we can live with this - lightning fast response times aren't what this camera is being sold on, but rather a reasonable amount of style for a modest outlay, which is its chief recommendation.
The other backplate controls are similarly no-nonsense for the entry-level user, being few in number and easily distinguishable. Rather than a bottle top style dial adorning the rear, we have a simple mode button.
| | |
| --- | --- |
| | |
| Front | Top |
A press of this when in record mode and we're presented with a choice of five shooting options, displayed as lozenge-shaped icons grouped in the centre of the screen. As this isn't a touch screen model these are highlighted with a tab back and forth of a standard issue circular command pad - the largest control found on the backplate - your choice selected with a press of the equally familiar menu/set button at its centre.
The five shooting modes displayed here are iA (intelligent Auto), which on the FS18 makes do with its screen icon rather than separate button of models higher up the Lumix range. We additionally have regular Program Auto (here called 'Normal' shooting mode), 'MS' mode - not manual shooting, but rather 'My Scene' mode - along with secondary standalone Scene mode, and finally, video shooting mode, again in lieu of a dedicated backplate button with which to begin recording. If you're wondering what the difference between the two scene modes - which present the exact same pre-optimised selections - are, then with My Scene mode the user is able to select their favourite setting and leave that as a default to be quickly returned to. There's not an actual manual mode - with the FS18 it's 'auto everything' point and shooting all the way.
If you alternatively flick the switch to playback, four grouped options are presented centre of screen: normal play(back), slideshow, filtering play (playback either by picture type/category, or those earmarked as favourites only) plus a calendar option - viewing images by the date they were taken.
At any point, a separate button just below and to the right of the control pad handily lets the user go back to a previous selection. The same button also doubles up as a dedicated delete button when the camera is in playback mode, plus Q.Menu (Quick menu) button when in image capture mode. As it sounds the latter brings up a toolbar of key shooting functions on screen to save otherwise having to drill down into menu lists to change the likes of ISO speed, if in Normal shooting mode that is. In iA mode these options are simplified further, being pared down to changing resolution, opting for continuous capture rather than single shot, and switching between 'standard' default colour mode and 'happy', black and white, or sepia options.
You don't get the colour options in Normal mode, but you do get the additions of being able to turn image stabilisation on or off, swap AF mode from 1-area to 11-area to AF tracking or face detection. White balance, ISO and monitor settings can also be adjusted in this capture mode, with the a high angle LCD mode offered for increasing visibility when shooting with the camera held at arm's length, or over the heads of a crowd.
Coming back to the camera's control pad for a moment, we find ranged at four points around this a means of adjusting exposure compensation (+/- 2EV), flash settings (auto, auto with red eye reduction, forced flash or disabled), switching to macro mode (with additional 'macro zoom' option), and lastly self timer.
An alternative press of the menu button and users are presented with a simple choice of two on-screen icons: record and set up. Again, these icons loom so large on screen that the initial instinct is to tap them directly to get a response (even though this isn't a touch screen camera), rather than use the pad alongside to get a reaction.
The record option provides four screens' worth of choices, including features also presented via the quick menu button. So here again we get the ability to adjust picture size, sensitivity, white balance, AF mode and the like, along with the intelligent exposure and intelligent resolution options - which can be switched on or off.
| | |
| --- | --- |
| | |
| Memory Card Slot | Battery Compartment |
Most often we found ourselves dipping into the colour mode palette presented here to select the 'vivid' option to add a bit more punch and saturation to images than the default of 'standard' provided. Further choices include natural, black and white, sepia, cool and warm. Via the record menu the AF assist lamp can additionally be activated, along with automatic red eye removal, along with the image stabilizer - with a simple choice here of on or off.
The set up mode meanwhile offers adjustments of the usual suspects of volume and LCD display, along with the ability to format the type of memory in use and start from scratch - a useful 'reset' button also provided to return the camera's settings to the factory defaults if someone else has been using it.
Finally, the last button on the camera's back is the display button. A press of this turns off the basic shooting information otherwise nestling in the corners of your frame, while a subsequent press leaves the information off but adds a nine zone compositional grid for those practicing their rule of thirds. A third press and we're back to normal with the shooting info on-screen.
You might not expect to find HDMI output on a model in this price bracket - although it's not unheard off - and sure enough the FS18 doesn't provide it; instead we find a joint port for standard AV and USB output hiding under a side flap, with a vacant lug for attaching a wrist strap located just above.
The bottom of the Lumix DMC-FS18 features a screw thread for a tripod ranged over at one far side, with a joint compartment for rechargeable lithium ion battery and vacant SD/SDHC/SDXC card slot over at the other edge, both protected by the usual flip-open door with lockable sliding catch.
Battery life is good for 260 shots, according to CIPA standards. In our experience we managed closer to 200, but then we were turning the camera on and off a lot during the course of the review to delve into its various features and functions.
So in the Panasonic Lumix DMC-FS18 we have a camera that is easy to use, has a reasonable smattering of features that, while they don't extend much beyond simply pointing and shooting, are in that respect befitting of a camera in the FS18's 'fashion and style' class.
But what of said point and shoot imagery? Does the Lumix transcend what we expect from a camera incorporating a retractable lens and small-ish sensor boasting a high pixel count, or very much perform as expected with both those attributes? Read on to find out…