Panasonic Lumix DMC-FS18 Review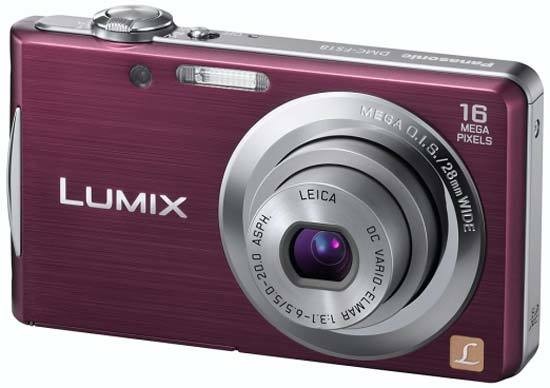 Image Quality
All of the sample images in this Review were taken using the 16 megapixel Fine JPEG setting, which gives an average image size of around 6Mb.
It's pleasantly predictable to find well-saturated colours delivered by any Panasonic camera, and, with a further boost from vivid colour mode on occasion, that's exactly what we get from the Lumix DMC-FS18. Whilst they might not be the sharpest ever results we've seen from a digital camera under close scrutiny, for an entry-level point and shoot camera there's certainly sufficient detail to satisfy.
On sunny days, familiar bugbears including pixel fringing between areas of high contrast and clipped highlights are ever present, and you don't have to look particularly hard to find them either. As however our test samples show, we were able to get some very pleasing results with minimal experimentation, by simply re-composing the frame on occasion so the camera metered off a different area of the frame and delivered a more defined exposure and contrast. As there's physically marginally more of this camera to grip than the Nikon S3100, we also came across far less instances of camera shake at maximum telephoto, if at all.
Conversely, at maximum wideangle there is minimum barrel distortion and detail is pleasingly maintained edge-to-edge, so little room for complaint in terms of lens performance, given the low-ish outlay.
In terms of ISO performance, whilst we noticed that auto white balance wandered marginally from shot to shot, with noise beginning to creep in and the shots become softer at ISO400 upwards. While up to and including ISO800 is perfectly acceptable nonetheless, at ISO1600 edge detail is becoming distinctly fuzzy in appearance and there's a light speckled appearance across the entire frame - not just in the shadow areas. Usable at a push, but not a setting we'd want to use with regularity.
In High Sensitivity mode, selectable from amidst the scene modes, the image noise is gone, but so too has a lot of the detail, the lower resolution also resulting in an image that looks more overtly digital in appearance - a bit like a screen grab from a video stream.
Overall then, a performance from the Panasonic Lumix DMC-FS18 that is pretty much exactly as expected; while more demanding photographers will inevitably want to look elsewhere, those who are happy to point and shoot will also be equally content with the results here.
Noise
There are 5 ISO settings available on the Panasonic Lumix DMC-FS18. Here are some 100% crops which show the noise levels for each ISO setting.
| | |
| --- | --- |
| ISO 100 (100% Crop) | ISO 200 (100% Crop) |
| | |
|   |   |
| ISO 400 (100% Crop) | ISO 800 (100% Crop) |
| | |
|   |   |
| ISO 1600 (100% Crop) |   |
| |   |
Sharpening
Here are two 100% crops which have been Saved as Web - Quality 50 in Photoshop. The right-hand image has had some sharpening applied in Photoshop. The out-of-the camera images are a little soft at the default sharpening setting and benefit from some further sharpening in a program like Adobe Photoshop.
| | |
| --- | --- |
| Original (100% Crop) | Sharpened (100% Crop) |
| | |
|   |   |
| | |
Chromatic Aberrations
The Panasonic Lumix DMC-FS18 handled chromatic aberrations well during the review, with some purple fringing present around the edges of objects in high-contrast situations, as shown in the examples below.
| | |
| --- | --- |
| Example 1 (100% Crop) | Example 2 (100% Crop) |
| | |
Macro
The Panasonic Lumix DMC-FS18 offers a Macro setting that allows you to focus on a subject that is 5cms away from the camera when the lens is set to wide-angle. The first image shows how close you can get to the subject (in this case a compact flash card). The second image is a 100% crop.
| | |
| --- | --- |
| Macro Shot | 100% Crop |
| | |
Flash
The flash settings on the Panasonic Lumix DMC-FS18 are Auto, Auto/Red-eye Reduction, Forced On, Slow Sync./Red-eye Reduction, Forced Off. These shots of a white coloured wall were taken at a distance of 1.5m.
| | |
| --- | --- |
| Forced Off - Wide Angle (28mm) | Forced On - Wide Angle (28mm) |
| | |
|   |   |
| Forced Off - Telephoto (112mm) | Forced On - Telephoto (112mm) |
| | |
And here are some portrait shots. As you can see, neither the Flash On or the Auto/Red-eye Reduction settings caused any red-eye.
| | |
| --- | --- |
| Forced On | Forced On (100% Crop) |
| | |
|   |   |
| Auto/Red-eye Reduction | Auto/Red-eye Reduction (100% Crop) |
| | |
Night
The Panasonic Lumix DMC-FS18's maximum shutter speed is 60 seconds in the Starry Sky mode, which is great news if you're seriously interested in night photography. The shot below was taken using a shutter speed of 8 seconds at ISO 100. The camera takes the same amount of time again to apply noise reduction, so for example at the 8 second setting the actual exposure takes 16 seconds.
| | |
| --- | --- |
| Night Shot | Night Shot (100% Crop) |
| | |