Panasonic Lumix DMC-FS22 Review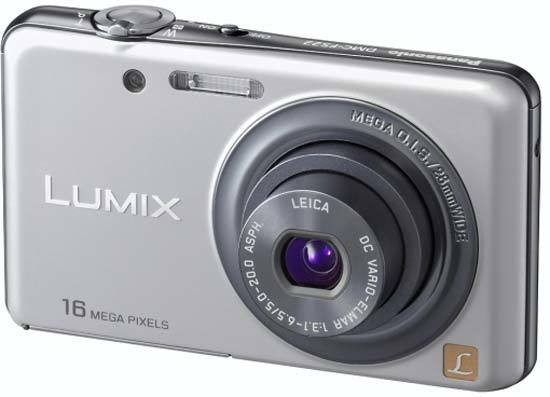 Panasonic Lumix DMC-FS22 Image Quality
All of the sample images in this Review were taken using the 16 megapixel Fine JPEG setting, which gives an average image size of around 6Mb.
Image quality on the Panasonic Lumix DMC-FS22 is very good. Images are sharp thanks to a number of features that aid you when shooting. For a start there's the superior Leica branded lens that gives sharper, clearer results than a standard Panasonic lens, the Mega OIS which steadies your pictures optically, not digitally to retain quality, and the good noise performance that we found the FS22 reveals. Aside from a few blobs of green on darker areas, we were happy with the noise results all the way up to and including ISO 800. The lower end settings are great, pictures are super smooth and sharp. It does start to degrade slowly as the higher settings are used and ISO 800 is probably the worst setting because noise reduction kicks in at the highest ISO 1600 setting and the coloured noise disappears. There's a degree of salt and pepper noise to mess up edge definition but fine details are still noticeable which is a great result.
We loved using the Panasonic on flowers because the colours are rendered perfectly. Even complex colours such as purple or gentle hues are recorded realistically with no bleed over if contrasting colours are next to each other. In other situations, the FS22 doesn't let you down. We found that the only time we had issues with colour was when we hadn't set the correct white-balance setting. We did notice that there's no setting for flash on the white-balance but found that the auto setting works perfectly well when using flash. We thought we could get away with using the shade setting for indoors but it brought the pictures out too warm. Essentially it seems that the camera is set up for indoor photography because the auto system works best if you're in that scenario.
The Panasonic Lumix DMC-FS22 has a close focusing range of 5cm to infinity. There's also a macro zoom feature which allows you to use the digital zoom if necessary although it's worth noting that this will decrease image quality. Pictures are nice and sharp with the macro mode as long as you either use a tripod or act fast enough. If you're the type of photographer that likes to focus first then take a picture a second or so later to make sure it's still framed properly, then even a small movement rocking back or forwards will send the picture out of focus. There is a degree of definition being lost at the edges of the frame but what we're most impressed with is the lack of barrel distortion.
Noise
Make sure you zoom into the noise pictures to see how good the results are. Notice that the ISO 1600 picture is actually better than the ISO 800 in terms of colour invasion.
| | |
| --- | --- |
| ISO 100 (100% Crop) | ISO 200 (100% Crop) |
| | |
|   |   |
| ISO 400 (100% Crop) | ISO 800 (100% Crop) |
| | |
|   |   |
| ISO 1600 (100% Crop) |   |
| |   |
Sharpening
We are perfectly happy with the sharpness of the focusing and how the processor boosts it in camera, but adding a little in a photo editing suite such as Adobe Photoshop CS4 does give it a little extra clarity.
| | |
| --- | --- |
| Original (100% Crop) | Sharpened (100% Crop) |
| | |
|   |   |
| | |
Chromatic Aberrations
We didn't find any instances of chromatic aberration at all throughout the test. We did get some purple banding on the screen when the picture was recorded but this wasn't transferred onto the photographs. We also found some instances of purple colour bleeding over from branches when we shot into the light. This could be lens flare though.
Example 1 (100% Crop)
Macro
A good macro result from the Panasonic FS22 means you can take pictures of insects in style. We're particularly impressed with the lack of barrel distortion at the edges of the frame although definition does reduce out at the edges of the frame.
| | |
| --- | --- |
| Macro Shot | 100% Crop |
| | |
Flash
We like how the Panasonic Lumix DMC-FS22 uses the flash. It's not intrusive and doesn't bleach things out unless they're ridiculously close.
| | |
| --- | --- |
| Forced Off - Wide Angle (28mm) | Forced On - Wide Angle (28mm) |
| | |
|   |   |
| Forced Off - Telephoto (112mm) | Forced On - Telephoto (112mm) |
| | |
We found that with portraits, we don't have to use the red-eye function as we never got it on any pictures, but there is a red-eye removal (software type) that can be enabled in the menu if need be.
| | |
| --- | --- |
| Forced On | Forced On (100% Crop) |
| | |
|   |   |
| Auto/Red-eye Reduction | Auto/Red-eye Reduction (100% Crop) |
| | |
Night
The night shots came out lovely, especially our test shot. Noise is at a minimum and the camera coped with highly conflicted light warmth very well. Some of the street lights are a bit over exposed but in our example we think it adds to the ambience of the shot. Of course this isn't acceptable in every situation and it could be worth trying the exposure compensation to see if that helps.
| | |
| --- | --- |
| Night Shot | Night Shot (100% Crop) |
| | |