Panasonic Lumix DMC-FS30 Review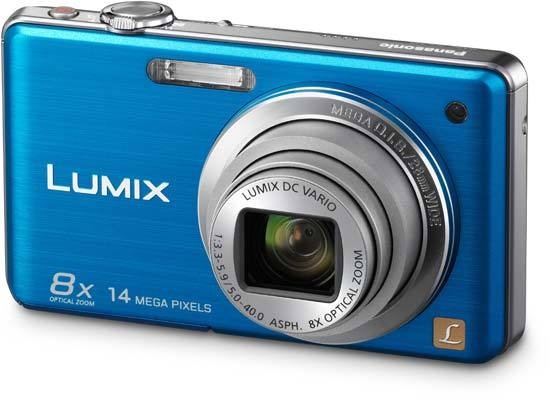 Introduction
The Panasonic Lumix DMC-FS30 (also known as the DMC-FH20) is a slim and stylish digital camera with a versatile 8x, 28-224mm optical zoom lens. The FS30 also features a a 2.7-inch LCD screen and can record HD movies in 1280 x 720p at 30fps. The 14.1 megapixel DMC-FS30 offers Panasonic's now standard Intelligent Auto mode for quick and easy shooting, Quick AF system, Venus Engine IV image processor, High Sensitivity mode and Extra Optical Zoom. The FS30 / FH20 is available in silver, black, blue or violet for £179 / $179.
Ease of Use
Although we're already into mid summer, this could be the affordable 'travel zoom' you've been waiting for. The 14 megapixel, 8x optical zoom DMC-FS30 - or DMC-FH20 as christened in the states - was announced earlier this year in tandem with the previously reviewed FS33 model, and, unsurprisingly, the two share boxy, rectangular dimensions.
In fact Panasonic admits that this FS series model - promising high-grade features yet simple operation, in being the lower-priced sister strand to the FX family - is identical to its sibling save for screen only. In the absence of optical viewfinder the FS30 offers a more modest 2.7-inch LCD at 230k dots resolution to the FS30's 3-inch touch screen, sporting the same count. Of course this means that the F30 is the marginally cheaper than the FS33 at a manufacturer's asking price of £179.99, compared to £199.99, in the UK. So £20 extra buys you the larger monitor and touch-screen capability, or save the modest additional outlay for holiday spending money and go for the FS30 as presented here.
As the two cameras are close siblings, many of the conclusions we came to in our earlier test of the FS33 are still going to hold water. Both cameras share the same wideangle folded zoom lens, equivalent to 28mm-224mm in 35mm film terms, which stays close to the body and is protected by an automatic sliding lens cover when inactive. Plus, at its core we get a 14.5 megapixel 1/2.33-inch CCD sensor, delivering a 14.1MP effective resolution.
Panasonic's effective subject-recognising intelligent Auto mode with dedicated iA top plate button makes a re-appearance in support of the point and shoot brigade, as do HD movies - here of the 1280x720 resolution at 30fps Motion JPEG format variety. This option is selected like the other stills/video capture settings via a press of the dedicated 'mode' button on the back plate, which falls under the thumb as a forefinger hovers over the shutter release button.
With everyone switching from analogue to HD TVs, it's getting increasingly common to find an HDMI port on even a modestly-priced snapshot model like this, but Panasonic hasn't supplied one for the FS30, just standard AV/USB output hiding under a small flap at the camera's right side (if viewed from the back). With a 40MB internal capacity good for up to 15 shots, memory is expandable courtesy of SD, SDHC and newer high capacity SDXC cards, the latter offering up to 2TB of storage. In terms of getting up close and personal, macro/intelligent auto capability is again up to a closest distance of 5cm from your subject.
| | |
| --- | --- |
| | |
| Front | Rear |
The FS30 feels convincingly solid when gripped in the palm. It weighs a manageable 162g, and with overall dimensions of 100x56.5x27.8mm, marginally different to its sibling, slips easily and unobtrusively into trouser pocket. It's the manufacturer's usual mix of metal and plastic construction, with an attractive brushed metal faceplate. The thumb rests on a small square of nine raised nodules providing some 'grip' at the back, leaving the forefinger free to hover over the shutter button on the top plate, encircled by a zoom lever.
The internally folded lens is supported when extended by Mega Optical Image Stabilisation to help combat the effects of camera shake. To the right of the lens is a porthole-shaped window housing AF assist and self-timer lamp, with a narrow lozenge shaped built-in flash top left. When holding the camera this is set just close enough to the lens - and at sufficient distance from the sides - to avoid fingers accidentally obscuring it, a common problem with pocket models.
As mentioned at the outset, the top plate features a dedicated intelligent Auto (iA) button for point and shoot simplicity - the FS30 comparing scene and subjects with on-board parameters and selecting the most appropriate - along with the expected on/off power switch, holes for both built in microphone and speaker, plus, the largest control of all, the shutter release button; this is handily encircled by a lever for operating the zoom. The Lumix takes just over a second to power up - speedy, considering the lens extends to maximum wideangle setting in tandem with the rear LCD bursting into life - and a further three to commit a maximum resolution still image to memory, both of which are average timings for this class of camera.
If 8x at full 14.1MP resolution isn't enough for your purposes, the FS30/FH20's range can be further boosted to a maximum equivalent 16.9x (or 473mm equivalent) courtesy of Panasonic's Extra Optical Zoom function. Since this utilises only a central portion of the CCD rather than its entirety, capture resolution plummets to three megapixels. Otherwise the zoom lens glides through its basic optical range in all of three seconds. Annoyingly it's disabled when shooting video and merely stays put at the point it was left when recording began - commenced with a press of the shutter release button, rather than dedicated recording button.
One aspect of the FS33's operation we did slightly miss was the ability to adjust the positioning of the auto AF point simply by tapping the screen with a fingernail. Here without the interactive aspect of a touch screen it's the usual case of pointing the camera at the subject to which you want to bias focus/exposure, then pressing the shutter release button down halfway and finally re-composing the frame before pressing the shutter release fully. General operation response times are quick with Panasonic claiming the official time it takes for 'sonic speed' auto focus to lock crisply onto target is 0.35 seconds, courtesy in part of the FS30/FH20's Venus Engine IV processor.
| | |
| --- | --- |
| | |
| Side | Top |
In the absence of a dedicated shooting mode dial or wheel, on the FS30 we have an unassumingly small 'mode' button. A press of this summons up a quartet of text options on screen - for 'normal' picture (full auto) mode, 25-option Scene mode including photo frame and film grain settings, My Scene mode (more of the same, but the camera retains your previous choice enabling a quick return to it), plus - of course - motion picture/movie mode. As mentioned that's a maximum 1280x720 pixels at 30fps, WVGA 848x480 pixels, standard VGA 640x480 pixels of QVGA (320x240) selectable. White balance and colour mode can also be manually adjusted for shooting movies, as can they for stills.
Top right of the mode button is a simple slider switch, used for swapping between capture modes and playback. What this means is that a half press of the shutter release button won't throw the user back into capture mode should they happen to be reviewing images when a photo opportunity unexpectedly presents itself. The switch has to be thrown first.
Below this and the mode button is a 'cross keys' control pad, with central Menu/Set button and four individual buttons assigned separate functions ranged around it. At 12 o'clock is a means of adjusting exposure (+/- 2EV). At three o'clock we have a button for the flash settings, at six o'clock a third governing the macro shooting option, whilst the fourth button at nine o'clock is for calling up the self-timer choices.
Beneath this and bottom right of the camera back we the 'Q.Menu' (Quick Menu), a press of which brings up a toolbar of key shooting options on screen to save otherwise having to dip into more comprehensive menus to adjust the likes of resolution, white balance or ISO. Here manually light sensitivity settings range from ISO80 up to ISO1600, with a boosted ISO6400 option accessible if shooting in High Sensitivity scene mode, though the camera itself decides when it will aim this high.
To the left of this is an identical size self explanatory display button. With subsequent presses of 'display' on-screen information is turned off to display a clean, uncluttered image, and/or a nine zone compositional grid is overlaid for those wishing to practice their photographic 'rule of thirds'. If pressed in playback mode instead, on-screen info is merely turned on or off to display a clean image to the viewer. A feature set that's pretty much what we'd expect from a sub-£200 camera.
| | |
| --- | --- |
| | |
| Memory Card Slot | Battery Compartment |
A press of 'menu' button in capture mode meanwhile and a folder of basic shooting options (three screens of five choices each) are presented to the viewer in thin but perfectly legible black type on a white background. Again picture size, sensitivity, white balance and AF mode can be adjusted here. Panasonic further offers up a palette of colour modes, with standard and natural options joined by the more visually dynamic vivid, plus black and white, sepia and cool options. There's also an automatic red eye removal option that can be variously enabled or disabled. The second folder presented here governs the set up options; time and date settings, operational volume, LCD brightness, reset and format options.
Another press of the menu button, this time in playback/review mode, and users are given the ability to crop and re-size images in-camera should they wish to do so, as well as choose favourites and earmark specific shots for printing.
With a lug for attaching a wrist strap at the right hand side of the camera - if viewed from the back - the opposite side is devoid of any distinguishing details whatsoever. The base of the unit meanwhile features a screw thread for attaching a tripod over to the lens side, but not directly beneath, and at the opposite side a protected slot for a media card - here SD, SDHC or even higher capacity SDXC - plus battery. Battery life is good for 300 images from a full charge, which is identical to its FS33 sibling and like that model is respectable for its class.
But, as ever, the proof is in the images the FS30 delivers. The manufacturer is known for a reliable and consistent performance, so we potentially have high hopes for the FS30. And yet, in cramming 14 megapixels onto its sensor has Panasonic's ambition outstripped its performance? Read out to discover our verdict…