Panasonic Lumix DMC-FS33 Review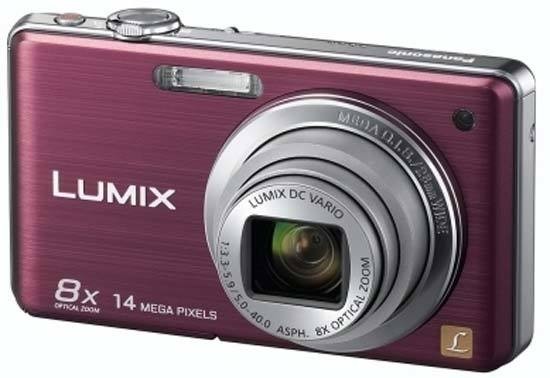 Image Quality
All of the sample images in this Review were taken using the 14 megapixel Fine JPEG setting, which gives an average image size of around 5Mb.
Given that this is a humble point and shoot just-shy-of £200 model, shots are among some of the sharpest we've seen from a pocket camera of its ilk, especially useful for macro/close up shots. Detail is well defined and images require minimal if any processing straight out of the camera.
Like its Lumix forebears the FS33 provides warm colours but if we're being unduly critical has occasional colour cast/white balance issues. Colours can at times look unrealistically vivid/over-saturated - particularly natural expanses of green and blue. That said, the iA mode mostly does a sterling job of automatically adjusting settings to suit, leaving the user free to concentrate on their subject and their framing rather than fiddling around with camera settings.
Pixel fringing, though there if you're really looking for it, is nevertheless kept well under control, and in that respect the FS33 makes a better fist of it than recent Fuji and Sony competitors we've tested. Similarly, shots taken at maximum 28mm equivalent wide angle reveal good edge-to-edge detail and minimal barrel distortion. There's also just enough of this camera to get a reasonably firm grip on and avoid too much in the way of blur when shooting hand held, though results at maximum telephoto inevitably come out a little soft on occasion.
Given the amount of pixels crammed on to its sensor, the FS33's performance in low light is a respectable one. As our test shots show, detail is held well up to and including ISO 800, only really softening - and slightly at that - at maximum manually selectable ISO 1600 option. Overall not a bad performance at all, any criticism we have feeling like we're poking holes rather than slamming the camera out right.
Noise
There are 6 ISO settings available on the Panasonic Lumix DMC-FS33. Here are some 100% crops which show the noise levels for each ISO setting.
| | |
| --- | --- |
| ISO 80 (100% Crop) | ISO 100 (100% Crop) |
| | |
|   |   |
| ISO 200 (100% Crop) | ISO 400 (100% Crop) |
| | |
|   |   |
| ISO 800 (100% Crop) | ISO 1600 (100% Crop) |
| | |
Sharpening
Here are two 100% crops which have been Saved as Web - Quality 50 in Photoshop. The right-hand image has had some sharpening applied in Photoshop. The out-of-the camera images are a little soft at the default sharpening setting and benefit from some further sharpening in a program like Adobe Photoshop. You can change the in-camera sharpening level via the Picture Adjust menu option.
| | |
| --- | --- |
| Original (100% Crop) | Sharpened (100% Crop) |
| | |
|   |   |
| | |
Chromatic Aberrations
The Panasonic Lumix DMC-FS33 handled chromatic aberrations very well during the review, with limited purple fringing present around the edges of objects in certain high-contrast situations, as shown in the example below.
Example 1 (100% Crop)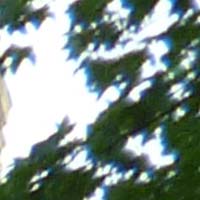 Macro
The Panasonic Lumix DMC-FS33 offers a Macro setting that allows you to focus on a subject that is 5cms away from the camera when the lens is set to wide-angle. The first image shows how close you can get to the subject (in this case a compact flash card). The second image is a 100% crop.
| | |
| --- | --- |
| Macro Shot | 100% Crop |
| | |
Flash
The flash settings on the Panasonic Lumix DMC-FS33 are Auto, Auto/Red-eye Reduction, Forced On, Slow Sync./Red-eye Reduction, Forced Off. These shots of a white coloured wall were taken at a distance of 1.5m.
| | |
| --- | --- |
| Forced Off - Wide Angle (28mm) | Forced On - Wide Angle (28mm) |
| | |
|   |   |
| Forced Off - Telephoto (224mm) | Forced On - Telephoto (224mm) |
| | |
And here are some portrait shots. As you can see, neither the Flash On or the Auto/Red-eye Reduction settings caused any red-eye.
| | |
| --- | --- |
| Forced On | Forced On (100% Crop) |
| | |
|   |   |
| Auto/Red-eye Reduction | Auto/Red-eye Reduction (100% Crop) |
| | |
Night
The Panasonic Lumix DMC-FS33's maximum shutter speed is 60 seconds in the Starry Sky mode, which is great news if you're seriously interested in night photography. The shot below was taken using a shutter speed of 1 second at ISO 800. The camera takes the same amount of time again to apply noise reduction, so for example at the 15 second setting the actual exposure takes 30 seconds.
| | |
| --- | --- |
| Night Shot | Night Shot (100% Crop) |
| | |