Panasonic Lumix DMC-FS37 Review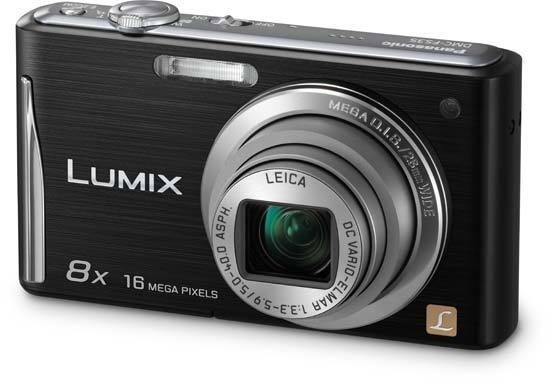 Introduction
The Panasonic Lumix DMC-FS37 (also known as the DMC-FH27) is a slim and stylish digital camera with a versatile 8x, 28-224mm optical zoom lens. The FS37 also features a 3 inch touch-sensitive screen with Touch AF, Touch Zoom and Touch Shutter functionality, and it can record HD movies in 1280 x 720p at 30fps. The 16.1 megapixel DMC-FS37 offers Panasonic's now standard Intelligent Auto mode for quick and easy shooting, Sonic Speed AF system, Venus Engine VI image processor, High Sensitivity mode and Extra Optical Zoom. The FS37 / FH27 is available in silver, black or red for £199 / $229.
Ease of Use
We reviewed the Panasonic Lumix DMC-FS37's predecessor in the good value £199 DMC-FS33 last year. Whereas that point and shoot pocket model similarly fielded an 8x optical zoom, so nudging into travel zoom territory without quite being up to TZ20 standards, the new FS37 retains the zoom but boosts the pixel count. For 2011 we get a jump from 14 to 16 megapixels however, from a 1/2.33-inch CCD sensor, and all this for manufacturer's e-shop price of £200.99, or £20-£30 cheaper if shopping around online.
Sitting just below it in the 'FS' (Fashionable? Stylish?) range is the equally new Lumix FS35. Both cameras feature an optically image stabilized 28mm-224mm wide angle Leica branded lens, claimed by Panasonic to be newly developed to allow for both a slim camera body yet 'exceptional' lens performance. Overall dimensions of the FS37 are 99.2x56.5x27.7mm, so while that lens has led to a slightly wider depth than some entry level snappers it's still pocket friendly, while the weight is a robust feeling 159g with battery and (optional) SD card, or 142g body-only.
The 3-inch sized, 230k dot resolution LCD of the FS37's forebear remains, but this time the monitor is of the 'intelligent LCD' touch panel variety, featuring Panasonic's self explanatory Touch AF, Touch Zoom and Touch Shutter functionality. In practice this means that the rear of the camera has been stripped of physical controls entirely - which photographers will either love or hate, what few physical controls there are being restricted to the top plate. The screen is also auto adjusting according to ambient brightness levels, with 11 steps to choose from. In case you're wondering, by contrast the FS35 features a 2.7-inch, non-touchscreen panel.
The usual mix of metal and plastic construction, yet with attractive brushed metal faceplate disguising the latter element, the FS37's solid feel convinces when gripped in the palm. The thumb is only prevented from slipping onto the back screen though by a slender row of four tiny raised nodules providing some 'grip' at the back, leaving the forefinger free to hover over the shutter button on the top plate, encircled by a zoom lever. The lack of true grip means that inevitably the rear screen becomes covered in thumbprints when holding the camera in both hands for a steadier shot, so you'll be constantly wiping it clean.
Like most of Panasonic's latest generation Lumix compacts we also get an Extra Optical Zoom facility, which boosts performance to an equivalent 18x reach. That's if you don't mind a resolution drop to three megapixels, as only the central portion of the camera's CCD sensor is utilized, so in effect a crop is being undertaken.
Providing one-button access to this extra zoom power, the FS37 (along with FS35) features an Easy Zoom button, handily placed to the right of the shutter release button, in turn encircled by the manual zoom lever. An initial press of the standalone button shifts the lens to the telephoto end of the 8x zoom (if the lens isn't already at that setting), while an additional press provides the equivalent of 18x. Maximum lens aperture is a so-so f/3.3, and the camera can focus down to 5cm from a subject, which is the same spec offered by the roughly £50 cheaper FS18 model, 16MP resolution but weedier 4x zoom and no touch screen.
In terms of image processing the FS37 incorporates its maker's latest generation engine in the impressively christened Venus Engine IV, which not just provides decent response times but also what Panasonic describes as Intelligent Resolution technology. Also featuring on the FS18, the latter claims to detect and suitably enhance three areas of an image - outlines, detailed textures and areas of soft gradation - and purportedly do this pixel by pixel to achieve optimum results. It's no surprise to find that the FS37 offers up to ISO6400, as this is standard issue for the Lumix range, but only achievable if the camera itself opts for it in High Sensitivity low light mode. Otherwise the manually selectable maximum is a more modest ISO1600, starting out at the usual ISO100.
| | |
| --- | --- |
| | |
| Front | Rear |
The Venus Engine also delivers minimal shutter lag - with its maker putting the figure at a blink and you'll miss it 0.005 secs. We also get swift-to-lock-onto-target Sonic Speed AF functionality.
As the FS37 is a point and shoot camera first and foremost it's also no surprise to find intelligent Auto mode, now with AF tracking and shadow/highlight enhancing intelligent exposure, featuring, though again because of the touch screen this doesn't get its own dedicated physical button on the top plate or back as we'd usually expect to find.
Fortunately HD video also features - albeit here at the reduced 1280x1080 pixels rather than Full HD, at 24fps transition rate and captured in mono sound and Motion JPEG format - spec which has remained the same from last year's FS33. Along with stills, recording is direct to SD card, with 70MB internal memory additionally built in (expanded from its forebear's 40MB). What's missing here is HDMI output for hooking the camera up directly to an HDTV, also an omission on the FS33. Given that even £200 point and shoots from rival manufacturers are including a mini HDMI port, we'd have expected to find one here. Also something of a minor letdown is the fact that the optical zoom is disabled once video recording has commenced - the framing staying the same as that utilized before filming had commenced.
As on the FS18 we were examining alongside this, there are a comprehensive 28 scene modes to choose from on the FS37, with the camera's own Intelligent Scene Selector choosing from six modes to suit most common scenes or subjects: macro, portrait, scenery, night portrait, night scenery and sunset.
In terms of design and style, Panasonic has adopted the 'if it ain't broke, don't fix it' approach. The brushed metal faceplate of the FS37 resembles so many of its predecessors and rivals, being dominated by internally stacked lens mostly hidden within the body when not in use, supported when extended by Panasonic's Mega Optical Image Stabilisation to help prevent the possibly blurring effects of camera shake. This degree of conventionalism is continued in the porthole-shaped window housing AF assist and self timer lamp top right of the lens, and narrow lozenge shaped built-in flash located top left. As on the FS18, also new for this year, when holding the camera this is set just close enough to the lens - and away from the sides - to avoid fingers accidentally obscuring it, a common problem with pocket models.
Because the FS37 is now a touch screen model any top plate iA (intelligent Auto) button that we might have expected to find on a Panasonic point and shoot (including Micro Four Thirds) has now disappeared.
The top plate instead features that aforementioned E.Zoom (Easy Zoom) control, the expected on/off power switch, holes for both built in microphone and speaker, plus, the largest control of all, the shutter release button; which as on its forebears is handily encircled by a lever for operating the zoom.
Give the power switch a flick and the FS37 readies itself for action in around two seconds, which is pretty standard for its price tag, lens extending with a gnat-like buzz from flush to the body and the rear screen in tandem blinking into life. Give the zoom lever a nudge and it moves onward through its range, reaching maximum telephoto setting around for seconds later. Again this action is accompanied by a mechanical whirr. Pressing the E.Zoom instead appears to shave about a second off. Press this button again and you get an 18x equivalent within two more seconds. Press it again and you're automatically back to 28mm wide angle equivalent.
| | |
| --- | --- |
| | |
| Side | Top |
Alternatively, press the shutter release button down halfway to determine focus/exposure and in most cases the camera locks on target nigh instantly. Follow through with a full press and a maximum resolution JPEG is committed to memory in around three seconds. Again nothing out of the ordinary.
Although increasingly ubiquitous on every size and shape of gadget but still less tried and tested on cameras is the rear touch panel operation. At one time Panasonic seemed to hedge its bets as far as touch screen compacts were concerned - factoring in a smattering of buttons at the back to be used in tandem with the virtual ones on screen, but here at least no more. The back of the camera is basically the screen, and vice versa.
To avoid confusion, the main touch sensitive controls along with the usual cursory status info are ranged around the outer edges of the screen, allowing the user to maintain a good view of their subject via the central area.
At the bottom right hand side of screen we get our shooting or capture modes, denoted by the familiar red camera icon, and immediately below this an equally familiar green triangle denoting image playback/review.
Below this again and ranged alongside each other are two further virtual buttons, the left hand button for activating the camera's touch shutter functionality and the one to the right for operating the virtual zoom, which appears as a semi circular shape at the right hand edge of the zoom, responding just about in real time to a sweep of your thumb. Funky monkey. At also least the placement of the touch shutter button here ensures it won't be as easily accidentally activated by a straying thumb. And if you do start unwittingly taking pictures, then the feature can be deactivated by a subsequent press.
Although mostly offering 'hands off' point and shoot convenience, as you'd expect given the touch screen functionality, the FS37's auto AF point can usefully also be adjusted simply by tapping the screen with a fingernail, should the user wish to bias focus on a subject other than that which is dead centre of frame. You can't quite drag it fluidly around the screen with a finger sweep - if you want it to move you have to keep tapping.
In general though, response times are quick -courtesy of, in part, that Venus Engine IV processor. And in terms of screen-selectable shooting modes there are the expected scene and subject recognizing and result optimising intelligent auto (iA). We additionally have regular Program Auto (here called 'Normal Picture' shooting mode), 'MS' mode - not manual shooting, but rather 'My Scene' mode - along with secondary standalone Scene mode, and finally, video shooting mode, again in lieu of a dedicated backplate button with which to begin recording. There's no a virtual red record button either, as found on touch screen Sony Cyber-shots; here it's simply an initial and subsequent press of the main shutter release button to begin and end recording.
Over at the opposite bottom left hand side of the screen are a separate menu and separate display button. A press of 'menu' and we're presented with two lozenge shaped icons centre screen for separate record and set up folders.
| | |
| --- | --- |
| | |
| Memory Card Slot | Battery Compartment |
Press the former and instead of being presented with a long list spread over several screens, options are instead broken up into a toolbar with left and right directional arrows that runs along the bottom of the screen rather like a conveyer belt of Generation Game style goodies. It's here we find the likes of flash options, self timer, image size and image ratio (4:3 being the default), along with ISO speed, white balance, focus area (with the ability to swap from 1-area to 11-area to AF tracking or face detection), exposure compensation, hand holding intelligent exposure, intelligent resolution and so on and so forth.
This toolbar is also where users will find the colour mode options, where we find our favoured ability to select the 'vivid' option to add a bit more punch and saturation to images than the default of 'standard' provided. Further choices include natural, black and white, sepia, cool and warm. Via the record menu the AF assist lamp can additionally be activated, along with automatic red eye removal, along with the image stabilizer - with a simple choice here of on or off. Should you want to select your own short cut the camera advises you to hold down and drag and drop and icon
The set up mode meanwhile offers adjustments of the usual suspects of volume and LCD display, along with the ability to format the type of memory in use and start from scratch - a useful 'reset' button also provided to return the camera's settings to the factory defaults if someone else has been using it. Basically there's everything here you'd expect to find on a non touch screen model.
Finally, the last virtual button tucked into the bottom left hand edge of the screen is the display button. A press of this turns off the basic shooting information otherwise nestling in the corners of your frame, while a subsequent press leaves the information off but adds a nine zone compositional grid for those practicing their rule of thirds. A third press and we're back to normal with the shooting info on-screen.
As with the cheaper FS18, a side flap on the camera hides a combined AV/USB 2.0 output port. Though Panasonic is in the business of making flat panel TVs, there's no HDMI output for connecting up to the latest generation. Above this solitary port is a lug for attaching the provided wrist strap, to which a keyfob-shaped little plastic pointer can be attached if you don't want to use your finger to jab at the screen.
The base of the camera meanwhile features a screw thread for a tripod to one side, and a sliding catch protected door for the combined battery and media card compartment. Panasonic claims the FS37's rechargeable lithium ion cell is good for 250 shots, according to CIPA testing.
In truth then the FS37 is your standard snapshot camera, augmented with a touch screen and a longer than average focal range. If you feel the need for neither but still have the requirement of a competent pocket snapper that doesn't cost too much, then it might also be worth looking at the FS18 further down the range which boasts nigh identical features and, screen aside, functionality.
But back to the FS37 for now and time for us to examine how it measures up when it comes to picture quality. Does it match the best of the plethora of pocket alternatives, or is it all fashionable faceplate yet unfashionably noisy images? Come with us and find out…