Panasonic Lumix DMC-FT1 Review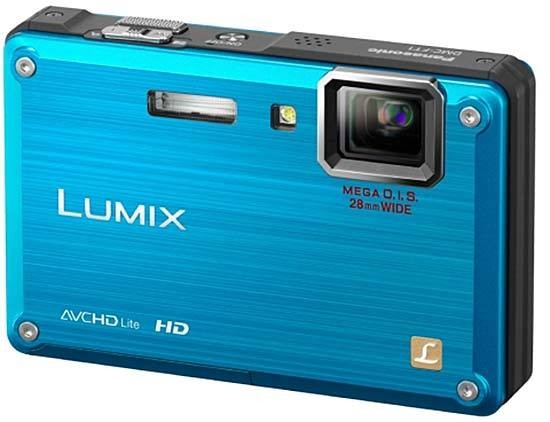 Introduction
The Panasonic Lumix DMC-FT1 (also known as the DMC-TS1) is a new waterproof, shockproof and dustproof digital camera designed for use by all the family. The Ft1 can be used underwater to a depth of up to 3 meters and is drop proof from a height up to 1.5m, and an optional 40m underwater housing is also available. In addition, the 12 megapixel Panasonic FT1 offers a 28mm wide-angle 4.6x optical zoom lens, a 2.7-inch LCD screen, high-definition movies, and comes in silver, green, blue or orange. The Panasonic Lumix DMC-FT1 costs $399.95 / £329.
Ease of Use
Like most electronic devices, the majority of digital cameras are delicate creatures. They don't respond well to being accidentally dropped down a flight of stairs, dunked in the pool or taken out in all weathers. Luckily then for the butter fingered and/or outdoor ramblers amongst us, the 12.1 megapixel Lumix DMC-FT1 is a breed apart and the first of its kind for Panasonic.
Available in the battleship-like silvery grey of our review sample and with corner screws incorporated into its brushed metal front and back plates, from the outset the manufacturer's solid-build dust, shock, waterproof and moreover airtight FT1 compact feels up to the challenge of a bit of rough treatment. You can't, for the most part, fault the Terminator-like build quality, which also includes rubber padding, reinforced glass and carbon resin inside the camera.
Still photos aside, it also includes the ability to capture HD quality video to a maximum 1280x720 pixels at 30 frames per second in AVCHD Lite format (better, apparently for replaying footage on your telly) or Motion JPEG (fine for the PC and Internet), with a dedicated record button usefully provided.
But, even though the Panasonic Lumix DMC-FT1 can theoretically withstand a dive to a depth of three metres and being dropped from a height of 1.5 metres, and has a wind resistant built-in microphone to avoid unpalatable audio distortion when shooting video, can it withstand an unpredictable British Winter?
Cameras thinking they're tough cookies have been around a while - cast your mind back to Fuji's amusingly named Big Job introduced for site surveyors and construction workers back in 1998, and, more recently at a consumer level Olympus's continuing line of Mju TOUGH compacts, like the FT1 appealing not just to those with butch jobs but also to yummy mummies with unpredictable toddlers.
| | |
| --- | --- |
| | |
| Front | Rear |
Since Olympus and Panasonic are already co-development partners in the Four Thirds format for DSLRs and subsequent Micro Four Thirds hybrids, perhaps unsurprisingly - and fortuitously - Panasonic's FT1 appears to have literally taken on board a few of the Mju's ideas.
Toughened outer casing aside, these include an internally folded and operating zoom mechanism, so there's no danger of the lens barrel receiving a direct, potentially devastating, knock. On offer here is a respectable 4.6x optical zoom, starting at a wide-angle 28mm (running up to an equivalent 130mm at the telephoto end) and so proving as useful for group portraiture as photographing landscapes. The only downside of this is the lens' positioning towards the top right hand corner of the faceplate, meaning that, as with Sony Cyber-shots and Mjus, unwanted fingertips can stray into frame when gripping the camera in both hands to take a steadier shot. Plus there's no automatic lens cover to act as a further barrier to the elements, meaning that the protective glass acts as a magnet for fingerprints. As expected, to prevent image blur from camera shake, there is optical image stabilization provided (Panasonic's original Mega OIS, rather than the newer, purportedly twice as effective Power OIS found on the recent FX60 and FP8 compacts).
But, while the FT1 offers up HD movie clips in AVCHD Lite format, a type of compression ensuring that more footage can be squeezed onto your card whilst remaining commonly accessible, it fails on paper to match the Olympus offerings only in so far as it isn't freeze-proofed to -10°C as well. Furthermore, in being priced in the region of £300 - Panasonic itself quotes £303 in the UK - it goes into direct battle with the likes of the 12 megapixel Olympus Mju Tough 6010 at a manufacturer suggested £299.
Like the Olympus, the Panasonic Lumix DMC-FT1's tough guy image is dealt a slight blow by smallish, occasionally plastic-y controls. You imagine chunky buttons to match the chunky exterior, so that the camera can be operated with protective gloves on. Instead you get the regular miniscule offerings we're all well used to that require gloveless fingertip precision.
Panasonic hasn't then totally parted company with convention, and most of what's here will be familiar to even the most casual of digital camera users; for example the halfpenny-sized shooting mode wheel at the rear that once again includes the common scene and subject-recognising iA (intelligent Auto), thus benefiting the majority of users who want to point and shoot rather than make manual adjustments. Showing its mettle, also ranged around the dial are regular auto, plus dedicated sports, snow, beach and surf options plucked from the 24 additional scene modes provided which share their own setting. The last option on the dial is a clipboard mode for taking quick reference low resolution snaps of maps, train timetables and so forth when on your Arctic trek.
| | |
| --- | --- |
| | |
| Top | Front |
The clean, boxy faceplate of the FT1 features the regular trio of the aforementioned lens, narrow window for the flash plus self-timer/AF assist light indicator, the latter two being noticeably bright when used at close quarters, and necessarily so when shooting at night.
On the Panasonic's top plate we have a built-in speaker, on/off power button just behind the integral microphone and, to the right of this a chunky slider switch for operating the zoom. Behind this again - looking bizarrely like a stereo microphone - is a rectangular shutter release button with ridged top, thereby helping wet fingers find a point of purchase. Like the simultaneously reviewed FX60, power up is almost instantaneous, which is just what you want if taking a plunge. The action of the zoom is smooth and steady, gliding from maximum wideangle to extreme telephoto in just under three seconds. Since the lever for its operation is positioned just in front of the shutter release button and of similar proportions however, I sometimes found myself taking a shot when I merely meant to merely adjust framing and vice versa. There's no such confusion when shooting video, as movie recording gets its own red dot of a button at the rear of the camera and, unusually for a compact in this price range, the full range of the zoom can be accessed when doing so; it doesn't merely stay put at the point it was when recording commenced. Between JPEG shots in regular single frame capture mode there's a wait of just over two seconds, which again isn't bad.
Unsurprisingly, the Panasonic Lumix DMC-FT1's AF is sometimes confused by busy scenes but quickly re-framing the shot helps it lock on your desired target. Panasonic itself admits AF tracking performance will vary dependant on prevailing conditions.
With two thirds of the camera's backplate taken up by its toughened 2.7-inch, 230k-dot resolution LCD screen which self adjusts brightness levels according to ambient light levels at the time, it's to the right that we find the familiar smattering of operational controls. The shooting mode wheel and video record button we've mentioned, positioned most prominently top right where they fall under thumb and forefinger. To the left of these is a readily identifiable playback button and beneath this again a set of square-ish cross keys with menu/set at their centre.
These again will be familiar to owners of previous Panasonic Lumix compacts, as they in turn provide a means of tweaking exposure compensation (+/- 2EV with an on-screen slide bar provided), adjusting flash options (auto, auto with red eye reduction, forced flash on, slow sync flash with red eye reduction and flash off), selecting macro setting for close ups (as close as 3cm) and/or self timer (and option of two or ten second countdown).
| | |
| --- | --- |
| | |
| Memory Card Slot | Battery Compartment |
A press of the menu/set button meanwhile brings up a trio of folders on screen for, in turn, still image capture, video recording, plus a third option of set up. The first folder sub divides into four further folders that run the gamut of picture quality and size settings along with the ability to adjust aspect ratio from 4:3 to 3:2 to 16:9. We also get intelligent ISO, whereby ISO can be capped at a maximum ISO400, ISO800 or top whack ISO1600. There's also the ability here to select incremental stages from ISo80 up to ISO1600 as one would normally. White balance can also be adjusted courtesy of these sub folders, faces can be 'registered' with the camera in its face recognition mode (or this function can be turned off entirely), plus colour mode altered from the default of 'standard' to neutral, vivid, B&W, sepia, cool or warm.
Dipping next into the video recording folder we find two sub folders and again the ability to adjust quality dependant on end use and swap between AVCHD and Motion JPEG compression options. White balance and a reduced range of colour modes can also be accessed when shooting video, and it's here you can deploy the wind cutting option when filming video outdoors.
The third main folder - for 'set up' - gives access to five sub folders and it's here that LCD brightness can be manually adjusted plus compositional guides and on-screen histogram implemented if so desired, as well as removable SD/SDHC card or internal memory formatted.
The remaining two buttons at the bottom of the Panasonic Lumix DMC-FT1 back are for the self-explanatory display and the less immediately obvious 'Q.Menu'. A press of the latter 'Quick Menu' option brings up a toolbar across the top of the LCD screen, allowing the user to quickly tab through options for adjusting AF mode, white balance, still and video quality and the ilk. Basically, these are your key settings at a glance, saving the time required to dip into the menu folders mentioned above. Subsequent presses of 'display' meanwhile turn off the otherwise constant onscreen icons and shooting info to provide an image clear of distractions, and/or call up a nine zone compositional grid on screen for those users practicing their rule of thirds.
On the right hand side of the FT1 meanwhile, under a chunky, lockable cover we find ports for connecting the camera up to an HD TV set via optional HDMI cable, plus a dual-purpose slot for regular USB/AV out.
The base of the camera meanwhile features the familiar screw thread for attaching the camera to a tripod, plus another chunky slide-open cover protecting the battery compartment shared with a vacant slot for your postage stamp sized SD or SDHC cards. According to CIPA standards, battery life is good for 340 shots from a full charge. Certainly we were using the camera for a couple of weeks before we got a low battery warning, which makes the FT1 an ideal candidate for that short high adrenaline holiday or action packed break.
But, while the Panasonic Lumix DMC-FT1 itself may feel built to last, does it capture images that you'll want to savour for some time to come? Read on to find out…